McKenzie Westmore & Kim Johnson Ulrich
Los Angeles Daytime Emmy Reception 06/05/2007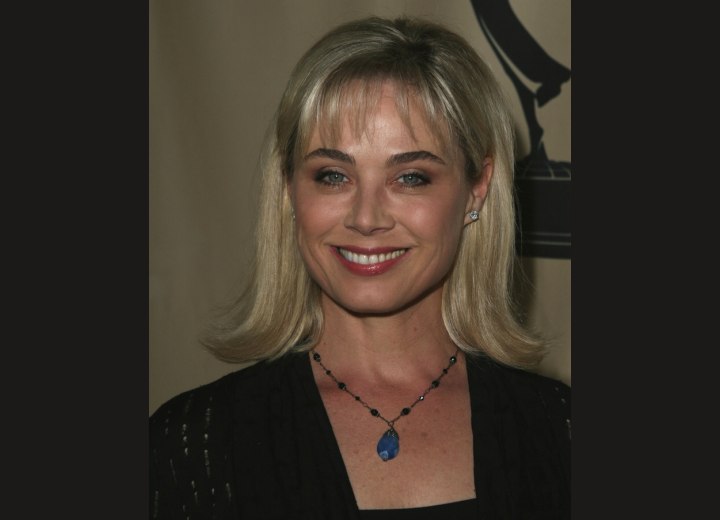 Click to enlarge

Stunning Kim Johnson Ulrich is known as Ivy in the soap Passions. Even more than that, she is a grandmother and sure doesn't look it. Maybe one of the reasons she looks so good is because she is extremely athletic. She is wearing her medium length hair in the stylish flip of the sixties with her sides pulled back behind her ears. Her bangs have been tweaked into thin wisps that fall just to the top of her eyebrows. Her hair color is an over all pale blonde that has been subtly foiled with slices of a darker shade of blonde. She is wearing a lovely turquoise stone necklace, that flatters the neckline of her dress.

To capture this hairstyle for your own, use a large round brush and blow dry. Roll under on the top and up on the bottom. With this length, you can do many things to your hair, such as wearing it up for formality or down, such as the style you see. Why not try it?


We are looking at another NBC Passions television soap star. McKenzie Westmore's hair is a medium beige and shaped into the shag layers and styled with a lot of pouf and bounce. There is a good chance that our celebrity has had a mild body permanent to accommodate this look. Just apply a good amount of styling lotion and blow dry and swish up with you hands, where you want to place your hair and spray while you go. She does have a definite half part that is the focal point, where you can begin to style your hair. Always remember the constant touch-ups you will need, when you choose to go blonde. You can either look your best by getting your hair touched up every month, or second best by waiting until you have a 2.5cm new growth.