Gwen Stefani & Rihanna Hairstyles
Nickelodeon's 20th Annual Kid's Choice Award - 03/31/2007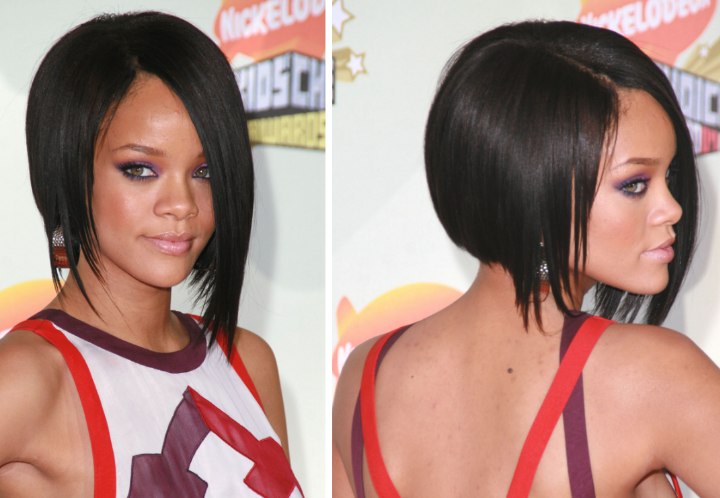 Rihanna has coal black hair that is centered in an off part and cut high up in the back of the head with irregular razored sides and the top that is enveloped into the sides. This straight textured black hair is slithered up, down and along her face, with the larger portion hiding one of her eyes. She truly has, the gift of a model to be able to pose so inviting.

This haircut is a great style if you are walking down the runway, but not on your bicycle, unless you clasp up the area that is patched over the eye. Then, you'd be too cool! Today's cuts find the bangs getting shorter and out of the eyes, not longer.


I hear the do woop sound behind this picture as Gwen Stefani is noted for wearing her hair in waves and curls that were prominent in the fifties and sixties, complete with a semi-lifted shirt collar. Her color is a combination of platinum and beige blonde and brushed back into a ponytail without any tendrils. The top is flatly back with the exception of her bang area that has been backcombed stiffly and formed into a giant C curl. Positively delightful! Remarkable simplicity is offered with this nostalgic look.

Ms. Stefani's hair has more porosity than a normal tinted head of hair and when backcombed and molded into where it is placed, you can be sure the hair is there to stay! Another thing, that always looks a bit daring; but usually very good is red lipstick with the blonde hair. Notice how the red plaid scarf compliments the red lips! Oh baby!