Ben Affleck Hair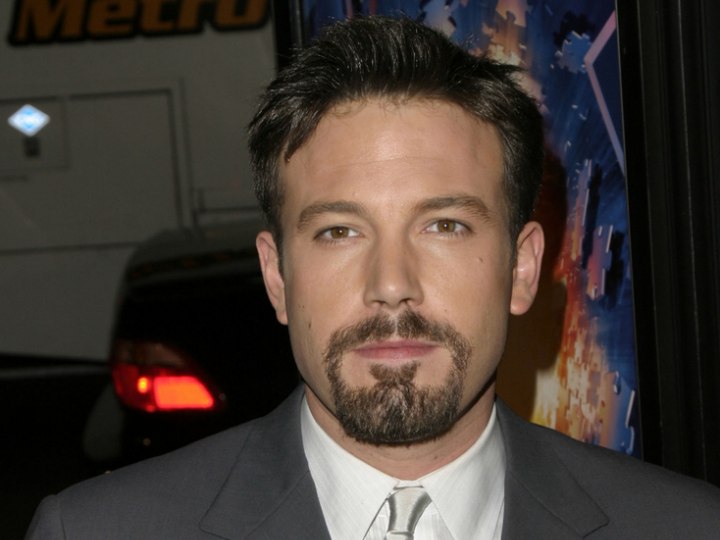 He may not be known for making the best choices in his acting roles, but Ben Affleck always looks sharp on the red carpet. The Oscar-winner is shown here with a traditionally short, debonair style that's been updated for the 21st century. This cut is ideal for straight, medium to fine hair types.



The Cut: This classic man's cut features clipper cut sides and well-groomed sideburns. The sides are clippered to taper to approximately one inch at the parietal ridge, growing shorter as you go down the head. The crown and top areas are layered to 2-1/2 to 3 inches and the fringe is cut in a curved line over the forehead.

After cutting the base design, use your scissors to notch the hair in the top and crown sections to give some texture and definition to the layers.




The Style: With our cut complete, apply leave-in conditioner and styling gel to the damp hair and massage it to distribute (or use a wide-tooth comb). Use a blow-dryer and round brush to gently lift and dry the hair to a mostly dry state (or until you have the amount of volume you desire) then use a small amount of styling wax to define the texture. Allow the hair to finish drying on its own.

If you accidentally dry the hair too much, or end up with too much volume, lightly mist the hair with water and finger-comb it to smooth the fluffy areas, the let the hair finish drying naturally.

Stacy - Hair Stylist ©Hairfinder.com
Photos by PR Photos

See also:

Male celebrity hairstyles

Fashion hairstyles for men

The best beard for your face shape