Antonio Sabato Hair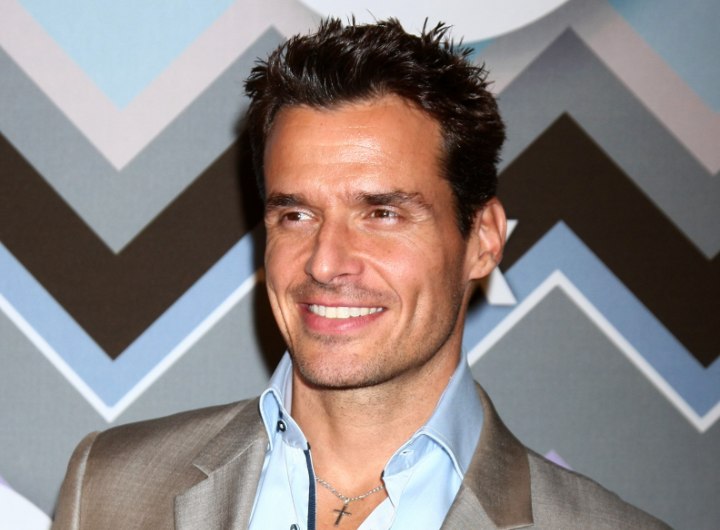 One of television's prime time heartthrobs of a few years back, this handsome man is still a head turner. His thick hair and dark brooding looks are always a popular look.



The look shown here is a cross between the classic masculine style and a modern mussed look. The style is characterized by razor-texturing to give a choppy finish and styled to appear purposefully disheveled. The cut and style look best on coarse and wavy hair types, and for those who have a lot of hair density.

The Cut: This is another variation of the man's cut. The sides and back are cut to layered lengths at approximately 1/2-inch at the bottom (perimeter edge) and gradually increasing to approximately 1-1/2-inches at the parietal ridge. Cut the perimeter around the ears using a wedge, to lightly angle to the top of the ear from the front of the side.

The top and crown areas are approximately 1-1/2 to 2 inches long in uniform layers. After the basic cut, go over the top and crown sections with a razor tool to give some choppy texture.




The Style: Once the hair is cut, apply smoothing balm, or styling gel to the damp hair and massage it to distribute (or use a wide-tooth comb). Use a blow-dryer to dry the hair to a mostly dry state, using a round brush to direct the hair as desired.

Once dried to the proper level, use a pomade or small amount of styling wax to give the hair some definition and emphasize the spiky appearance. If you accidentally dry the hair too much, lightly mist the hair with water and use your fingertips to add definition, then let the hair finish drying naturally.

Stacy - Hair Stylist ©Hairfinder.com
Photos by PR Photos

See also: More Hairstyles of Male Celebrities