Eric Bana Hair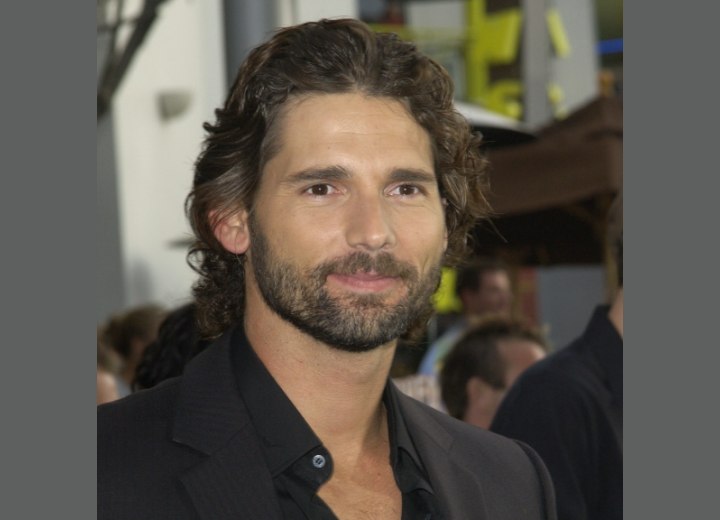 This Australian-born actor was already wildly popular in his native land for the TV sketch-comedy "Eric" in which he was a writer, producer and part of the ensemble cast, when he made the splash worldwide on the big screen in "Black Hawk Down", "Hulk" and "Troy" (opposite Brad Pitt). His sexy, swarthy looks have made him a major box-office draw and a big attraction for the ladies.



Shown here, Eric is sporting his very curly hair in a long-circle-cut style. This cut works well for men with thick, wavy/curly hair types in medium to coarse textures.

The Cut: This is a classic circle cut kept long. The perimeter should be followed to keep the hair evenly layered. The fringe is cut to approximately mid-point of the nose, while the sides and back curve in a sweeping arc down and around the back of the head.

The overall lengths at the various points on the head are about 3-4 inches at the sides and back, to between 5 and 6 inches at the crown at top areas.




The Style: The cut is blown dry using a diffuser attachment after being carefully treated with leave-in conditioner and smoothing serum to help keep the curls smooth and frizz to a minimum.

When the hair is mostly dry, you can use a wide-tooth comb to style the hair back from the forehead without breaking up the curl too much. Lightly mist the hair with hairspray and use the palms and fingers to press and gently squeeze the hair to add definition and lightly scrunch the curls for maximum definition.

Stacy - Hair Stylist ©Hairfinder.com
Photos by PR Photos

See also:

Male celebrity hairstyles

Trend hairstyles for men

The best beard for your face shape