Olivia Munn's above the Shoulders Hair

Olivia Munn looked radiant when she stepped out to attend the "Our Idiot Brother" - Los Angeles Premiere (August 16th, 2011). Her signature dark strands are almost black. The midnight brown is a very bold statement but the hue goes will with Munn's warm skin tone and brown eyes. Dark colors are always more mysterious and sexy and that rule proves to be true with Olivia here as well.

This is an interesting hairstyle to look at in the fact that it shows how tucking your hair behind your ears can change the entire look of your style. This ironed out hairstyle is sleek and straight and appears even more polished simply by tucking the hair behind her ears. The technique is also fabulous at showing off her statement earrings. Munn's strands are cut about two inches above the shoulders with a few layers cut in for shape. The flat iron creates a totally smooth look so the layers are hard to see in this style.

Munn parts her hair to the side for added interest and sprays strands into place so she doesn't have to worry about it moving or getting messed up. Even though this is an incredibly simple hairstyle it is dressed up immensely by her chic black and white dress as well as by her cool jewelry choices.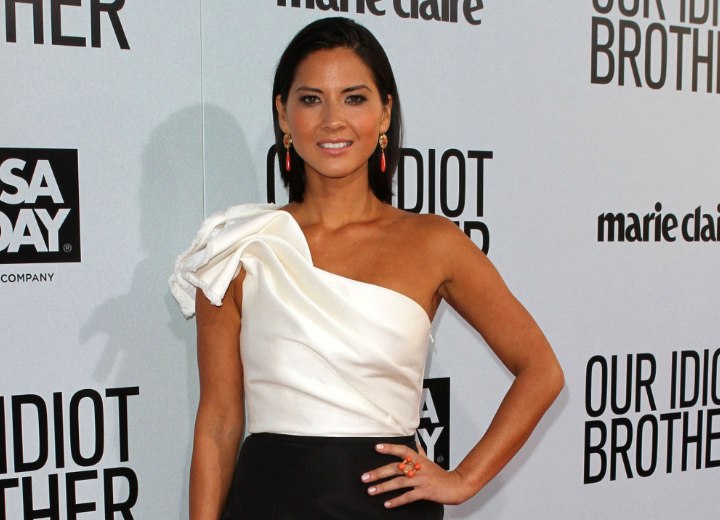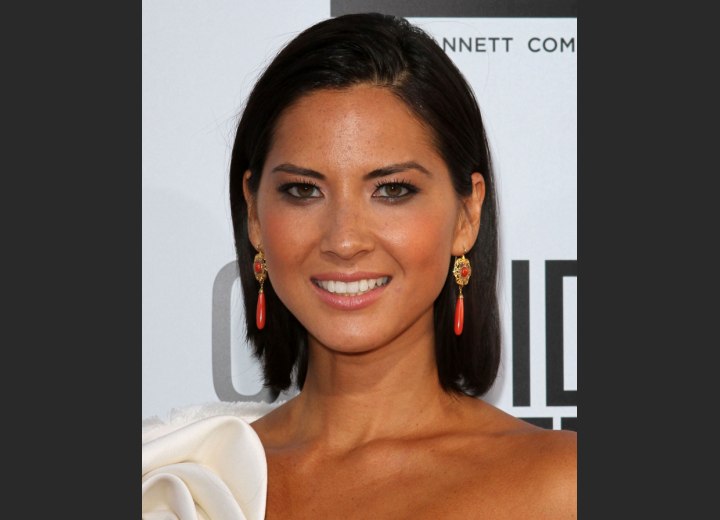 Related Post: More Olivia Munn hairstyles
Photos: Admedia / Shutterstock