Mandy Moore's Long Pixie

Let's flashback to 2002 and take a look at this adorable hairstyle worn by Mandy Moore. She looked flirty and carefree at the 2002 Teen Choice Awards at Universal Studios, Hollywood. We absolutely love her take on this short crop. This pixie is slightly grown out and definitely longer than a classic pixie would be. The length gives it a bit more versatility and allows Mandy's stylist to flip out the tips.

Curly texture is left in certain areas for a bit of whimsy and fun. Strands are clipped closely at the neck and gradually gets longer around the ears and then shorter again on the top. The fringe is playful and falls right at her brows. The bangs are split over her left eye and have a tousled feel to them. Though most of the hairstyle is flippy and wavy, the bangs are ironed out straight and show off an incredible sheen.

The contrast in texture throughout the hairstyle is interesting and makes the style special. Mandy's brown hair is very dark but just light enough to have a nice reflective quality. It captures the light and shows off a warm mahogany hue. Moore's locks are very healthy and her strands are full of shine.

Try this look yourself if you have a round or heart shaped face. Get the right cut and use a large sized curling iron to flip ends out. Don't keep the iron the strands very long and then break up your iron work with your fingers when you've finished. Use a light hold hairspray to add texture and hold to your look. A mist or two of a shine spray will complete the look.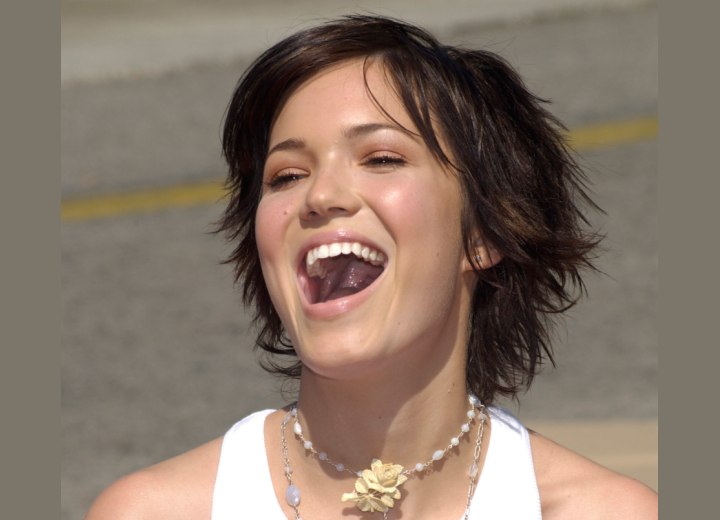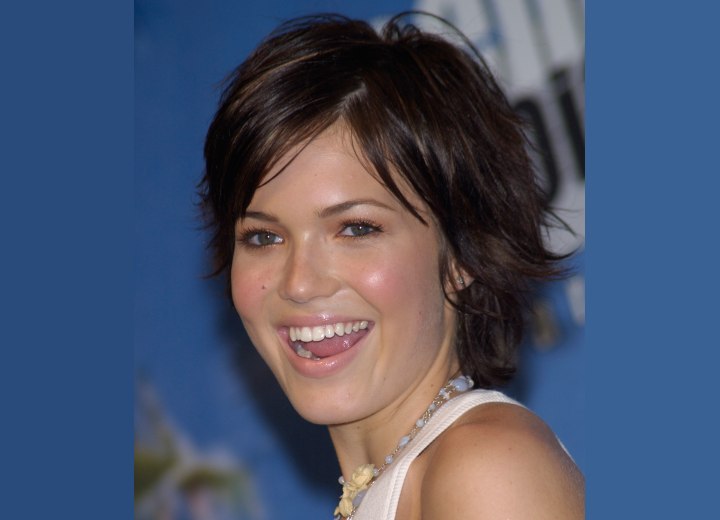 Related Post: More Mandy Moore hairstyles
Photos: Featureflash / Shutterstock