Long Blue Black Hair

Last October 3rd, 2009 Krysten Ritter was seen at the TAO Four Year and LAVO One Year Anniversary Party at the Venetian Hotel and Casino in Las Vegas, Nevada. She wore her long blue black hair down in a flounce of ruffles on the ends. Her bangs were short and up about 2.5 cm or 1 inch from her eyebrows making a luscious frame for her sumptuous eyes. Tip: To make the most of your eyes, wear a dynamic hair color like Krysten. Whether it is black or a sparkling wine red, with the right skin color and makeup, your eyes can look stunning.

Krysten's hairstyle can be achieved through rolling medium sized rollers all over the head and then a wide tooth comb run through or by using your fingers. The bangs can lie close to the forehead as pictured or you can always take the top section and use a curling iron for a little bit more bounce. Her hair looks to be quite healthy. Using the right conditioners for your type of hair will help restore your hair back to good health and keep in good condition.

Read the product information carefully before you buy and you will find one perfect for your hair. For example, the Nioxin hair products have completely devoted their entire line for thin hair and it will make a difference with your hair when you start using their products. I can attest to this because I have seen my client's hair change when using these products.

Krysten has thick lush brows that give her eyes a plush and sensuous appearance. There is a concealor in the inner corners of the creases of her eyes and a warm beige eye shadow applied over her eyes. She has lashes, mascara and eyeliner and because she is wide eyed she can wear the eyeliner on the lower inner section of her eyes. There is a touch of blush and a neutral rose lip tint. She is wearing a tropical sundress with dual straps that crisscross in the back. Absolutely charming!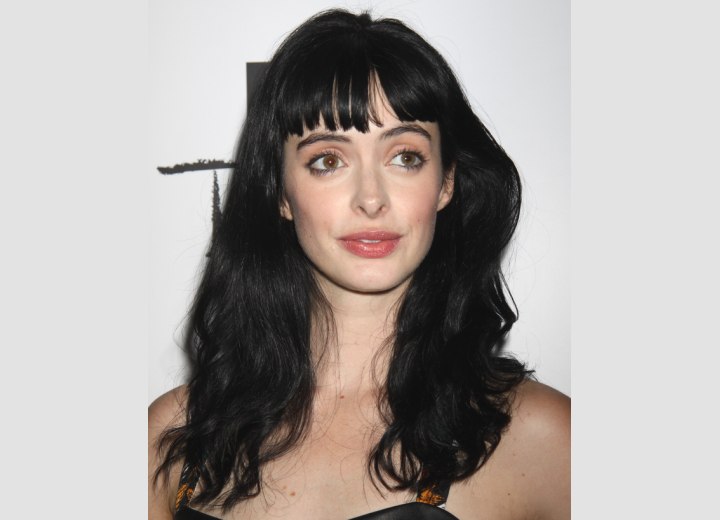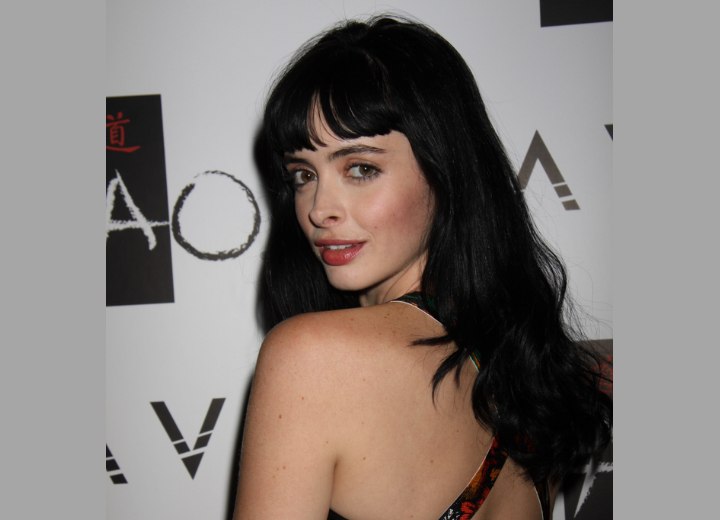 More Krysten Ritter Hairstyles