Kimberly Caldwell Haircut

Kimberly Caldwell's magnanimous personality was apparent to everyone who attended the Los Angeles Fashion Week Spring/Summer 2011 on October 17, 2010. Her sexy blonde hair was worn in a short asymmetrical layered cut with the right side longer than the other and in few stray flips and light waves. Her bangs were brought down upon her forehead and then singly placed in spiral taffy colored rows that were directed to the side.

An asymmetrical haircut usually looks good when you have a full or square cut face because it cuts the fullness of the original shape.

When your hair is as blonde as Kimberly's a good idea is to spritz some gloss upon the shaft of the hair to bring out the sheen and for protection against the climatic elements.

Kimberly looks to have an oval shaped face and is wearing a neutral light buffed make-up. Her eyebrows are well kept into small thin forms that appear to be smiling with her along with that, there is concealor in the inner sections of her eyes with a light blending of a light smoky eye shadow, lashes and mascara are included with bronzing and the blush. She is wearing a coral pink lip tone.

Although asymmetrical haircuts can be quite surprising and fun they aren't for everyone, because in some cases on a very petite face, the haircut could make the face look smaller.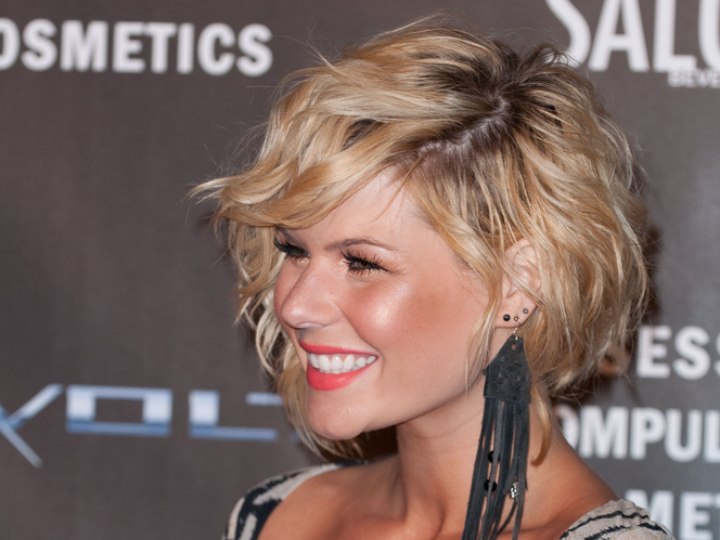 Related Post:
More Kimberly Caldwell hairstyles