Katharine McPhee's Pixie

Katharine McPhee was seen at the Glamour Magazine Honors of 2009 Women of the Year in New York City (November 9th, 2009). Katharine wore her hair in a simple short cut that was cropped up tight along the back with the longer sections on the top and sides.

All the hair has been styled away from her oval face with the slightest subtle part and a small section combed over and back. The sides are long enough to cover the ears, yet go over exposing the long black and silver earrings. Her hair color stems from platinum that is close to the scalp to willowed streaks of gold.

Her haircut is very close to being a modified bob and rolled away from the face, then back brushed, smoothed a little bit and sprayed with holding spray. This would be an easy hairstyle for someone who doesn't want to do much to their hair, yet is willing to work for a more elegant appearance.

Katharine is wearing heavy eye makeup over her warm foundation. There is a light concealor encircling them with smoky navy shadow that is blended with a white to bring out her attractive brown eyes. There is eyeliner up and down, lashes and mascara. Her eyebrows are perfectly arched and with a few penciled strokes to emphasize the size of her eyes.

Blush and bronzing circle around her eyes from her cheekbones and forehead and a light pink translucent lip color completes the canvas of her face. She is wearing a long v-scooped blue dress that is accented by a black waist and straps.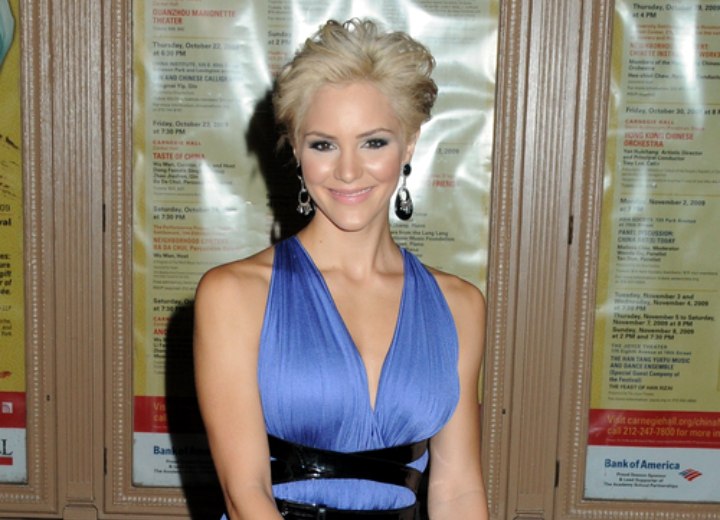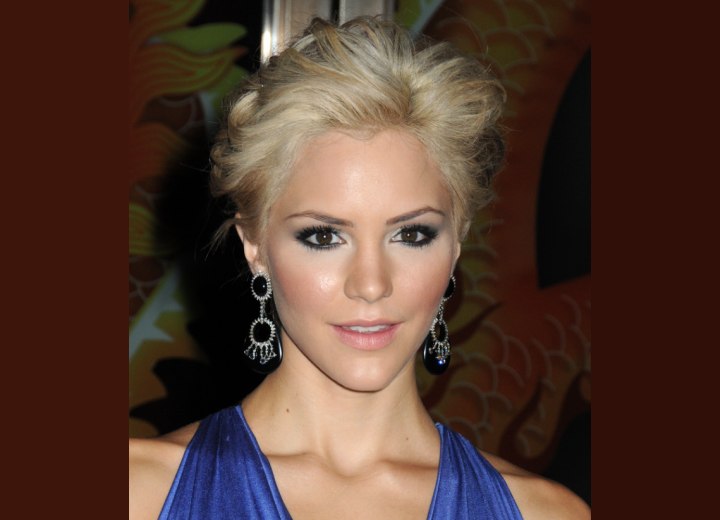 More Katharine McPhee Hairstyles