Emma Watson with Short Hair

Emma Watson attended the New York premiere of "Harry Potter and the Deathly Hallows: Part 1" on November 15, 2010 and her hair is cut in a boyish haircut that is close around the nape and around her ears leaving a thick page of sideburns to twist around in a curl or fringe in spacey pieces.

The top and crown are short enough to pop with volume while the bang area is combed over to bare her forehead with a couple of sections below the frame of her hairline. The hair ornament and small petite earrings definitely add a delicate femininity to her look.

Emma keeps her eyebrows in a darkened natural thick mode with blended brown shadow. There is eyeliner and mascara and lip gloss. Emma's colors are presented with a light warm brown, a small touch of gold and black on her milky skin.

Tip: When super short haircuts are worn like Emma's successfully it is because she is a petite girl. Signals are presented of a pixie character when the delicately small post earrings are accessorized. Not so, when a more hefty women wears her hair this short.

The hairstyle can be a disadvantage and reveal every ounce of fat and wrinkle involved. Therefore, if you do not have the petite lines of Emma, it will be better to keep a little bit more hair.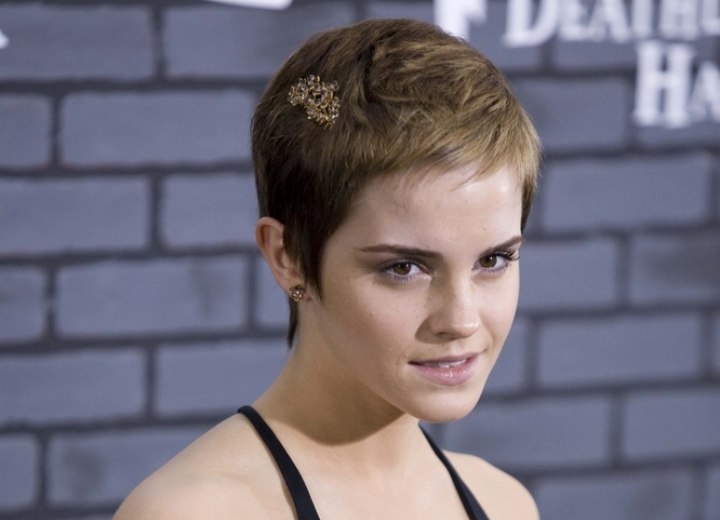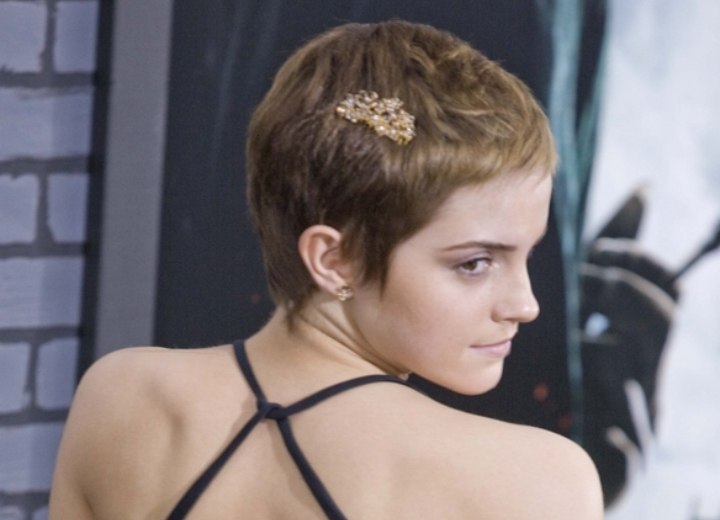 Related Posts:
Short celebrity hairstyles
More Emma Watson hairstyles