Bob Hairstyles
Bobs can be both modern and classic and any lady can look glamorous with the right bob hairstyle. Also, this style is appropriate for any occasion.

The sharp lines of a classic straight bob make this a very comfortable style to wear. Styling is very easy and almost no styling aids are required. A brush or comb is all you will need to keep your hair style in shape.



Bob hairstyles are very versatile and there are many different types of bobbed haircuts, where length and style are concerned. The jaw-length bob is a very popular style. It is not really short nor long. The perfect length for if you ever decide to grow your hair out again. Also, it is the perfect in between stage for when going from long to short hair. Go for a mid-length bob when you are not sure yet whether you are ready for really short hair or not.

A short sleek single-length bob will accentuate pretty facial features. Precisely cut chin-length sides with shorter underlayers will make the ends go under on their own and frame the face nicely. The perfect style with jaw-caressing sides to bring out gorgeous facial features.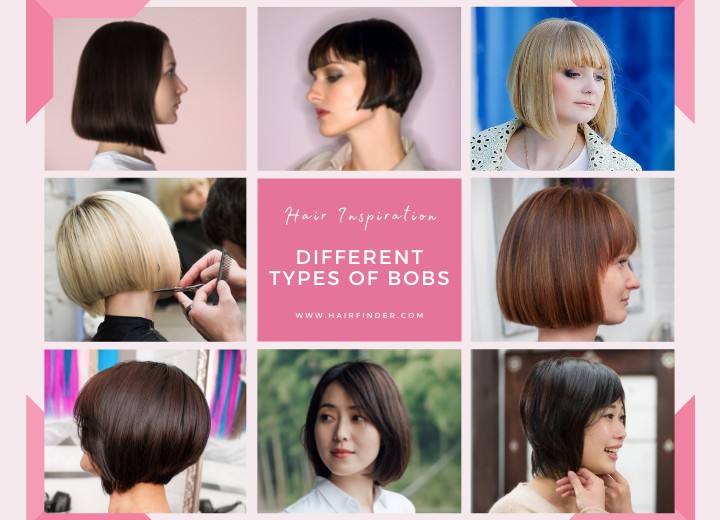 Short nose-length bobs (just below the earlobe) can look stunning with long blunt cut bangs, cut just above the eyebrows. Although this bob haircut is quite short, there is a lot of natural movement of the hair. The perfect option when you want a sexy short bob hairdo with cheek-caressing sides. This style can be very cute and face-flattering. Cut it to ear-length for an extra sweet effect. Cut it a bit shorter and show your earlobes if you want a stunning original bob. If long bangs are not your thing then a good alternative would be a short uneven wispy fringe.

A graduated bob can be very stylish and is very different compared to the classic straight bob. Layers will give the bob more volume and tapered ends will make the hair look softer. Another option if the classic single-length bob is not really what you like is a longer, rounded nape and short blunt lines at the sides and front. Texture can do miracles and turn originally "ordinary" bob hairdos into trendy styles.

Asymmetrical bob hairstyles and angled bobs with a shorter back can be very striking! Go for it if you dare! You'll get a stunning look and, without doubt, many positive reactions. Many agree that an asymmetrical bob is special and gorgeous, but few have the guts to go for it.

©Hairfinder.com

See also:

Photos of modern bob haircuts

Katie Holmes' bob

How to cut a bob