Highlighting & Highlights
The wind, surf and sun make her hair glisten with golden highlights as she strolls lazily on the beach. She was a college girl vacationing from her studies. Here, with her girlfriends, they all had hair that radiated several shades of blonde, with long thin streaks of strawberry blonde, platinum blonde and red over light and medium brown giving the appearance of being au natural, but, with the fine tune of costing her hundreds of dollars.

Every week thousands of women go to the salon of their choice to have foils. This is part of their life. They set up a budget and realize they are high maintenance ladies. Coloring their hair isn't an option, but a necessity in their lives. As they service their hair about 2 or 3 times a year, their stylist/colorist becomes a confidant and friend as she shares her life story.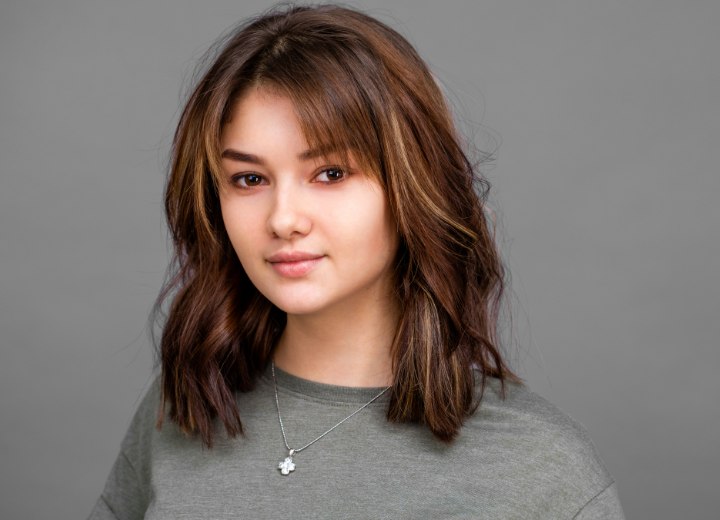 To lift your hair up one level or five depends upon the color of your natural hair. If you are a dark blonde, your colorist can easily mix up a formula to lift your hair a few shades lighter without applying bleach. If you have light brown hair and apply a high powered blonde formula there will always be a certain amount of reddish blonde brought up and deposited because all browns have a certain amount of red. Reddish blonde is beautiful on some ladies and can look quite flattering with the proper complexion.

If you are a dark brown and have always dreamed of having highlights, here is something for you to think about. When blonde is brought up out of the dark, there will always be red involved because of all the levels the process has to go through. The red/orange can be toned down with the proper toner to deal with this. Light blonde strands running through dark brown isn't exactly the most complementary look on anyone though. I've heard some call it the "skunky look", others, an oreo cookie. The contrast of light blonde and dark brown/black is way too drastic.

There is hope. Why not bring your hair up to a rich golden? Not orange, but a shimmering gold. The dramatic effects could be dazzling. If you are daring and would like to be lighter still, put another color along side your gold and brown, like a rich coppery red. This would bring you three festive shades, discreetly, of course. The best time to do this, if you want this to be kept secret, is be serviced at a good reputable salon while you are on your holiday. One would think you've biked for miles in the sunshine, when they admire your mane.

If you are a redhead and desire some highlights, this can be easily obtainable, foiling your hair up one or two shades. Strawberry blonde enriches the whole head over a true redhead and you'll be ready to go anywhere with confidence.

Highlighting covers up gray and makes you feel a little bit younger. For those already young, it makes them feel much more attractive. Whether long or short hair, highlighting is here to stay. My observation has statistically been that 98% women tint their hair for fun or to cover up the gray, highlight or do both to their hair.

Is highlighting for you, though? If you have silver hair and want to cover up the gray by highlighting, chances are it will only make you look older. How can this be, you might ask? Because, if you already have gray hair it will then, look yellowed and washed out from the sun. You won't be fooling anyone and will look exactly like what you've just done, "highlighted" over gray hair. Because of this, many tint their hair first with an attractive light brown/dark blonde color and then, highlight. Or, you can ask your hairdresser about putting in some low lights along with the highlights. This will take care of the yellowish grayish blonde. Low lights can range in shades anywhere from chocolate brown to a dark blonde for contrast and will do more deposit then lift.

Next Page