Transitioning To Or From A Pixie Cut (2)
Previous Page

Low-Volume: Blunt, Neck-Length Bob

The Low-Volume version of the cut in question uses a blunt cut that falls to a point along the neck below the chin and jaw line. The hair is sectioned up and the sections are lowered in halves and cut using a guide length determined by the desired length. As the rest of the hair is lowered, it is cut using the established cutting line. The resulting bob should be clean and neat. This particular cut is perfect for those with fine, straight hair and for those who need to have more vertical focus in their look.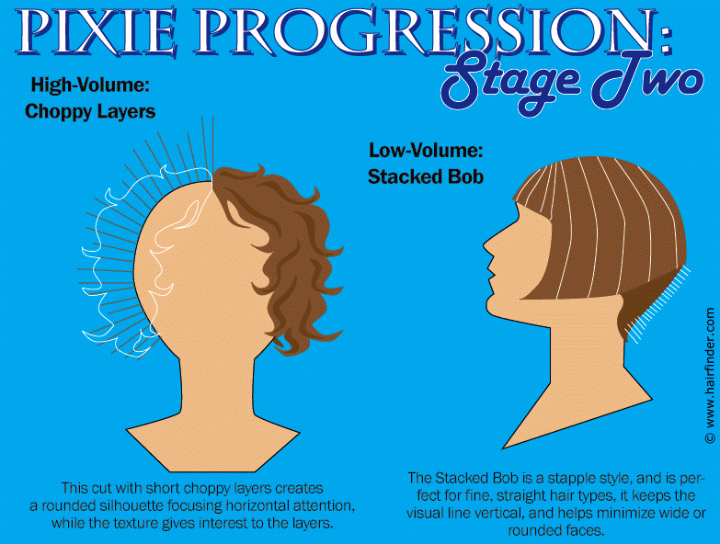 Continuing the layered look in a shorter style, we keep the ability to control the level of bulk in the style and make best use of the natural wave present in the hair. At this point, the overall length falls to the top of the jaw line, just below the earlobe. The hairline may curve slightly lower as you go around the nape of the neck, but only slightly, or only in thinner layers. The overall shape of this cut is more circular, and the layers are going to be point-cut in order to give more texture to the style when it is finished. The finished style will feature the ends of the layers being turned outward, away from the scalp, and added product will be used to define the tips of the layers and create visual interest.

Low-Volume: Stacked Bob

With straight hair types, the simplest method by which to proceed is to continue with the bob theme, but add some stronger elements as we go shorter. To this end, I recommend that the mid-stage cut for the "low-volume" option is a stacked bob. The forward lengths should fall to the corners of the mouth and the cutting line should angle to the middle of the earlobe and on to the occipital bone at the back of the skull. The hair below this line should be layered in a long smooth taper down the neck.

The Finishing Line

Of course, the final hairstyle in the progression is the Pixie Cut. We've covered this particular cut in other articles and discussed its varied permutations and elements. The final look of the Pixie Cut should always be tailored to the individual, and the individual's personal style should shine through. Whether it is a smooth, cap of hair, or a spiky, tipped halo of a style, the Pixie Cut is a statement in and of itself.

As was said earlier, the stages and styles presented here are simply options used and based on some very generic criteria. If you don't like the shag, and you have wavy hair, feel free to select a different cut for your progression. And feel free to vary the styling to suit yourself, too. If you want a bob cut and your hair is wavy, grab your flat iron and smooth the hair out to get the look you want. Nothing says you have to give up on a look you like just because nature didn't make it optimal for you.

Stacy - Hair Stylist ©Hairfinder.com

Related posts:

Short hairstyles and pixies

Long hair versus short hair