Perm Rods (2)
Previous Page

(It should also be noted that perm rods come in both concave and "straight" versions. The concave rods get slightly thinner toward the center and flare at the ends. This has two benefits. One, it allows the rod to sit snugly against the scalp with hair wound around it – to a point at least. And two, it gives a slight variance in the curl making it looser to the outside of the segment for a more natural look. The straight rods have the benefit of creating a uniformly shaped curl.)

Let's take a look at the rod color groups: (Listed lengths are approximations, not meant to be hard rules.)

Red: Red rods are the smallest rods made, and are typically only used on short hair lengths to create tight, kinky curls. The hair lengths that would most often require such small rods are those less than 2 to 2-1/2 inches.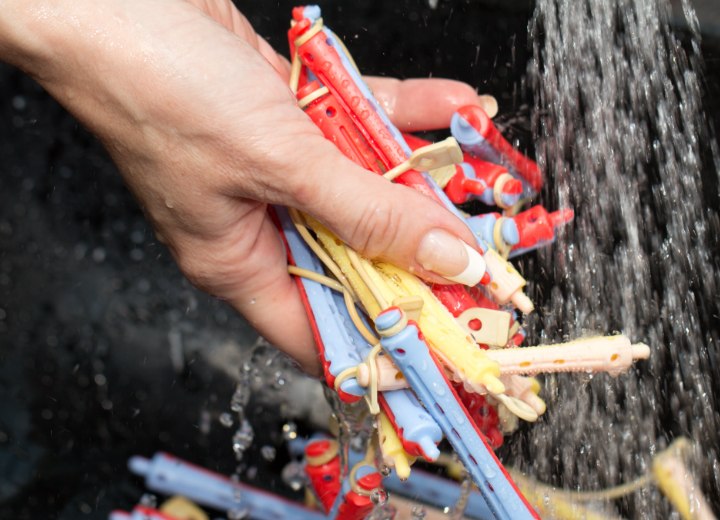 Blue: The blue rods are larger than the red and could be used on the shortest hair lengths to give larger curls, but also can be used to give longer lengths (say from 2 to 3-1/2 inches) a nice tight curly style.

Pink: Pink perm rods are the next stage, and are usually good to give tight curl to hair that is from 3 to 4 inches in length. It can be used on the shortest lengths to create looser curls and wave, or on the 2 to 3-1/2 inch range for loose curl.

Gray: A gray perm rod is the usual "all purpose" thickness. It is generally good for giving a nice tight curl to hair that is 3 to 5 inches in length, or to create looser-looking curls in shorter lengths of hair.

White: White rods are generally the largest rods used in creating a "curly perm" style. The rods are ideal for hair that is 4-1/2 to 6-1/2 inches in length and create a nice tight curl in this length of hair. Used in shorter lengths of hair the curls will appear looser and can even create simple body in short lengths.

Purple: The purple perm rods are generally called "body wave rods" because they create such large curl that most salons use them for body waves only, unless the client has really long hair and wants lots of curl.

Occasionally, you may find slightly larger body wave rods that are orange in color, but these may not be commonly found.

Finishing the Style:

In perms designed for curl, the hair will usually be styled afterward to maximize the volume in the style and emphasize the curl. This may involve blow drying using a diffuser and scrunching the hair, or it could be a matter of cutting the hair to maximize the curl by evenly distributing the weight of the hair.

For body waves, the hair may not be styled to utilize the curl created by the perm. Instead, the purpose may be to create added texture in the hair to allow the hair to be more easily curled. The hair may be rerolled on standard perm rods, blown-out with a hair dryer and round brush for soft waves, or may be set in any other of a myriad of ways. Body waves tend to be used mostly for limp and lank hair to add texture and body (obviously) or to adjust or normalize the wave pattern of hair that is too curly for a client's taste in its natural state.

Stacy - Hair Stylist ©Hairfinder.com

Related posts:

Perms Q&A

How perms work

How to wrap a perm

How to wrap a spiral perm