Holiday Hair Ideas
It's a holiday tradition ...

First we fill our datebooks with holiday events and parties. Then we fill our heads with thoughts about how we're going to pull together a fabulous look and hairstyle for all those fetes.

Here, some easy answers, compliments of Wig.com - where you'll find exciting ways that go well beyond wigs to "steal" a favorite style or create that great stepped-from-the salon look. All designed to fit your busy schedule whether you have 10 minutes, 20 minutes, or a little more.

If you have 10 minutes ...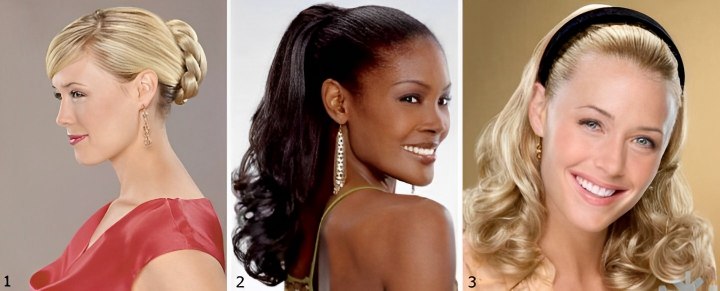 1. Create a chic chignon: Subtle yet sophisticated, this is the must-have hairpiece for instant glamour. A chignon draws the eye to the nape of the neck and is ultra sexy with low-back dresses. This variation is also ultra-easy since the bun and wrap around braid attach securely with a hidden comb. For added effects, added jeweled hair accessories, ortiny, shiny beads.



2. Go straight for the curls: "Just gorgeous." That's the thought these romantic curls inspire. Flowing naturally from the crown of your head (thanks to a flexible net base with locking drawstring and twin combs), this unique hairpiece lets you get an easy, yet elegant look fast.

3. Take the headband to new heights: The headband is back in a big way and better than ever when there's a cascade of waves tumbling from it. A luxe velour band anchors the fall - all you do is blend behind your own hairline and enjoy the compliments!

If you have 20 minutes ...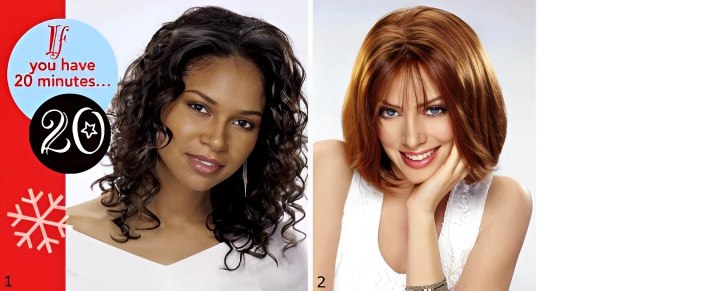 1. Get a nonchalant hairstyle: Nothing is sexier than beautiful hair that looks like it was no work at all. This deconstructed style arrives via a fall of soft sexy spirals that tuck into your hairline and blend effortlessly. For a festive look, tie the ends up in a loose ponytail and fix with a big satin ribbon.

2. Indulge in a total makeover: Parties are the perfect time to try-on a new you. What better gift than this versatile full-head wig that slips over your own hair to deliver a sensational look simply. 100% human hair, it styles just like your own so you can play it naughty or nice!

If you have 30 minutes ...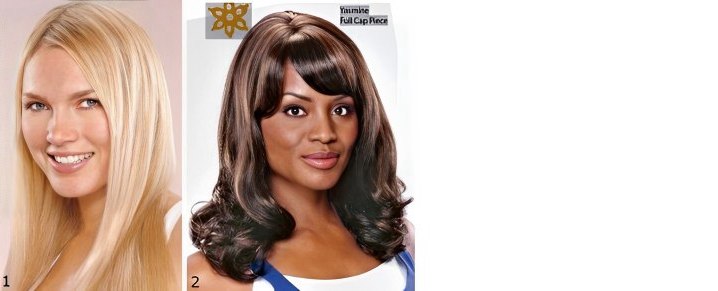 1. Take a long look: Glam long locks can now be the domain of everyone, including our short-haired friends, thanks to these superb human hair extensions. Layered with your own hair they lend dramatic - believable - length that may even land you under the mistletoe!

2. Bring back Hollywood's heyday: Early movie stars had a way of looking sultry and demure all at once thanks to styles like these. The look is blockbuster again - and you can get it in a snap with this full wig featuring a soft sweep of layers and oodles of élan. The paparazzi awaits!