Metro Chic by Richard Ward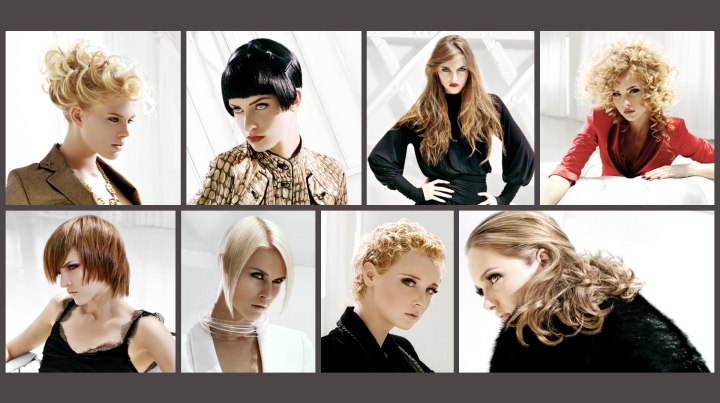 Metro Chic, Richard's inspired collection, shot in Milan with award-winning Italian photographer Daniele Cipriani, encapsulates his signature look of contemporary, couture hair.

Richard says, "Metrochic epitomises a fusion of classic yet modern; sharp cuts, clean lines, tailored styling and minimalist background giving the collection a metropolitan, androgynous edge."


Spirals and Round Curls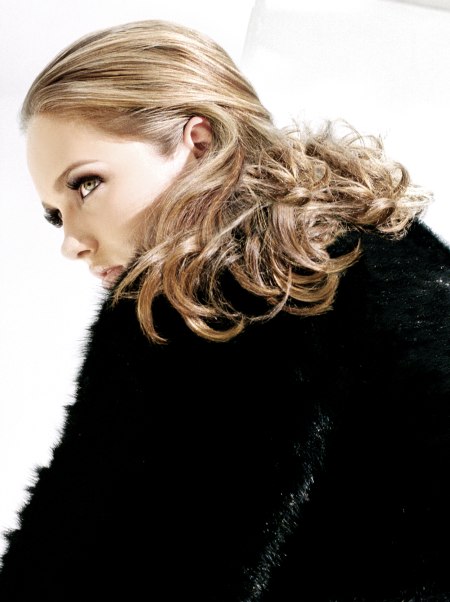 We cannot help but notice the color of this taffy beige blonde that is combed away from the models face with an array of spirals and round curls lying upon her back. There are slices of lighter browns running throughout her long hair that offset the warm beige that is so fetching. Use your spiral curling iron and gloss.


Short Curly Hair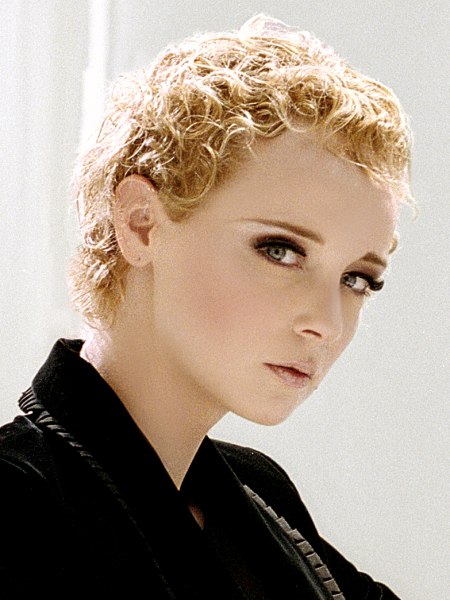 The capture of this short curly hair is magnified by the golden beige coloring. The hair is clipped in short layers all over the head. This is an easy to do hairstyle for short hair lovers. A great look for when you don't want your hair to touch your clothes. Use a curl activator and gloss after your perm.


Extravagant Updo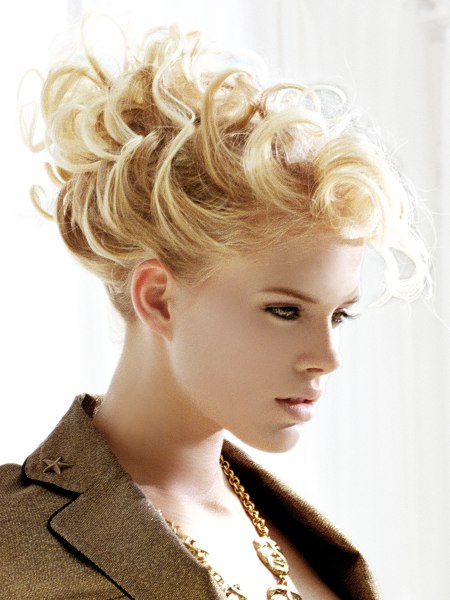 This extravagant updo with all hair styled away from the face is magnified by the awareness of the singly blonde sections brought up with the different swirls of curls completing this style. Freezing gel, spray and gloss will help with this image.


Cascading Spiral Curls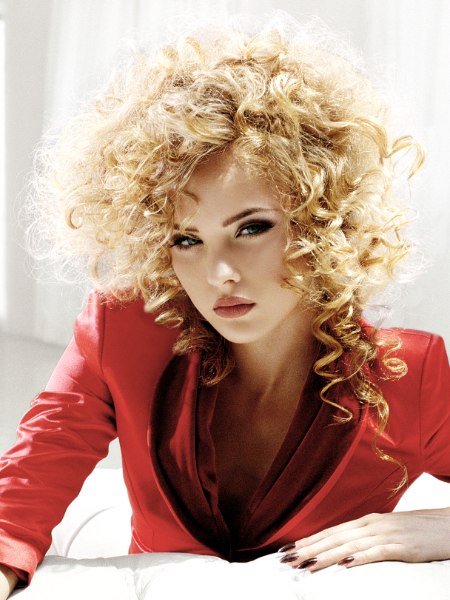 With just a hint of strawberry, this long blonde hairstyle is fashioned in layers with spiral curls cascading below the shoulders with an innocent disarray of curls circling about the head. Use a spiral iron and curl activator for long term affects after the permanent.


Exposed Ears & Hair Bow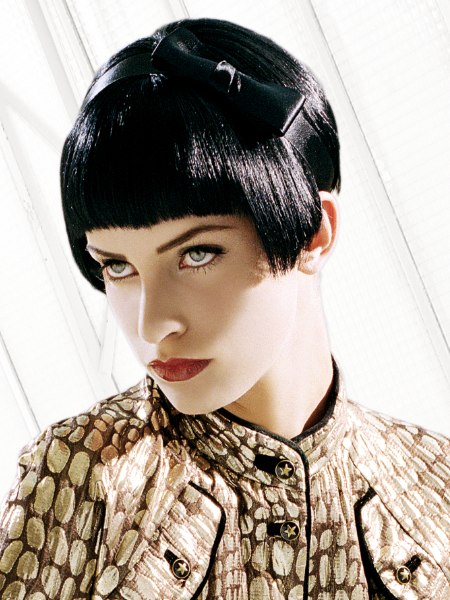 Edged with diligent perfection, the ebony colored hairstyle manifests creativity with the short blunt cap that exposes her ears and the accessory of a hair bow upon one side of her head. The bow is a fun way to dress up short hair! The use of gel and gloss will assist in this hairstyle.


Smooth Short Hair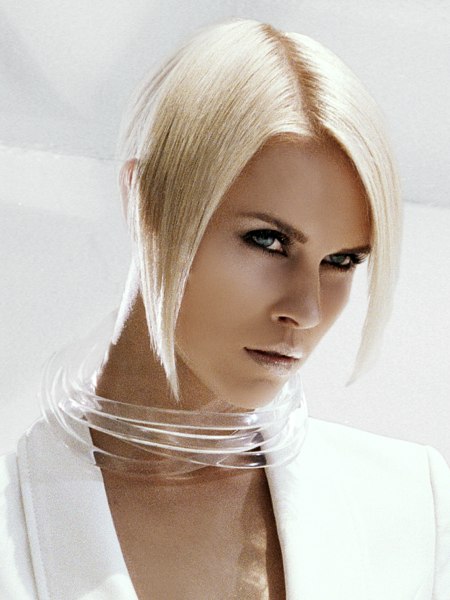 Like sharp lines of an arctic glacier that point and jag, so it is with the isolated smoothness of this beautiful short hairstyle. Not one cuticle dares to stand up. Edged up in the back the sides fall from the part into a longer length. Gel, smoothing crème and gloss will aid in this image.


Super Long Hair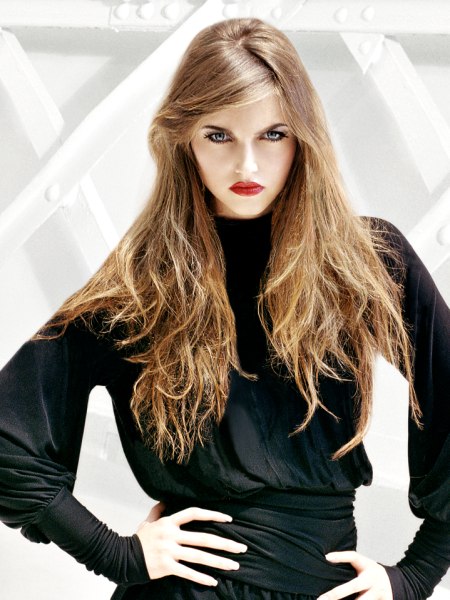 The magnificence of super long hair filled with scrumptious layers that fall below the model's shoulders are a blaze with blonde and caramel slices while being smooth on the top and fluffy billows winding down to the ends. Use texturing crème and gloss.


Chopped Straight Hair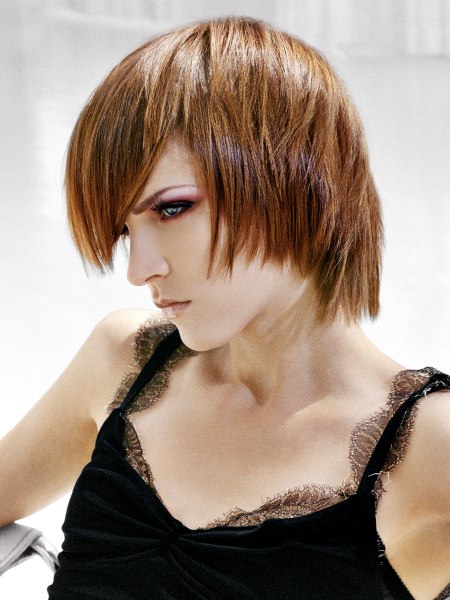 Beautiful browns with golden threads of hair are taken in this photo of texted, chopped straight lines. Every hair is combed down to notice the colors and sculpture of the short hairstyle. Not too short with hair covering the neckline. A heavy technique and using gel or lotion can assist in this image.

Hair: Richard Ward at Richard Ward Hair & Metrospa, London, England
Styling: Antonio Manaca
Make-Up: Mascia Brigatti & Daniela Lai
Photography: Daniele Cipriani
Art Direction: Tim Frisby