Short Hairstyles with Blunt Bangs
Blunt bangs are super trendy! You really should give it a try because straight-across bangs are really mainstream nowadays. Make a statement and combine your new bangs with stunning hair that is cropped short all over. Here are 20 ideas for short hairstyles with blunt cut bangs.




A short hairstyle that looks like something in between a bowl cut and a super short bob. The bangs are very long (eyebrow length) and cut straight across. Her hair color is a beautiful and impeccable blonde. Hair by Bruno Estatoff.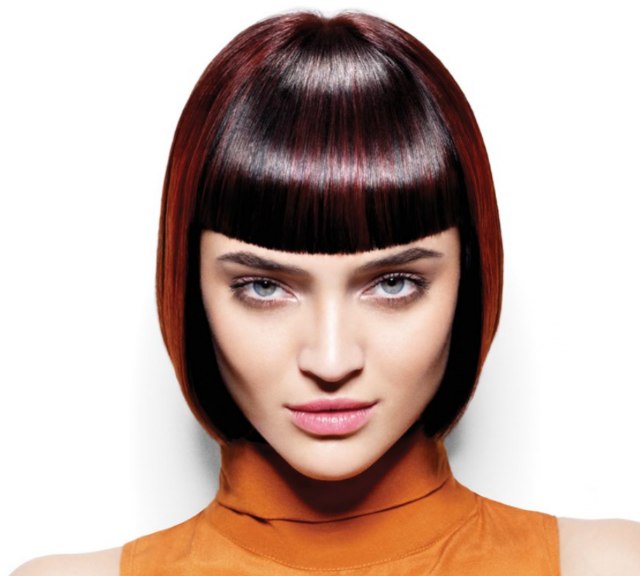 A short hair look with an air of mystery. A shorter style is perfect for the warmer months and it is super fashionable! This shorter than chin length bob is a great choice for when you don't want to go pixie short. It leaves you the option to grow your hair out without much hassle if you change your mind.

Her bangs are short, cut blunt above her eyebrows, and we love the super shiny brown with red hair color. Her cute turtleneck puts the emphasis on her bob. Hair by Schwarzkopf Professional.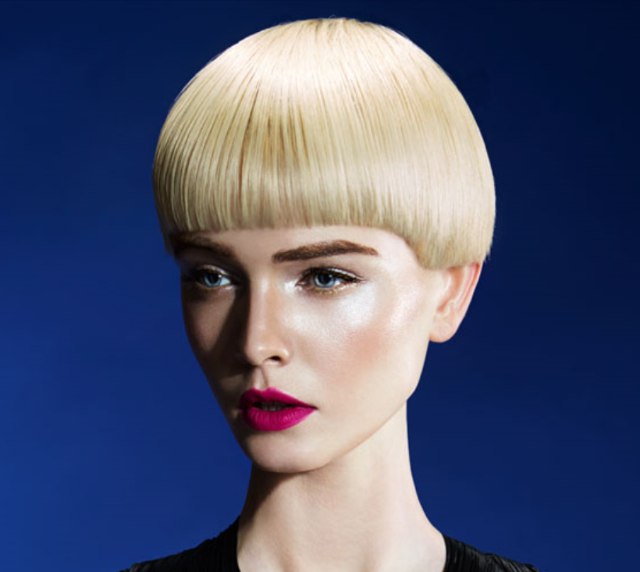 A very short hairstyle for smooth blonde hair. Her bangs are short and cut blunt above her eyebrows. The sides are short but still covering the upper part of her ears. This is a great cut to emphasize a beautiful long neck. Hair by Contemporary Salons.




A short bob with a beautiful back-angled cutting line and tapered sides that gently touch her cheeks. Her hair is a little shorter than chin length and mildly layered. Her bangs are at eyebrow length, cut blunt and slightly point-cut afterwards. Hair by Eric Stipa.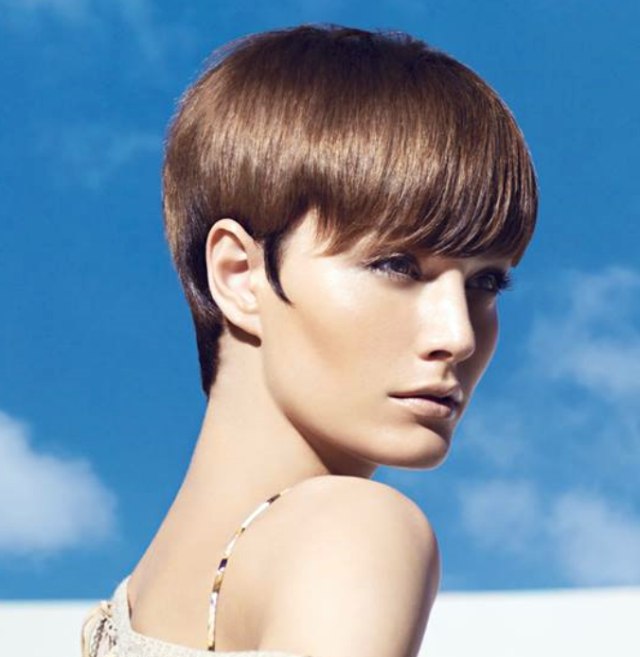 A brunette pixie cut with a longer silhouette at the back, in the nape. Her bangs are long, mysterious and almost covering her eyes. Her straight hair is smooth and shiny and the small pointy sideburns add extra interest to the look. Hair by Gandini Team.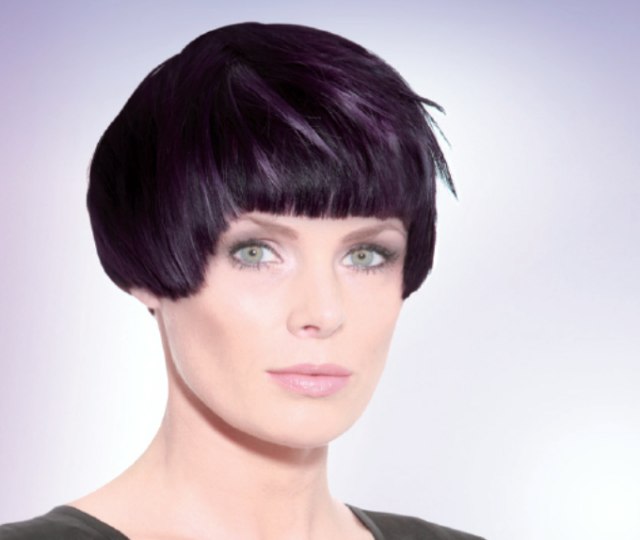 Dark hair with purple hues. The haircut is a very short bob that reveals the earlobes. The sides of this layered hairstyle are tapered and her blunt bangs were cut just above her eyebrows. This is a very flattering look for women who want to draw attention to their face. Hair by Hairarena Intercoiffure.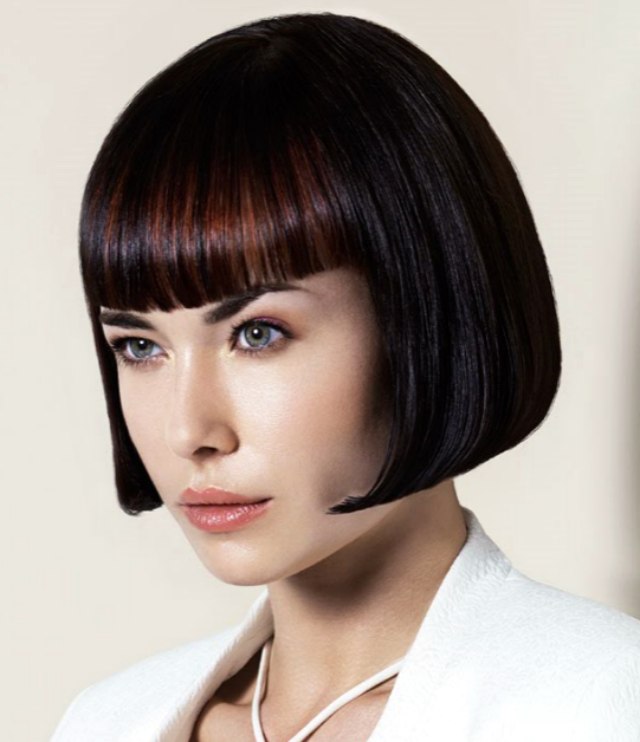 This short blunt cut bob is super cute and super attractive. The hair was styled super straight and there are no layers. The latter contributes to a very smooth appearance. This is a dynamic cut with lots of movement, one of those hairstyles that makes it look like you have plenty of energy. The fringe is blunt cut and barely touching her eyebrows. Dark brown hair with lighter hues. Hair by Hensmans Salons.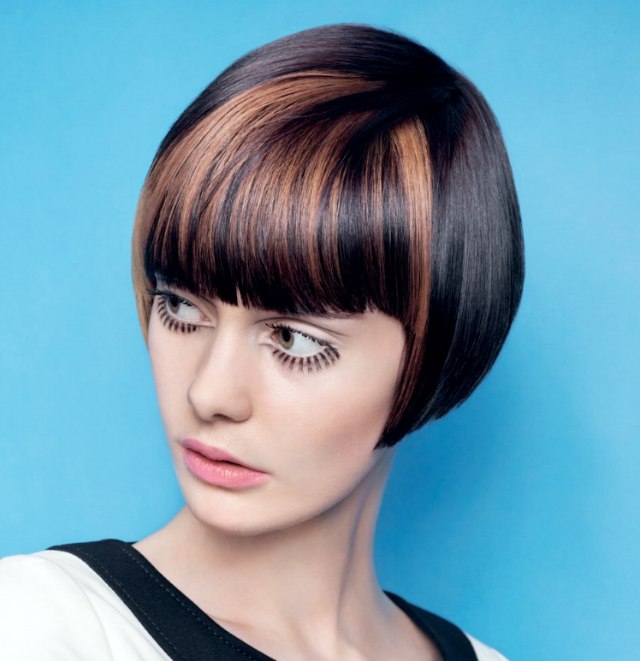 This is a super fashionable cheek length bob with a shorter neck section. A hairstyle for true fashionistas who are not afraid to go the extra mile to make a difference and look unique. The sides are angled and the shorter back is great to keep your neck cool. Her bangs are long and blunt. Dark hair with highlights. Hair by Indola.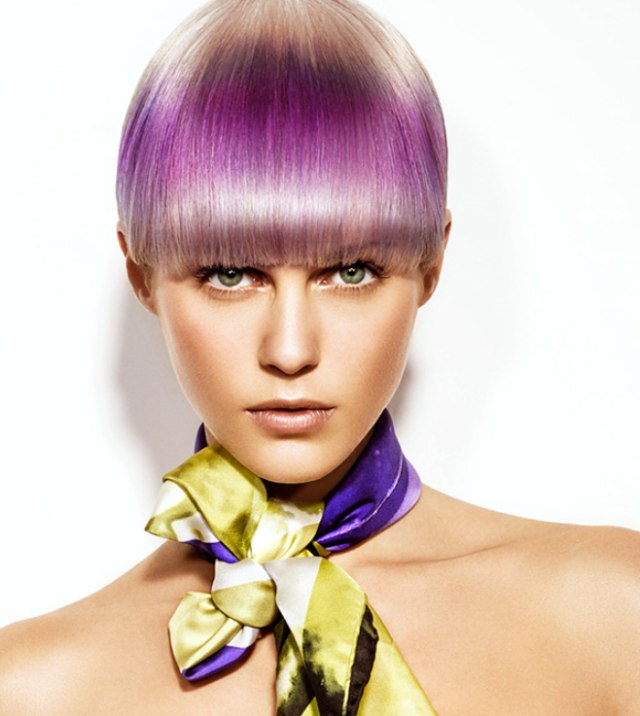 Dare to be different and draw all attention to your super fashionable hairstyle! Her hair was cut short in a pixie with fully revealed ears and very long bangs. The real gem however is her dual hair color, blonde paired with a stunning purple. Hair by Jacques Fourcade.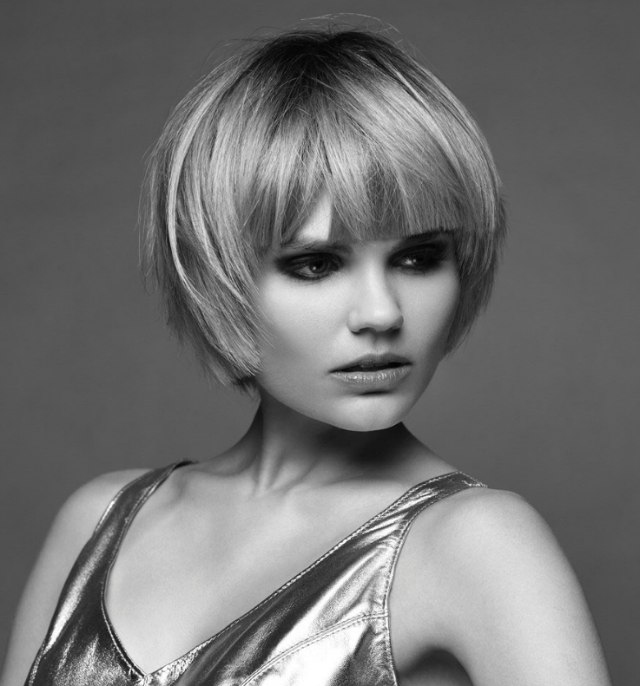 A short bob with layers for easy styling. The cutting line is back-angled and this is perfect for when you want to go short without revealing your entire neck. Her fringe is long and cut straight-across. Hair by Jean-Michel Faretra.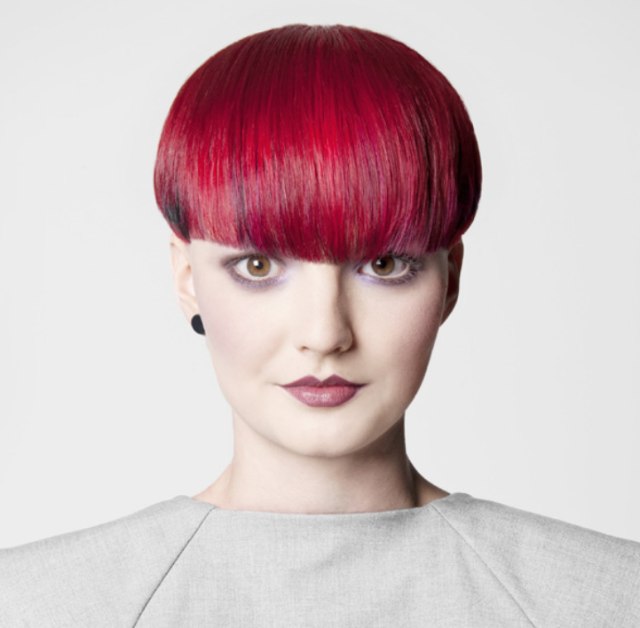 A very short bowl cut with beautiful long bangs. Her pinkish red hair was styled smooth for a shiny appearance. The 100% revealed ears make this a perfect hairstyle to show off beautiful earrings. Hair by Keller Hair Company.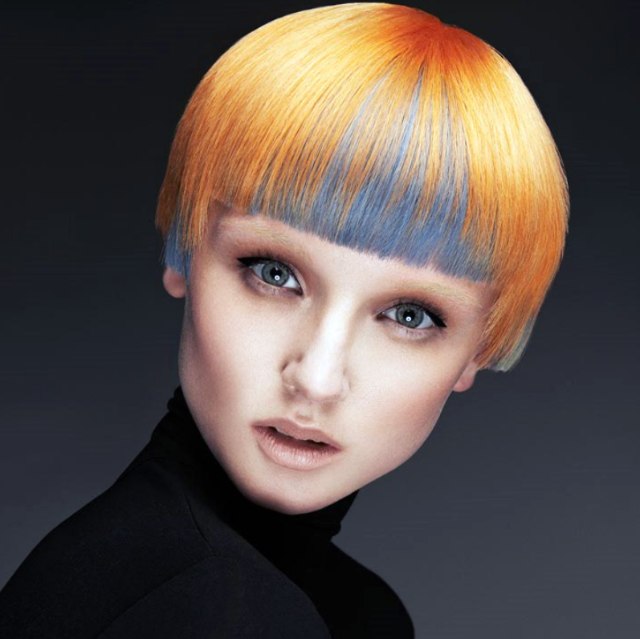 This is one of those looks that makes you want to go short immediately. Super cute and super fashionable! The sides of this hairstyle are short enough to reveal her earlobes. Her bangs are super straight and about halfway between her eyebrows and the top of her head. Her hair color is a striking combination of copper and grayish blue. Hair by Ken Picton.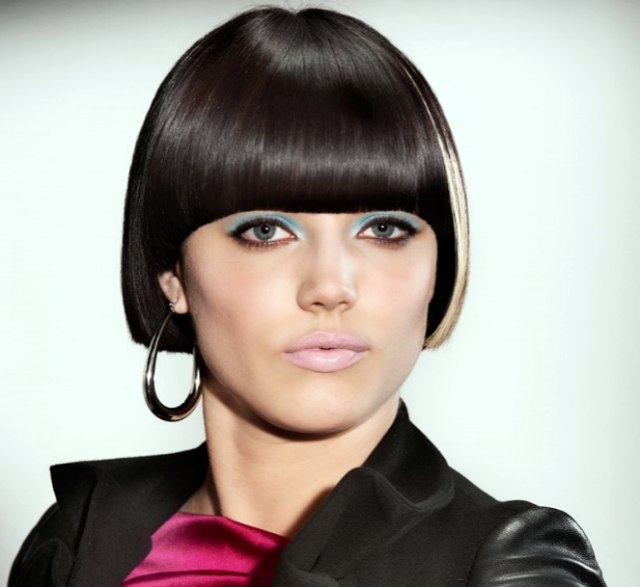 A classic hairstyle with a modern touch! This is a very short bob that is only slightly longer than ear length and the hair was styled as smooth as possible for extra movement. The bangs are blunt cut, with beautiful rounded sides. Her hair color is a very dark blonde with a blonde section on one side. Hair by Klaus Peter Ochs.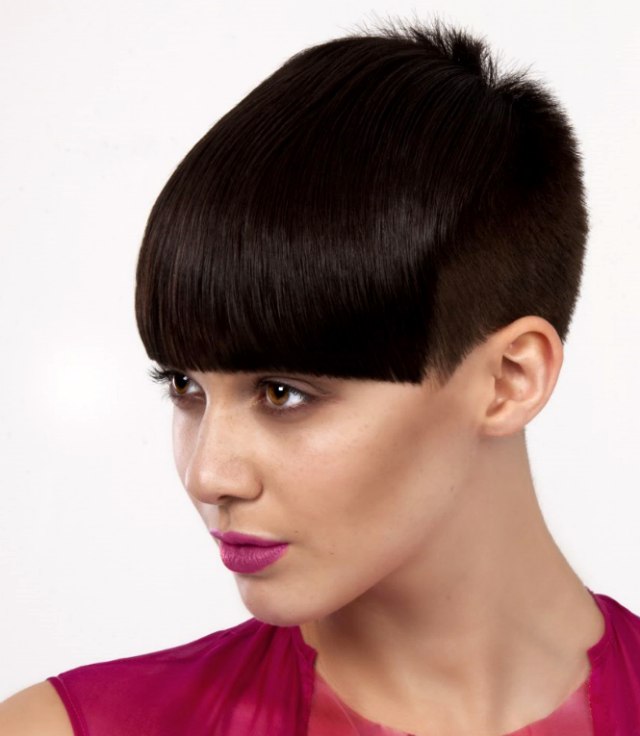 Are you ready to face the clippers? Go for it and enjoy the feeling of a very short haircut! It will make you look and feel unique because not many women dare to go this short! Her hair was buzzed extremely short at the sides and in the nape section. Longer top hair in front transitions in very long blunt cut bangs. Hair by Mahogany.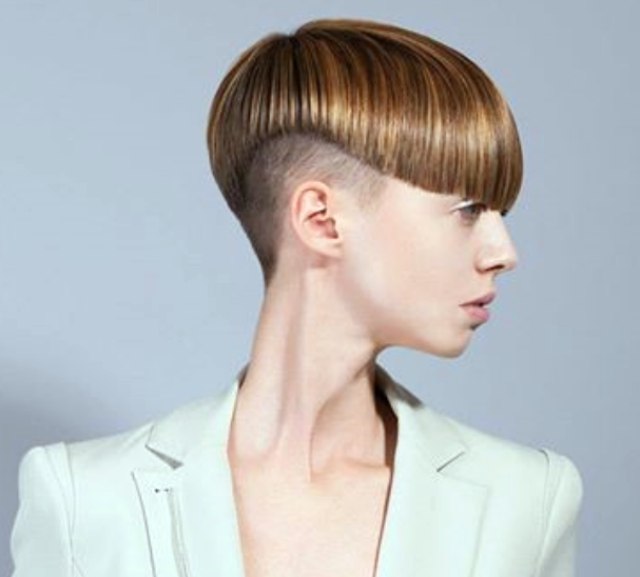 A very short hairstyle with a trendy forward plunging cutting line. Yes, it is possible! The hair in her nape and around her ears was shaved to stubble length. The top hair is longer and styled super straight. Hair by Maison Gérard Laurent.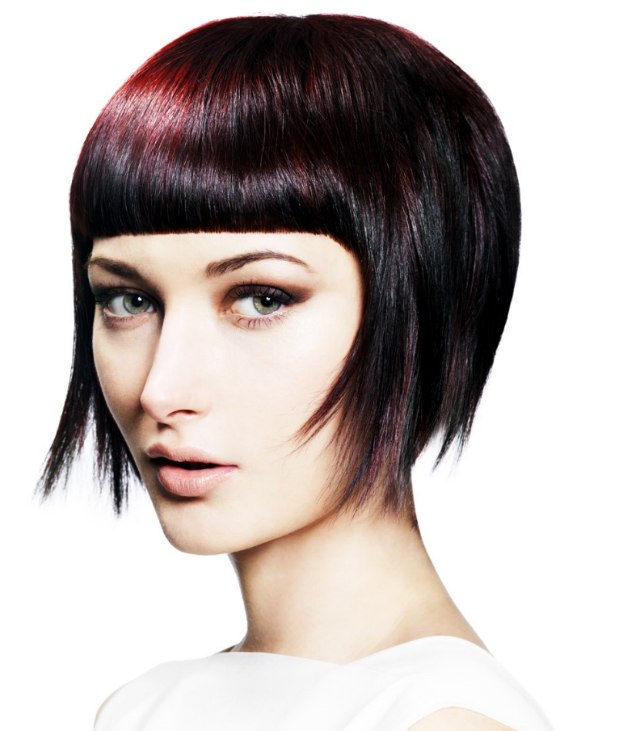 This short hairstyle was created with the help of a razor. The silhouette is very trendy, with razor cut sides and a shorter back section. Her bangs are straight and rather short. Her hair color is a dark brown with highlights. Hair by Mark Leeson.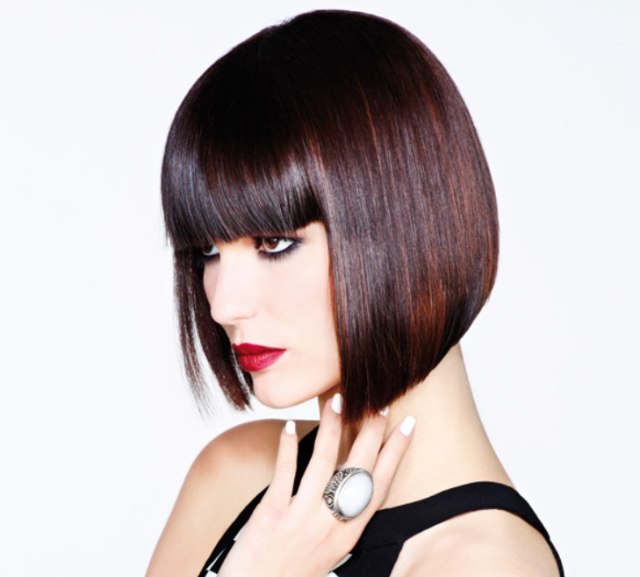 Comfortable, fashionable and suitable for women of any age: the short angled bob. Her hair was cut in a bob with a longer front, resulting in an irresistible plunging cutting line. Her bangs are long, covering her eyebrows and cut straight-across. Brunette hair with highlights. Hair by Michel Dervyn.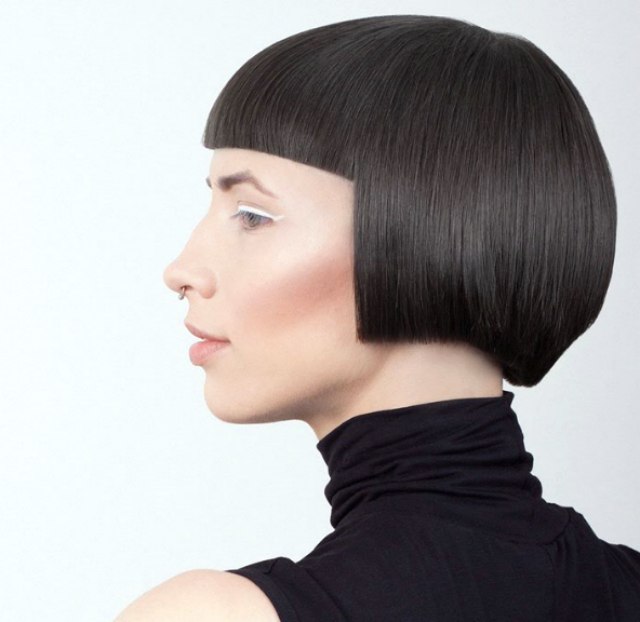 This very short bob haircut really opens up the face! A square cut with a longer and rounded back section. Her fringe area is super short and cut in a super straight line. Her hair color is a very dark brown. Hair by Milica Shishalica.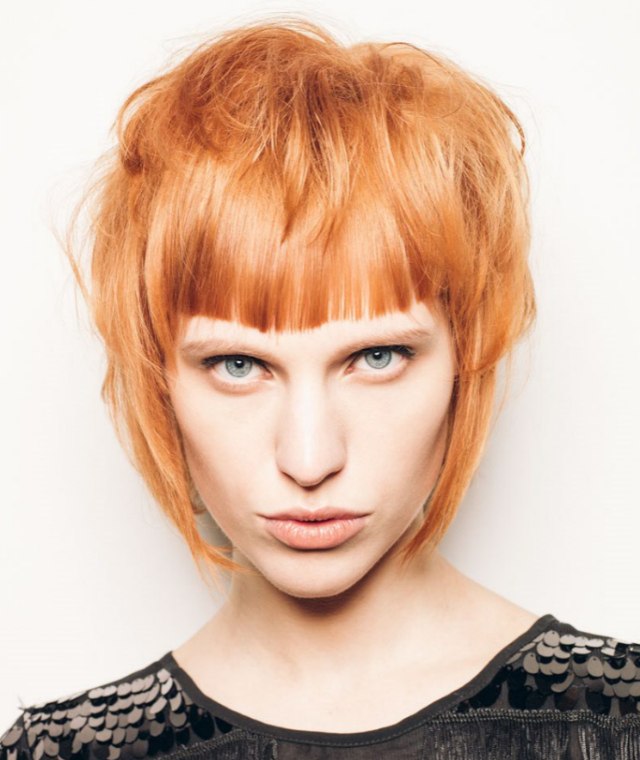 This contemporary short hairstyle with layers is a great choice for women who have fine hair. Her hair was cut at chin length and with a shorter back section. Her mid-forehead length bangs are light and straight. Copper hair color. Hair by Mova Art Team.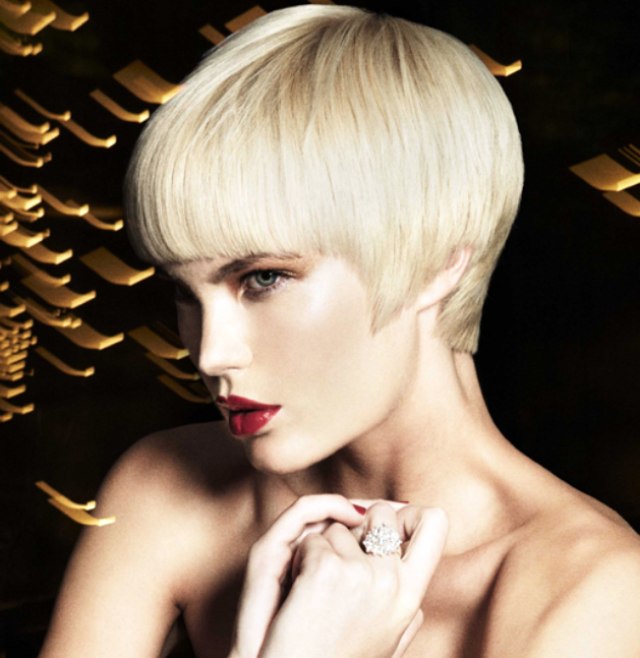 A blonde pixie with a blunt fringe that was cut just above the eyebrows. Layered hair with extra length in the nape and angled sides that partly reveal her ears. This is a very elegant look for short hair and is suitable for many occasions! Hair by Rae Palmer.

More short hairstyles on Hairfinder