Long Hairstyles with Bangs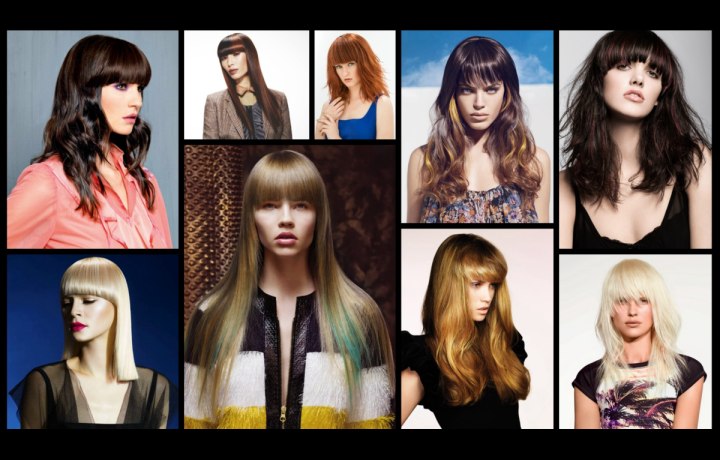 Men and women have been obsessed with long hairstyles since the dawn of time. There's a certain kind of attraction to long haired mavens that defies all logic, and it doesn't seem as if this phenomena will be extinguished any time soon.

Disney princesses, Hollywood starlets, beauty queens and catwalk models usually have one thing in common; long shiny tresses.

It doesn't matter how cool the new pixie trend is, or how stunning your co-worker looks with her chic new cap of hair… We always long back to the days that we could feel the flicks and curls of hair tickling our shoulder blades and long bangs that cover our forehead.


This beautiful combination of a full, slightly curved fringe and long, connected layers frames the model's face perfectly. The dark iced chocolate base color is interwoven with medium burgundy highlights, which suits her pale complexion and striking features beautifully. The messy styling lends a very youthful, party girl impression to the cut.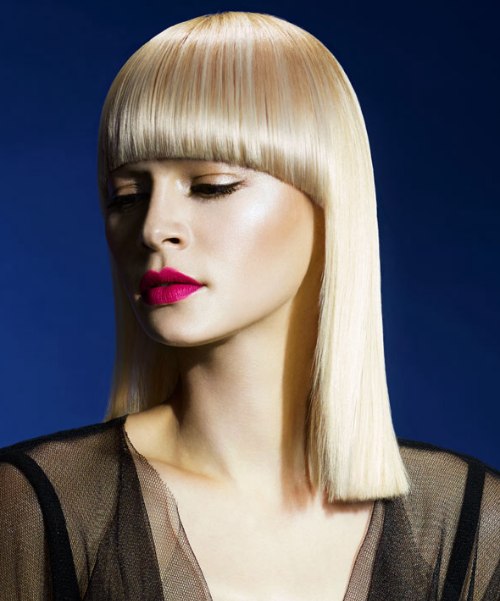 The model's very long bob, (known as a lob in the hairdressing realm), is colored to an exquisite platinum shade, interspersed with golden blonde wisps in the full, slightly arched bangs. The distinctive make-up and the model's stunning features gives off an almost oriental feel to the look in combination with the style.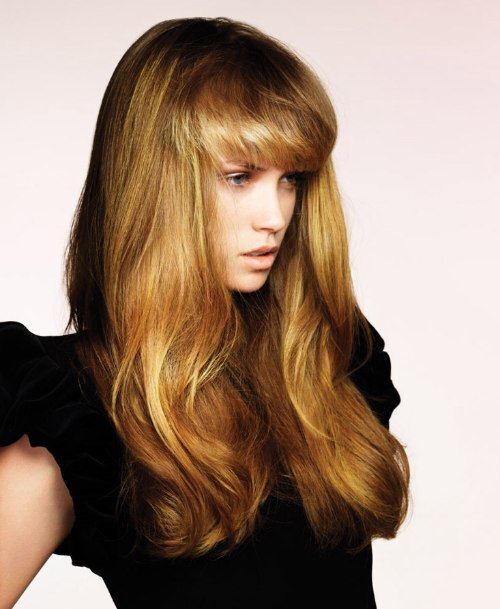 Here we have the almost impossibly thick and lustrous hair of the modern "Sleeping Beauty". Her very long connected layers are slightly thinned out for a more textured look. The light copper blonde base is highlighted with a light golden blonde to get that shining, ethereal shade of gleaming tresses.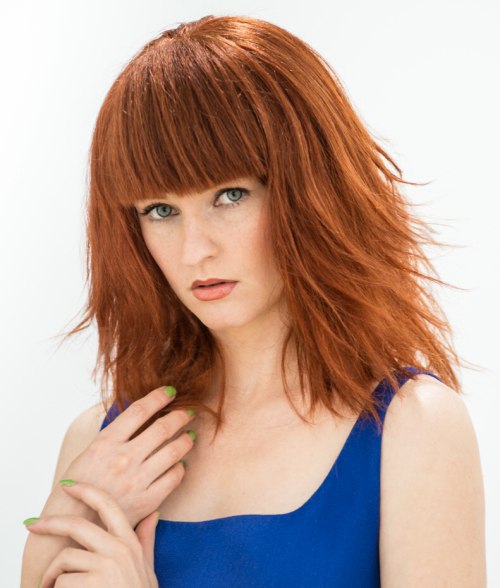 This is a feistier take on the universal long hairstyle. The model's light copper red base is lowlighted here and there with a darker shade of copper red for dimension and movement. The long connected layers are blown outward, while the full, blunt bangs make a loaded statement.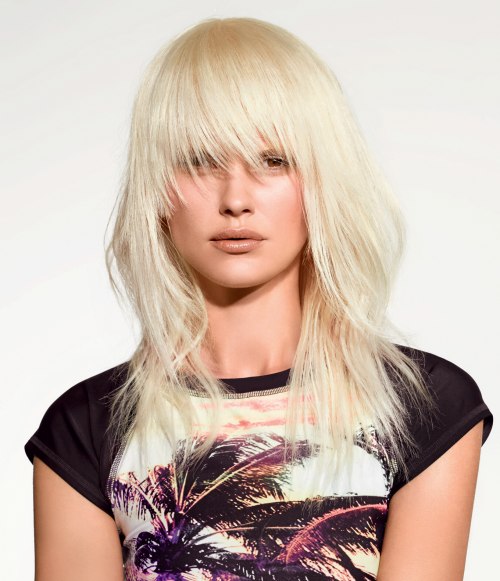 Here we have a long "never say die" hairstyle that's been in the limelight since Brigitte Bardot exploded onto the scene. Long connected layers are showcased by a stunning shade of platinum blonde. The full, wispy fringe complements the model's face while the slightly messy styling adds a sprinkle of mysterious charm.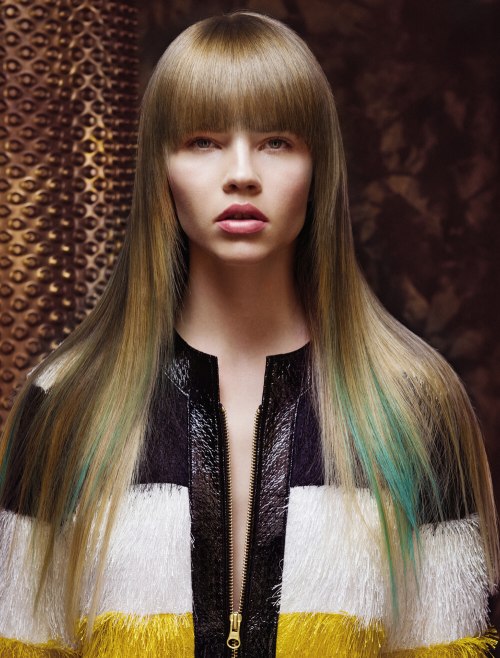 This is a nice long hairstyle for thick, fine-structured and straight hair. The natural light golden brown colored hair is predominantly one length, while being slightly thinned out at the ends. The hair has been layered around the face to form a wispy frame, with a full fringe to complete the look.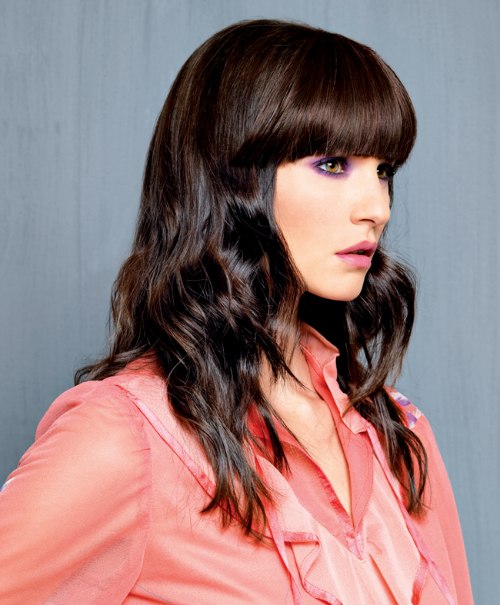 Rachel Bilson, Vanessa Hudgens, Selena Gomez and many more have rocked this look for years! Long, dark chocolate brown colored hair that's been cut into long connected layers and a very full, slightly curved fringe. The wild, slightly disheveled curls lends a fashionably boho aura to the whole look.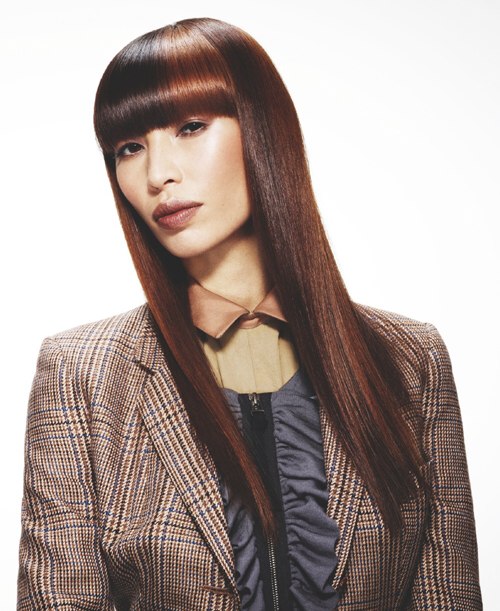 This is a favorite among catwalk, advert and photo shoot stylists. The one length cut is defined by the perfect long fringe, flawless straight hair and creative use of hair color. The model's dark iced-brown base is highlighted with very fine medium golden brown highlights in the fringe and top half of the head.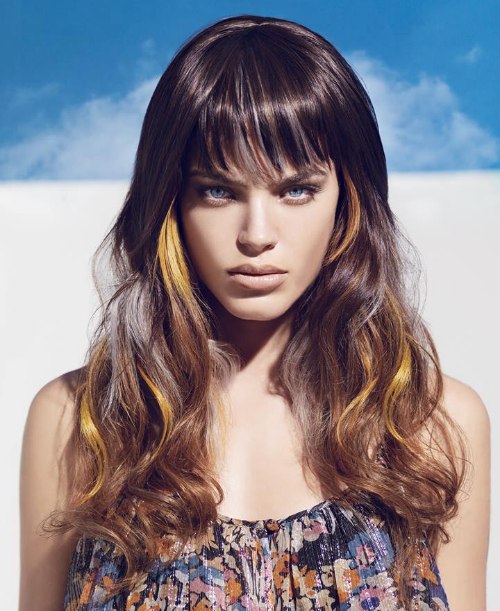 Here we have a style that's perfect for those with extensions. The long hair is cut into connected layers that's been thinned out along the tips, completed with a full wispy fringe. The large, slightly messy curls integrate the colored extensions perfectly into the model's natural light brown colored hair.