Sydney by Mark Woolley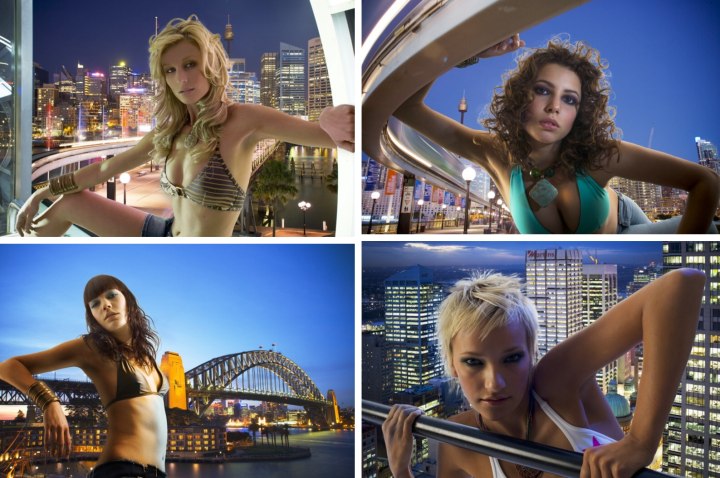 The styles of Mark Woolley's "Sydney" collection are at once traditional and ultimately modern.

The looks are completely wearable and well-suited to the upbeat tempo of cosmopolitan living. They are hairstyles that would be right at home in any metropolitan city in the world.


Punky Hair Style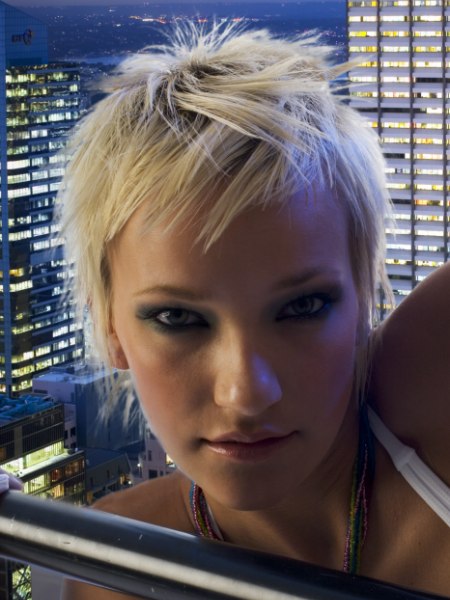 The cut: This short hairstyle is a spiky, straight, gamine-cut that's full of punky style. Choppy and chunky texturing and smoothly-straightened locks give the hair a fun edge.

The color: The cool, pale blonde of the hair color with the darker scalp area give definition to the style.

The style: To create the style, apply styling gel to towel-dried hair along with a protective leave-in conditioner. Blow-dry the hair straight and use a flat-iron to smooth the locks into a random pattern. Use a pomade or wax to define the locks and add strength to the spikes.


Long Natural Curls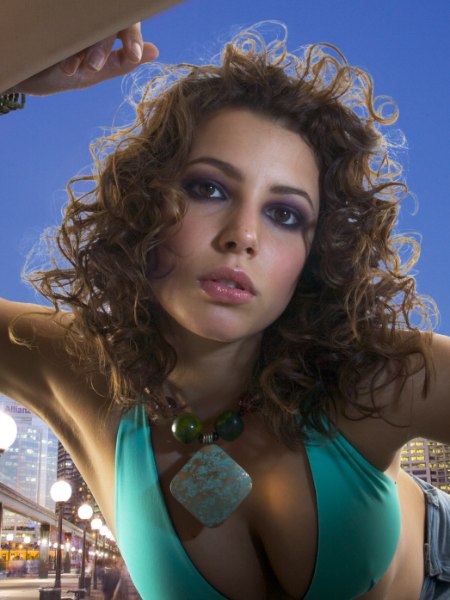 The cut: The model's long, natural curls are layered just a little to control the bulk at the ends.

The color: A multi-tonal brown with subtle highlighting adds depth to the hair and gives the skin a balance of warm for a just-back-from-holiday look.

The style: To create the hairstyle, the hair is blown dry using styling mousse and thermal styling protective products with a diffused blow-dryer. Follow it up with a light misting of styling spritz and gentle scrunching with the fingers to add definition to the natural curl. Separate the curls with the fingers to ensure maximum movement.


Romantic Curls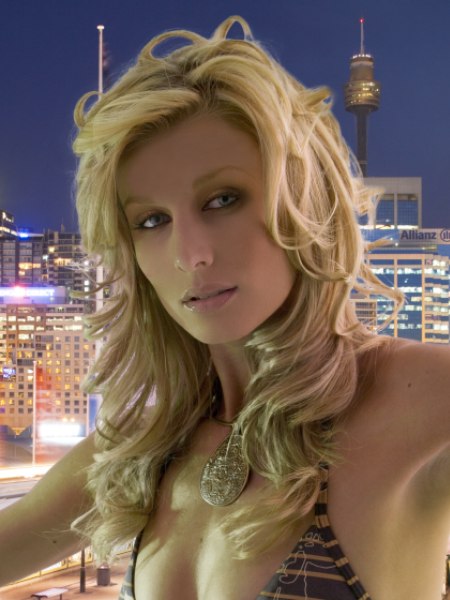 The cut: Long, romantic, golden blonde curls. The cut is deeply layered and softly textured for lightness and movement.

The color: The warm golden blonde of the hair color with the darker scalp area give a natural sun-bleached look with defining highlights and depth.

The style: The hair is towel-dried and applied with protective products and styling mousse for soft hold. The hair is blown-dry using a round brush and curled with a large-barrel iron. The curls are styled with the fingers and a pomade or smoothing serum for added curl definition.


Layered Long Hair


The cut: The combination of a smooth, sleek fringe with the layered lengths gives a flattering look to long straight hair.

The color: The hair is a rich dark, chocolate brown with warmth from subtle highlighting.

The style: The hair is styled by applying styling gel and protective product for thermal styling then blown-out using a round brush at the fringe area and upper portion of the head. The ends are dried using a diffuser and the fingers to scrunch the length into soft waves. A touch of smoothing serum is then used to define the waves and separate the strands for visual interest.

Hair: Mark Woolley
Photography: Pete Webb
Make-Up: Julia Young
Styling: Sherry Bide