Jessica Simpson Make-Up Look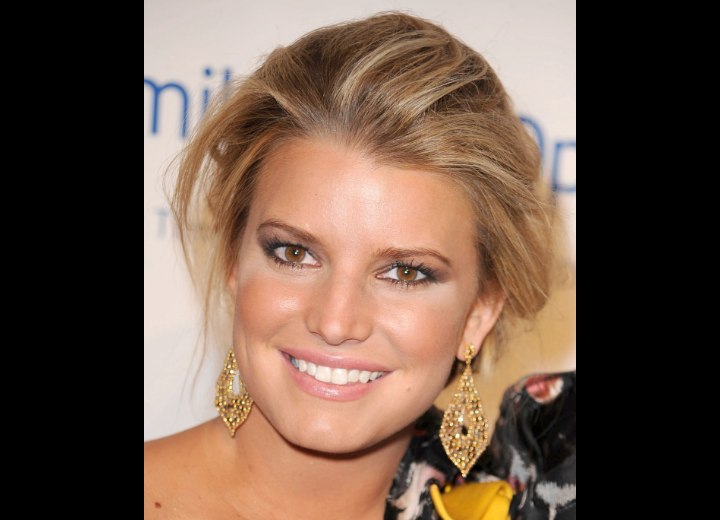 One of the more common questions I get asked is "How do I get the look that 'so-and-so' has…". The 'so-and-so' in question has been one of a number of celebrities and news-makers in the spotlight in recent years, and usually the looks being asked about are looks worn at a particular event. Some of these looks are easy to break down; some are not. The common thread is that the celebrities are iconic and represent a specific esthetic that can be adapted to a variety of individuals.

Recently, I received a request like this regarding Jessica Simpson. Having become recently interested in Ms. Simpson thanks to her series "The Price of Beauty" I decided to take on the challenge to define a "Quintessential Jessica" look, specifically for the eyes.



Defining Jessica:

The first thing to note is while Jessica's make-up is usually very glamorous, it isn't "over-the-top" with color and sparkle. It isn't a glitzy, shimmery, sparkly look. In fact, it's a look that says, I'm not really wearing a lot of make-up. In short, it's a look that takes a lot of effort to look minimal.

The other thing to note about the look is that it is very horizontal in its focus. The applications are all about elongating the eyes and softening the edges without losing the definition. It's a romantic and seductive look that never crosses over to vampy or trashy.

So, let's look at how you, too, can get Jessica's soft, romantic look:

Application:

First, as always, you want to start with a freshly washed face and apply your favorite moisturizer as a base coat. Follow up with your foundation make-up to even out and smooth the skin tone, and we're all set to begin.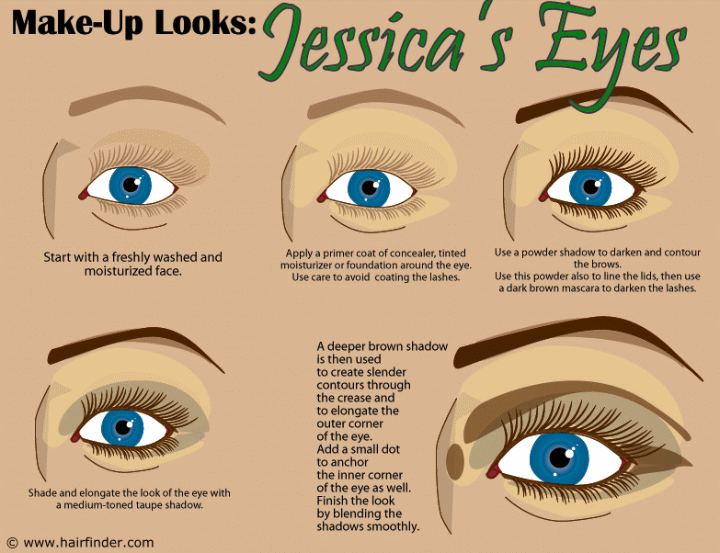 To further even the tone and possible discoloration from tired eyes or dark circles, apply a primer coat of concealer, tinted moisturizer or additional foundation and smooth it out around the eyes. Use care to avoid getting it on the lashes as some of the oils and moisturizers in the foundation make-up could make mascara coat less evenly.

Fill in the eyebrows using a dark powder shadow rather than a waxy pencil. The softness of the line of powder helps to avoid the "drawn in" look, while helping to adjust the arch and angle of the brow. Ideally, you will want to have your brows shaped professionally in order to give a neat, polished finish.

Next it's time to line the eyes, again using the dark powder shadow with a fine tipped brush. Keep the line as tight as possible, knowing that the look will be "soft" anyway. Finish the definition of the lash line by applying dark, chocolate-brown mascara (reserve black for nighttime looks – in which case shift to a dark charcoal gray for the eye lining as well – the brown will still suffice for the brow whether day or evening wear).

Begin the shading of the eye itself using a medium-toned taupe shadow powder. Cover the lid of the eye and extend the color a little to the inside and slightly more to the outside of the eye, do a similar application to the lower lid, but only extend the lower lid toward the outside of the eye.

Add the final contours of the eye shading by applying a deeper brown powder shadow to the eye, starting with a thick band at the inside of the eye along the crease of the brow and lid. As you draw the shadow along the crease, make the line more narrow and blend it into the taupe mid-shade. Use the deeper shadow on the outer corner of the eye to extend the look of the eye and provide a counter-balance by applying a smallish dot to the inner corner of the eye socket next to the bridge of the nose. Use a soft brush to gently blend the look to blur any hard lines. Use light horizontal strokes to avoid breaking the focus.

Photos by PR Photos

More about how to apply make-up