Alternate


When it comes to creating exceptional hair colour and the hottest catwalk looks for men, a hairdresser from Alternate in Buxton has proved she is among the best in the UK having made it through to the Grand Final of the L'Oréal Colour Trophy 2007.



Anna Haywood beat off stiff competition from thirty-nine salons across the Eastern region to clinch her place in the Grand Final in London on Monday 21 May. She is now one step closer to winning the prestigious L'Oréal Men's Image Award and a once-in-a-lifetime prize that could see her jetting over to New York to produce a photo spread for fashion bible Vogue.

At the North Western Regional Final her live hairdressing skills were put under the spotlight by a panel of top hairdresser judges including Errol Douglas, Sean Dawson, Rob Eaton, David Lambert and Dylan Bradshaw. "The North West is always a strong region. There was very creative colour work and some clothes styling that was spot on trend for Autumn/Winter 2007," commented Errol Douglas, judge at the North Western Regional Final.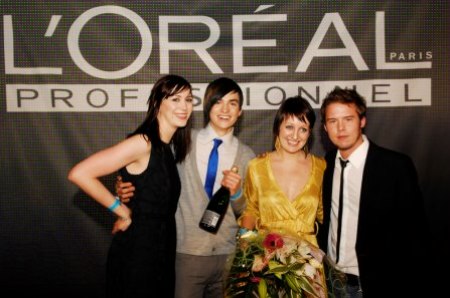 Anna explains the thinking behind their striking image: "We wanted to create really matt colour for the hair and blended blue-black with flashes of peach and gold. Inspiration came from the chic, suited looks that prevailed in the sixties and the overall look is mummy's boy with a mischievous twist."

The whole room was on tenterhooks waiting to hear who had made it through to the Grand Final and upon hearing their name announced the team from Alternate leapt off their chairs in delight.

"Last year was really tough and I never expected to win," said a stunned Anna. "The salon has only been open since November 2006 so to think we've done so well with all these amazing salon's competing is just unbelievable. It's a massive boost for my own confidence and for the business."

More Regional Finalists
Photo Credits: L'Oréal Professionnel