How to Blow-dry a Long Bob with Volume

Click to enlarge

1. What you will need:
a. Clips
b. Hair dryer
c. Round brush
d. Velcro rollers
e. Heat protection product and styling products

2. Use a model with freshly washed, still wet hair. Comb the hair out with a wide-tooth comb to get rid of any tangles and knots that may be present in the hair. Always remember to be very gentle with hair that is still wet, as wet hair is extremely fragile.



Apply a heat protection product and a blow-drying lotion to the wet hair. If the model's hair is very tangled, you may use smoothing lotion or a detangling product to get rid of the knots more easily.




Click to enlarge

3. Blow-dry the hair without using a brush until the hair is about 80% dry. Always point the hairdryer from above the head, in a downwards direction. This will ensure that the cuticles of the hair are blown in a downwards direction, sealing the cuticles, resulting in a smoother and shinier hair shaft. When the cuticles are sealed, the hair automatically looks more healthy and vibrant.

4. Make a middle parting with the sharp end of your tail-comb, from the middle of the forehead towards the occipital bone. Draw another parting spanning from behind each, running along the occipital ridge. Secure the two top sections with clips to ensure that the hair cannot fall free. Comb out the hair at the back of the model's head in a downward direction.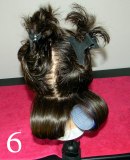 5. Draw out a two inch section at the bottom of the head in the nape area. Secure the rest of the hair with a clip to ensure that it does not fall free. Use your round blow-drying brush and your blow-dryer to blow-dry the hair in the two inch section that you have separated. Take care not to burn the model in her neck, as this is a very sensitive area.

6. Once the hair is 100% dry, use your large Velcro rollers, and fold the hair in a circular motion around the roller. Because the roller is covered with the Velcro material, the roller should grab on to the hair, just make sure that your section's isn't so wide that the roller can't hold the excessive weight of the hair.

As the hair cools down from being blow-dried, it will mould into the form that it is presently manipulated into, which is the round roller. When the hair has completely cooled down, it will have moulded into the round form, which means that your blow-dry will have a lot of volume which keeps all day long. Spray the hair with some medium-hold hairspray to help the setting-process.

Next Page