Supermarket by Carol Bruguera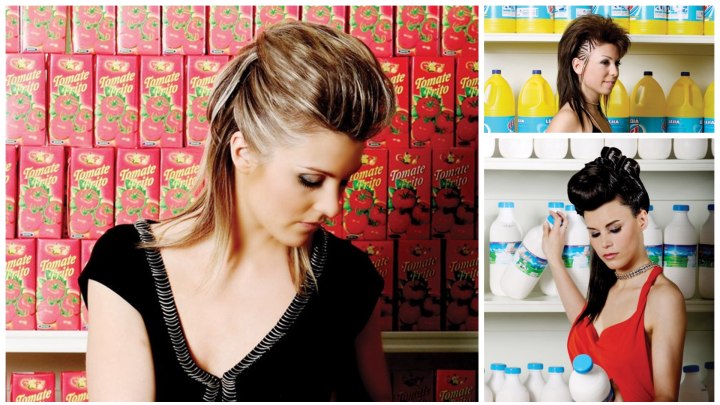 "Supermarket" is a collection whose name is ironic in that the hairstyles appear far from the type one would expect in such a mundane and domestic setting.

Some of the styles are up-styles while others simply employ texture and styling techniques to create vertical emphasis. From classically elegant to edgy and wild these styles offer elements to appeal to almost everyone.


Partial Up-Style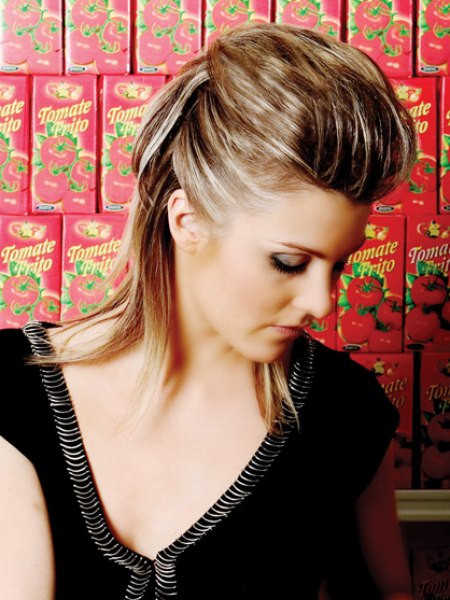 This partial up-style takes long, layered straight hair and draws the top and side sections back to the crown of the head. The gathering is loose, and the top is back-combed to build height in the style. Secure the hair in the center of the crown and allow the ends to fall down the neck.

Prepare the hair by using hair washed the day before or by drying freshly washed hair often plying it with styling gel. Once dry, mist the hair with hairspray and brush through it once it is dry fully. Doing this will make the hair easier to style.


Partial Up-do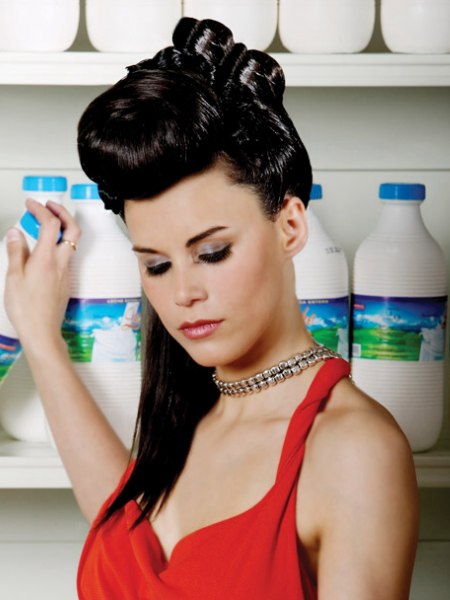 Another partial up-style is shown here bringing forward elegant styling with romantic emphasis. Starting with day-old hair; the sides are directed to the top and crown and sculpted into large, soft curls that are cleanly delineated without being rigid.

The down portion of the style is placed asymmetrically and lends an extra sense of romance as it trails over one shoulder. Finish the look using hairspray to control fuzz and fly-away strands.


Edgy Look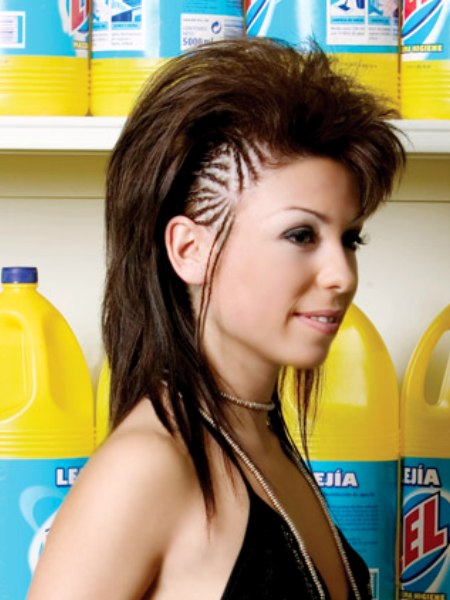 The third hairstyle in this collection brings to light an edgy look suited to those who want an attention-grabbing style without being overly complicated. The base cut of this style is layered with increasing lengths in the nape area.

Visual interest is introduced in the sides as the hair in these sections is segmented and braided into short rows in seemingly geometric patterns. This makes a dramatic contrast to the textured lagers in the fop and crown. The hair is styled with a sculpting paste to create structures. Blow out the hair for maximum lift at the scalp. Use a pomade to control frizz and fly-away strands.

Hairstyles: Carol Bruguera