Grindy by BIBA Creative Team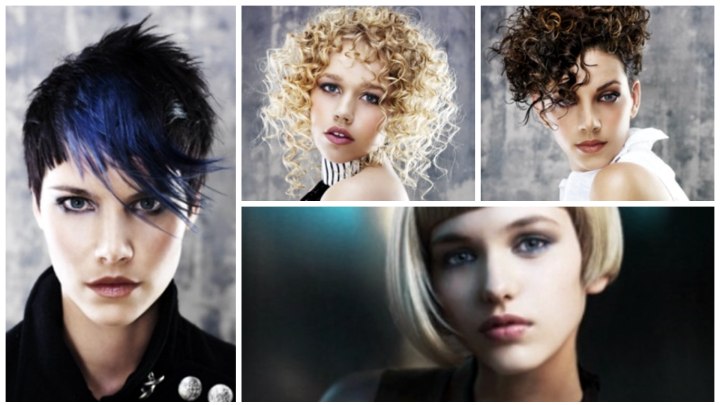 Grindy is a collection of hairstyles that represent a brief study in texture and finish.

From straight and smooth, to straight and edgy, to curls in differing lengths and sizes, we find styles that take the best elements of the hair and make them shine as the central focus of the look.



With elements of both symmetrical and asymmetrical balance, the hairstyles combine hip, modern attitude with mainstream sensibilities to create looks that are not only eye-catching, but ultimately wearable.


Bob with Asymmetry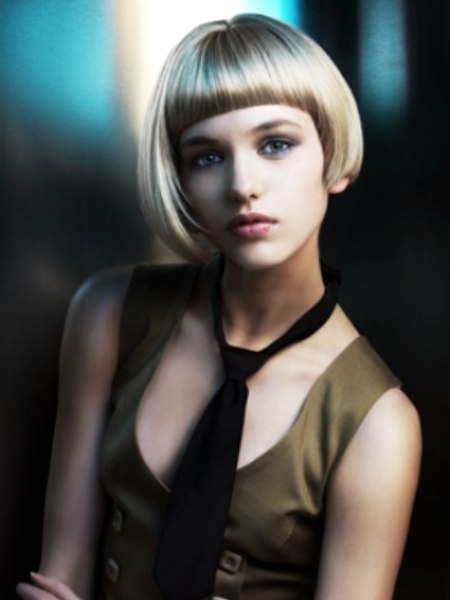 This bob cut is at once conservative, yet edgy and fun. The asymmetry of the longer and shorter sides makes it an ideal choice for balancing features without resorting to extremes in styling and cut. The differences are relatively small, only a matter of a few inches, but they grant a considerable focus for the eye.

The color of the hair is a truly dimensional blonde with beige and golden tones threaded throughout in very minute and fine execution.

The hair is styled smooth to emphasize the straightness, and to allow the color to glow and the variation to clearly shine.


Choppy Gamine Hair Style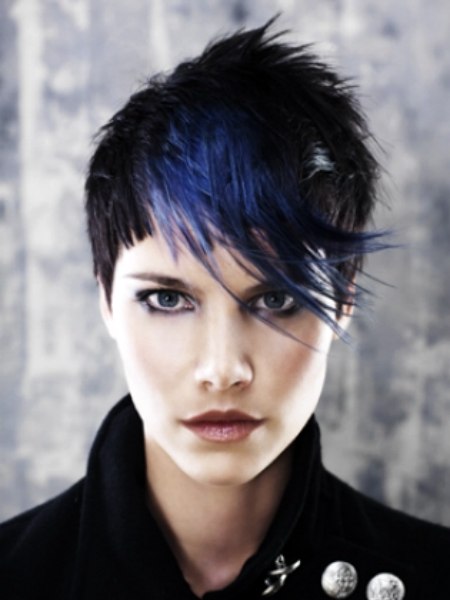 This gamine, devil-lock style is cut with choppy textures and features a choppy, razor-cut fringe that extends beyond the nose at its longest point. The angularity of the short haircut makes it a perfect foil for faces that have soft, delicate features.

The deep onyx base color of the hair is shocked with a flash of electric blue in the fringe that enhances the hue of the eyes as well as the blue-black of the darker tones.

Styling is carefully chaotic. The hair is blown forward and directed with the fingers using a sculpting paste.


Scrunch Curls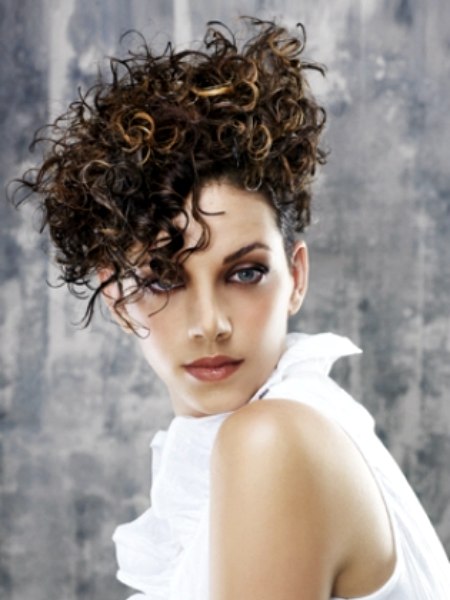 Here's a short hairstyle that exemplifies the "turn up the volume" attitude. The cut is a steeply tapered look in the sides and back with increasing lengths in the top and crown sections. The natural curl finds a balancing act with this style that takes advantage of the strengths of this hair type.

The color melds coffee-hued base with "mocha" and "café au lait" highlighting tones. These color variances add definition to the curls and make the individual twists more visible.

To style the look, simply dry the hair with a diffuser to remove most of the moisture, but leave the hair a little damp. Use a sculpting gel to scrunch the curls and provide some hold.


Layered Curly Hair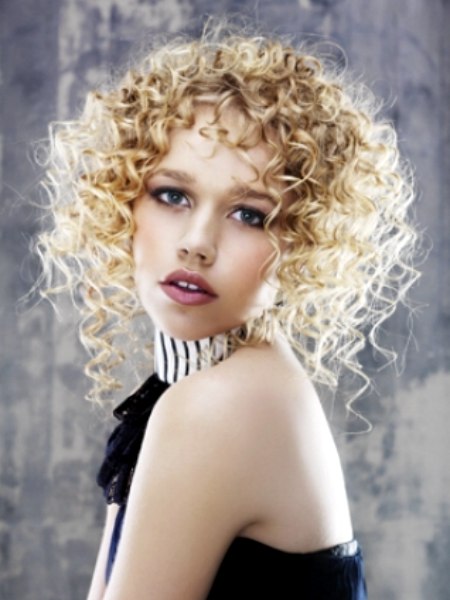 Here's another look at how to style curly hair. In this medium long hairstyle, we see curly hair that is deeply layered with both interior and exterior layering. This provides a means to balance the bulk and prevent the unwanted "pyramid silhouette" common with curly hair types.

The golden blonde of the base color is enhanced with neutral blonde and creamy highlights, which add depth and shine to the curls.

To style the look, use a diffused blow dryer to remove the majority of the moisture from the hair and scrunch the curls with a soft-hold styling mousse and the fingers to keep frizz and fluff to a minimum. You can use a light misting of hairspray throughout the day and a gentle scrunch to tame any diffusion of the curl that may occur.

Hair: BIBA Creative Team Australia