L'ANZA Hairstyles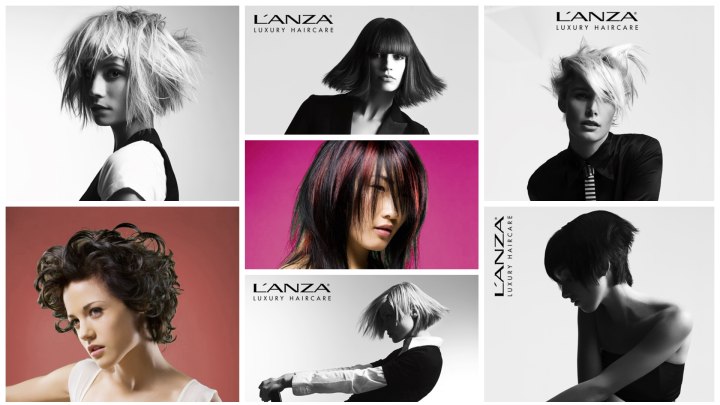 L'Anza products heal hair and their looks heal any loss of style. Amazing cuts full of energy and powerful shapes are made for anyone who needs a special infusion of trendy tresses that will put a new spring into their step and a new confidence into their attitude.

Architectural shapes, extreme texture, finely tuned colors, bold and smooth expressions are the key elements to hair fashion the L'Anza way. There is a style for every mood from bold to romantic - all expressions of the refined skills and vision of people who really know hair and who want you to look your best.


Short in the Neck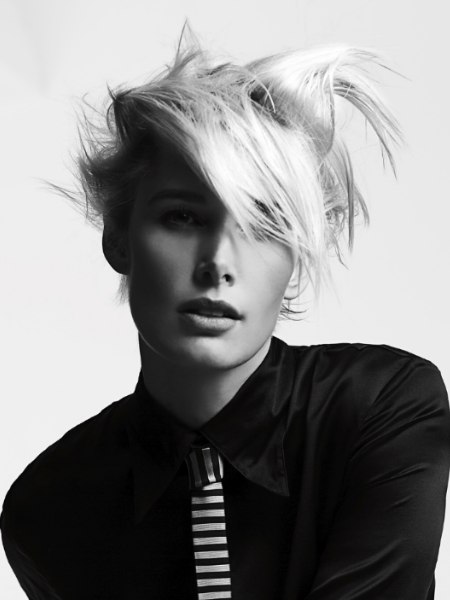 Wild long layers play with the light and the wind in this post-punk creation. The hair was cut short in the neck and along the sides but with a massively increased length on top.

Tips were textured just enough to soften and lighten the impact and to allow the hair to be styled to a frenzied play of hair reaching up and out in a wild, but deliberate pattern. The satin blouse and necktie are a great match to the haircut.


Textured Bob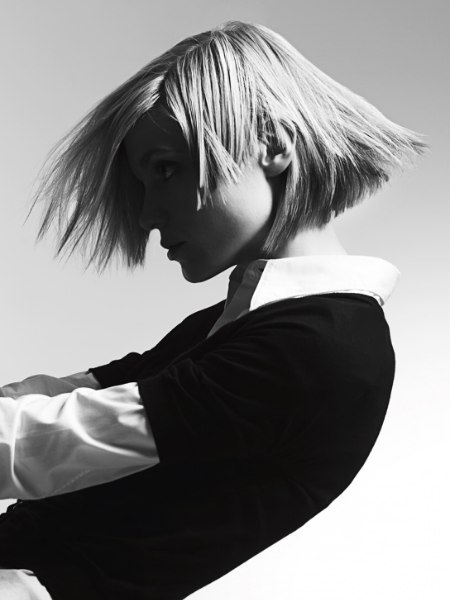 Minimalist lines are infused with a couple of surprising elements to give this bob an avantgarde attitude. Cut blunt along the back and the angled side that covers just half of one ear, it is the texture of the fringe that gives this look its undeniable edge.

The styling does not even try to be smooth. Straight strands with a lift on the roots and gravity defying volume are the winning combination.


Pyramid Bob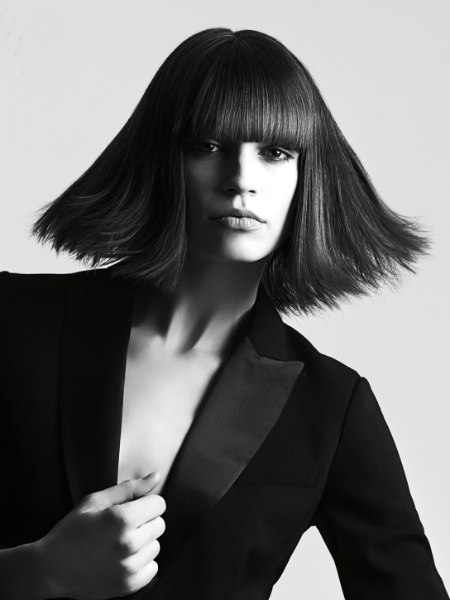 Ultimate elegance and timeless beauty is the core of this lofty bob that shimmers in a raven radiance. Touched by long, blunt bangs the eyes turn mysterious. The face is framed with sleek sides to enhance its refined beauty.

The most masterful touch is the volume that was brought into the lengths that are straight all the way to the last quarter where a small curve supports the triangular silhouette.


Frizzy Bob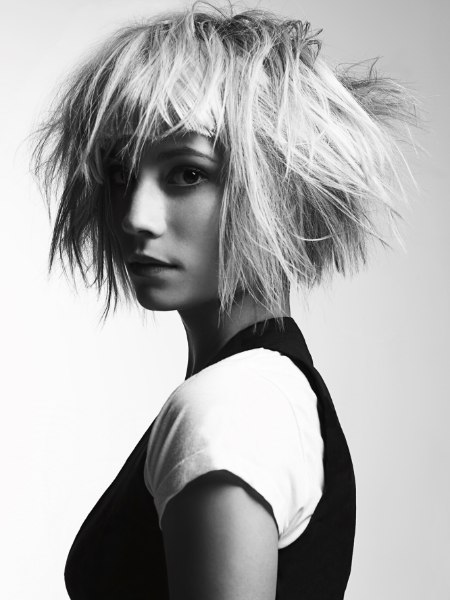 Heavy texture and much volume give quite a lively show. Enhanced by platinum highlights on a blonde base the fuzzy elegance of hair reaching wildly in all directions presents an overall defined and planned silhouette.

The blunt, thick bangs are a balancing stronghold in this picture full of motion and lightning.


Abstract in Noir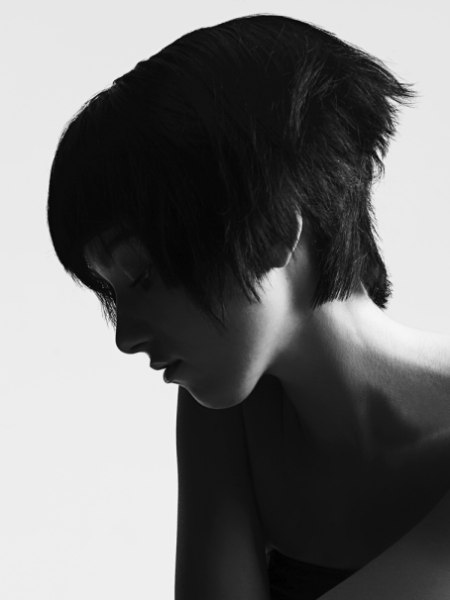 With skilled positioning the long and short parts of this style form an abstract sculpture of hair. A short neck with a longer top section is not new, but here there are different lengths and variations of texture even within those areas.

The sides are jagged; bangs are asymmetrical with a rounded above-the-eyebrow edge. All is bathed in a deep black to enhance the cut and not take away any attention from it.


Bounce of Luxury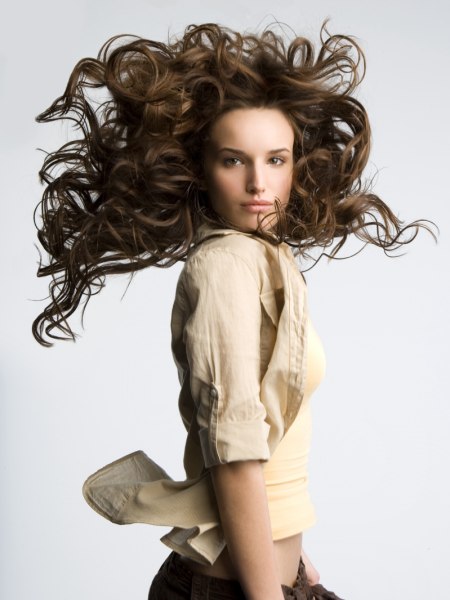 Huge curls make an amazing mane. With the special L'Anza styling it is an abundant show of luxury and feminine glamour. Simple, yet powerful in its sheer mass and motion. The curls are well defined and left undisturbed in their natural flow. For such an impression the hair has to be healthy and treated to supple texture.


Show-Off Shine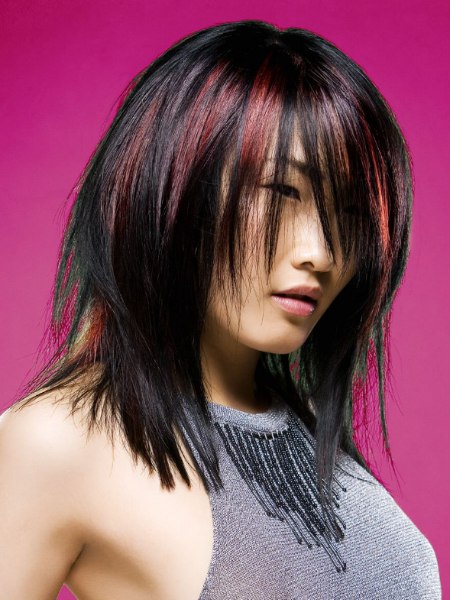 Long and sleek texture is built to a full, round shape with layers of color to really show off the structure and shine of this sexy hairstyle. A sparkling berry red peeks through the raven strands that are cut to pointy tips.

The long fringe is as tender as a silken veil, but one should never underestimate the woman behind it.


Romance in Hair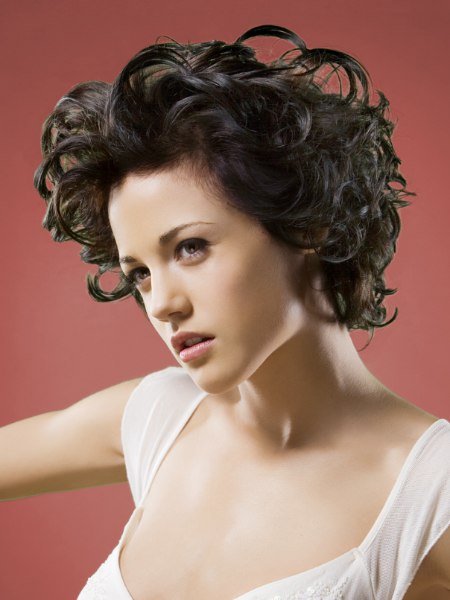 While a long curly mane is utterly luxurious, short, but large curls are the ultimate in seductiveness.

Here the hair was shaped by cutting it shorter in the neck and letting the length evolve towards the top just as the size of the curls that support all the flattering volume. Roughly defined and slightly tousled the look gets its irresistible "morning after" effect.

Hairstyles: L'ANZA