En Route Hair & Beauty
British Hairdressing Awards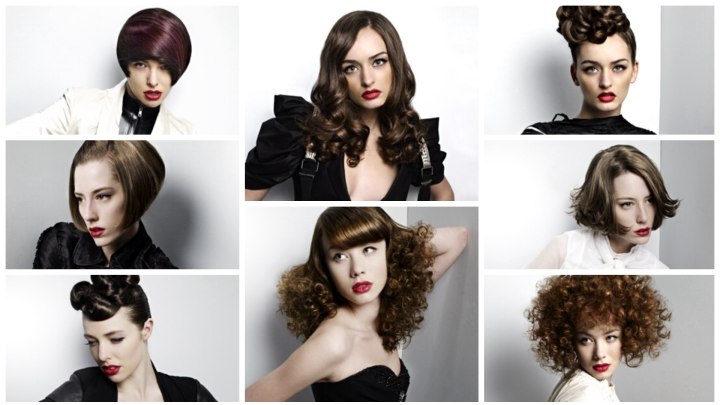 Long live the Divas! Melenie Tudor with En Route Hair & Beauty appeals to the inner Goddess inside of women who long to be glamorous - on screen or in real life. Using her refined skills she turns hair into statements of luxury and passion.

Every strand, each hair has its place and its purpose. The angles are sharp, the curls extremely defined and the surfaces are shiny and sleek. Nothing is left to coincidence and all is created to worship the eternal beauty of femininity.



In her own words Melenie explains her selection of truly fabulous looks: "Decedent divas inspired me to create this new hairstyles collection. I wanted to capture the glamour of the silver screen starlets from yesteryear, combining old and new techniques for my interpretation of that era."


Cat Woman Look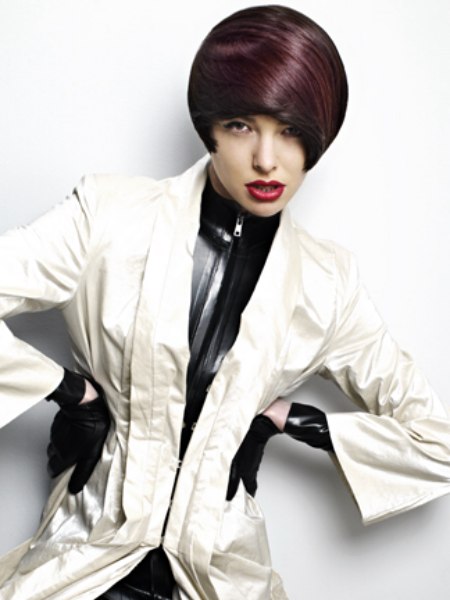 Her short hair is as slick as her latex suit. This modern cat woman is not after your riches but may just steal your heart. A dark purple color sits on top of a midnight black and the hair was styled from the lower side diagonally across the head; held in place without any accessories and blinding the eye with its iridescent shine.


Long Waves and Curls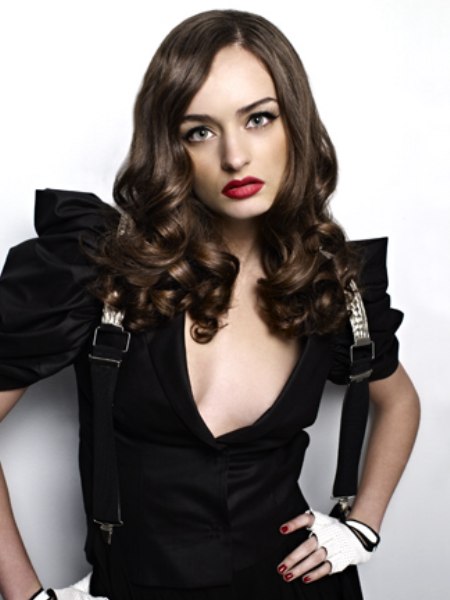 Watch out for this one. Determined and with fire in her eyes she is showing off her glamorous side with lengths of luscious curls. Her long hair was parted just off center and is cut to the same length all around.

The large waves turn into curly ringlets below the chin and with the dark brown color we see a picture of seductive sophistication.


Updo with a Coiled Crown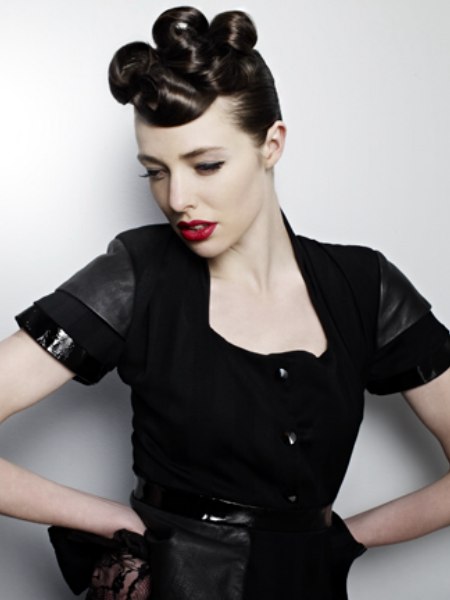 Great minds and great hair can make an expressive couple. For a fashionable night out our model wears her hair like a coiled crown on top of her head. All the hair was pulled together to a snug and tight fit, but then the strictness explodes into a nest of coiled strands that shine as if dipped in precious oils.


Up-Style with Large Curls


Long hair becomes haute hair under Melenie Tudor's skilled hands. The mass of large curls sits in a slightly slanted pompadour close to the forehead. Well defined shapes are made even more glorious by the different shades of haircolor that range from a dark espresso to a nutmeg tone.

Sides and back are slick and strict so that all the attention focuses on the cornucopia of hairy elegance on top.


Short Wispy Bob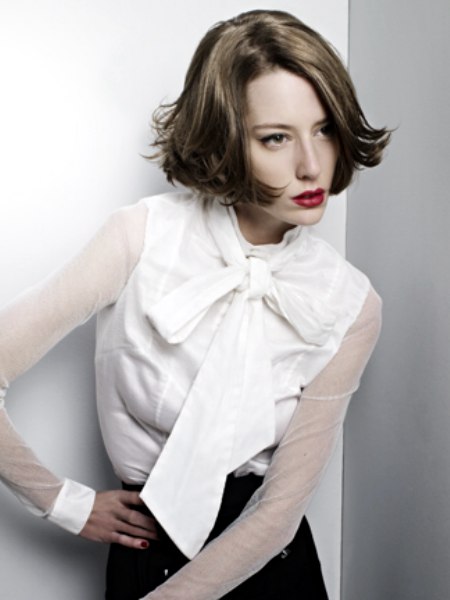 Bobs are an all time favorite and come in many shapes and colors. This knock-out version is filled with a casual elegance and vibrating, wispy motion that instantly turns it into a fashion icon.

Sexy and sophisticated is the winning combination that will turn heads in the office and everywhere else. The color is a fairly neutral, medium brown with an ash tint and subtle highlights.


Sleek Top and Small Curls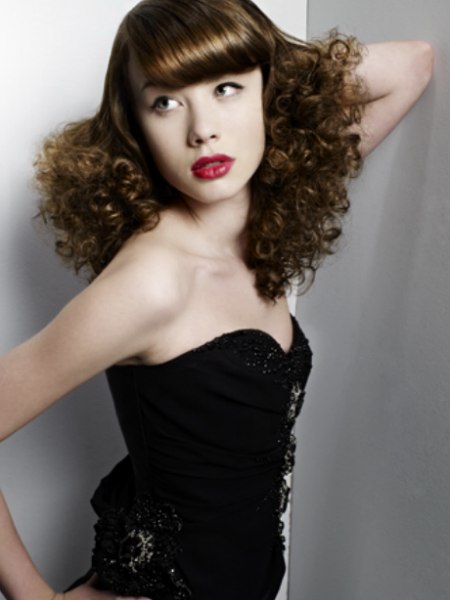 Almost scandalous volume is created by myriads of small, perfectly sculpted curls. These high definition swirls begin at eye level and arise from a smooth and shiny, straight and tightly coiffed top section with diagonal bangs.

The sleek top also shows the various shades of brown and gold, which bring so much depth and ultimate shine into the hair.


Corkscrew Curls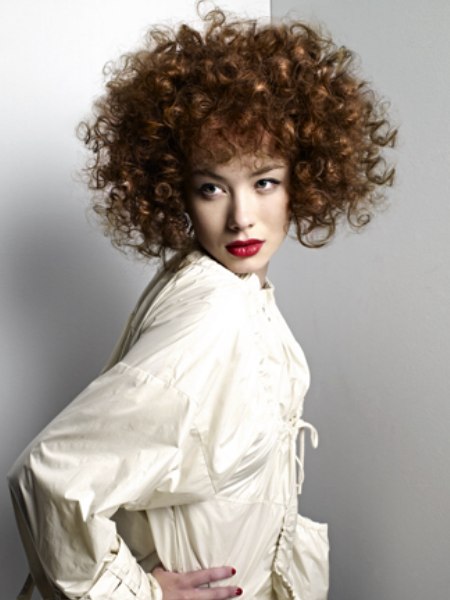 Unbelievable finesse and skill turned this short hair into an explosion of curls. The cut is layered to allow the same length of the hair all around the head. This is the secret to balance and round silhouettes for curly hairstyles.

The curls are corkscrew shaped and full of spring and bounce, supporting each other for this vibrant, exuberant and highly desirable frothy volume.


Bob with Steep Lines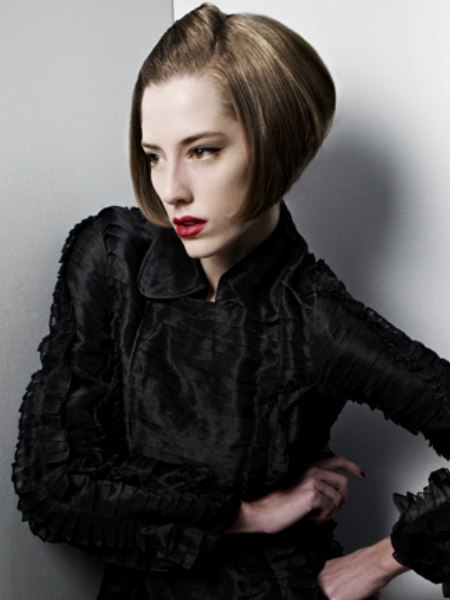 The steep lines and sharp corners enhance her distinct feature, especially the cheekbones. This diva-classic cut, a bob that gradually lengthens from the short neck to the front, got a make-over and is now even more irresistible.

The front section was taken back nonchalantly in one diagonal sweep. The results are beautifully sculpted lines and an elegant, glamorous contour.

Hair: Melenie Tudor @ En Route Hair & Beauty
Photography: John Rawson @ trp
Make-up: James O'Riley
Clothes Styling: Bernard Connolly
Colour & Styling Products: Clynol