Le Baiser by Sassoon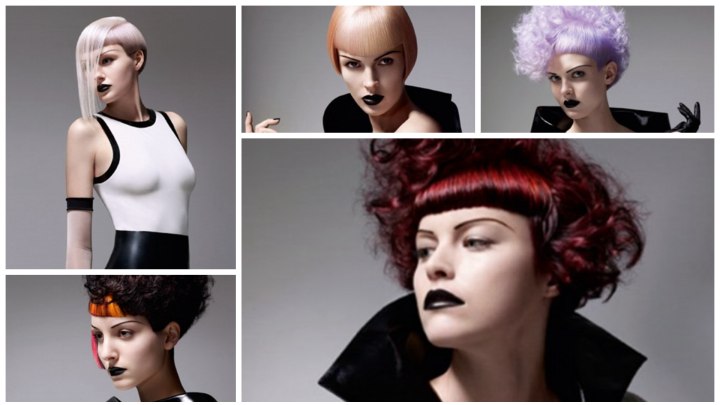 Haute Couture meets the burlesque. Grand style is designed to tease and tempt, to shock and to be adored. Created in the Sassoon tradition with the most refined cutting techniques and high quality of styling these works of art bring together a post-modern geometry with the heat of cult icons like Betty Page.

The outrageous hairstyles boast bodacious curls placed atop smooth and controlled bases. Bold, thick bangs cut with sharp precision are juxtaposed with bedazzling movement.



Color is used to enhance and increase the high energy with shades of powder blue, periwinkle, peach and a cool oyster. Fuchsia, persimmon and sea gray also help to kiss away the ghosts of dull hairstyles of the past.


Two Tone Coloring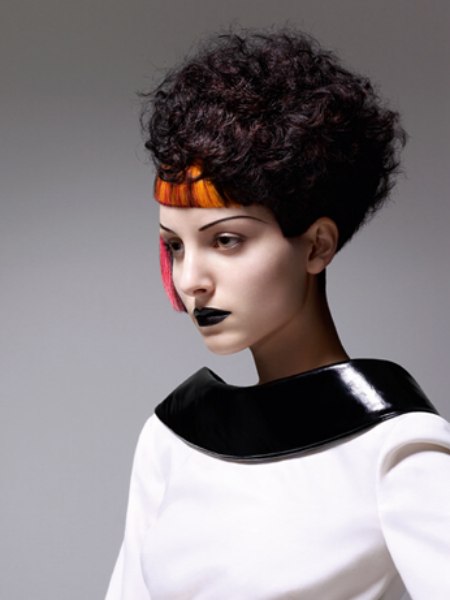 A mass of dark untamed curls are organized in a round silhouette that rises from a graduated neck and covers the entire top. Sides are meticulously cut in a precise line around the ears and softly transition into the highlight of this style, the fringe.

Colored in a bright persimmon orange color it stands out with its intense hue and also with the straight line and sleek texture. An additional long tendril of the same hue sprouts out on one side adding not only a savage touch but also extravagant asymmetry.


High On the Fringe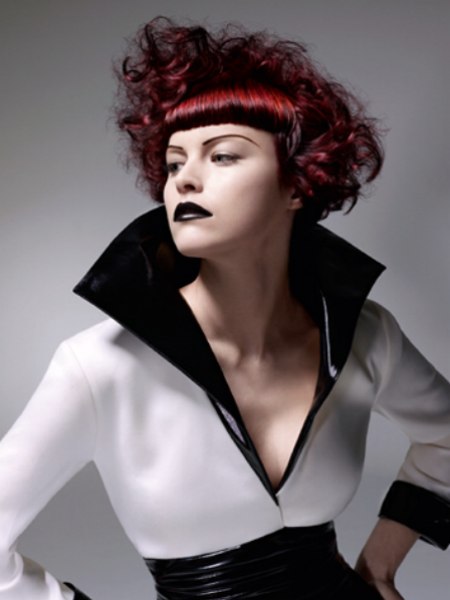 The metallic, slick shimmer of the bevel cut, rounded fringe leads the eye to a towering heap of lofty curls that wrap around the head in a descending curve. It begins with much height above the right temple and ends on the left ear at the level of the cheekbone.

The hair color is an emotional and deep garnet red which speaks of mystery and elegant seduction.


Modern Veil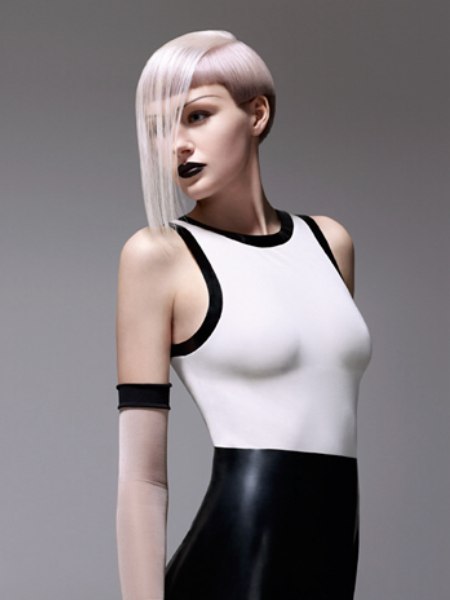 The outer worldly smoothness is proof of Sassoon's superior design and cutting technique. Each hair has its place and obviously no intention to leave it. A laser-sharp line moves straight across the forehead, forms a small curved transition to the curved sides and all round to the nape.

As if that was not stunning enough a thin veil is pulled forward and descends in semi-transparent beauty right in front of the face. The hair color is a skilled blend of a white gardenia, a pearlescent oyster, sea gray and a kiss of lilac.


Dominant Angles


The shape of this angled, sci-fi version of its ancestor bob works directly with the shape of her features and the make-up. The curved bangs relate to the shape of her eyebrows and the sides curve into the face just at the right spot to bring attention to her high cheekbones.

All intensity is mellowed by the creamy shade of dark orange which is combined with bright platinum color to achieve an almost metallic effect.


Flamboyant Headdress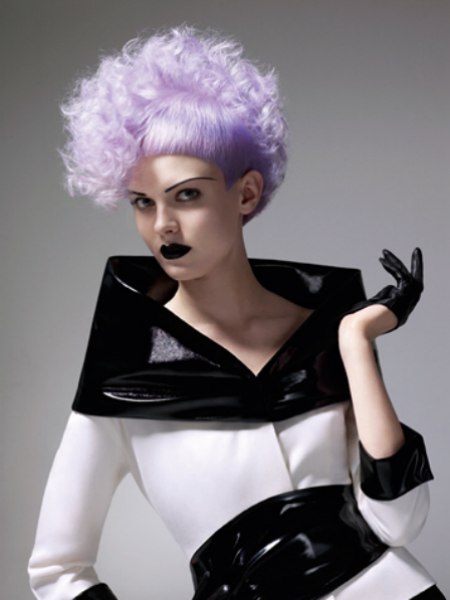 A half wreath of whirling curls reaches from the nape far into the face and tops a sleek helmet of perfectly outlined smoothness below. This lower base for the dramatic foaming curls features a high fringe curved to perfect harmony with the shape of the head all the way to tiny sideburn points and around the ears.

The most spectacular element, however, is the purple hue. A memorable look for priestesses of burlesque and daring modern fashion.

Hair & Color: Sassoon Creative Team

See also: Short hairstyles