Geoganic by Sassoon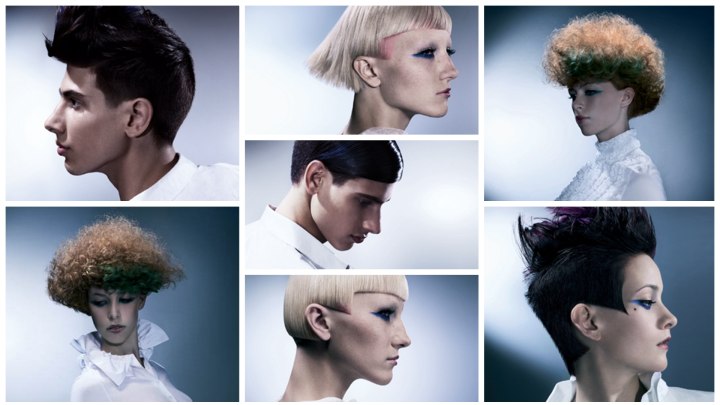 Sassoon brings us an eclectic collection that pays homage to Art Nouveau and modernism with a big nod to Egon Schiele and Gustav Klimt. This eccentric and inspired line of new looks features organic and technical lines that are full of deep expression and a bold esthetic.

The hyper modernism inspired by an art revolution from a century ago enthralls with the innovative finesse and quality of design and performance that Sassoon has become famous for. L-shaped layering and reversed graduation are used to generate opposites. Abstract use of "geo-ganic" colors enhances the balanced oddities and sci-fi appeal of these intense styles.


Curly Nymph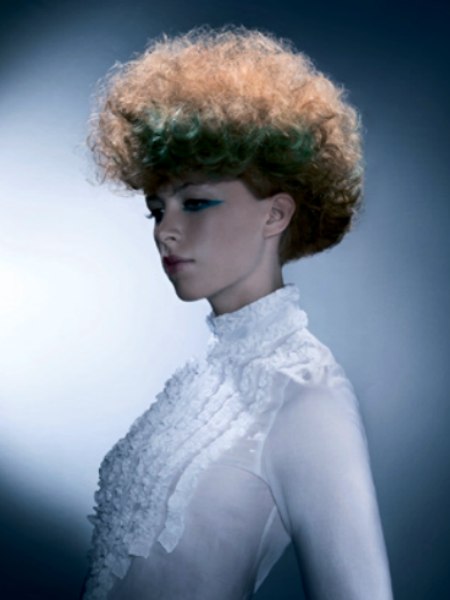 A special melancholia emanates from the viridian green bottom section of this asymmetrically shaped plume of hair. Uncountable small curls are shaped by fine layering and a steep graduation which gives the bulbous top its lift.

The color transitions from the intense green tone to a warm and glowing strawberry blonde.


Technobellious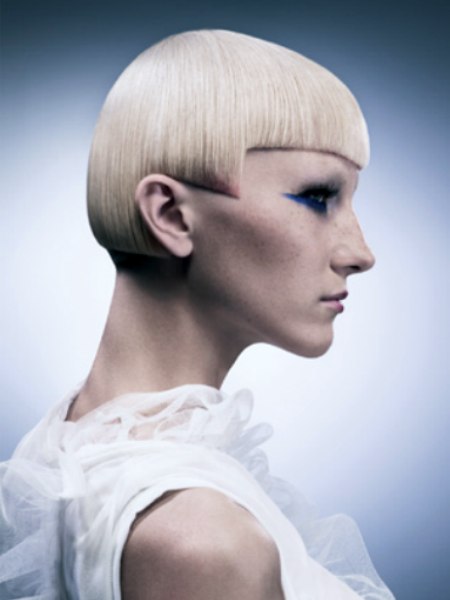 When the majority of hairstyles features tousled and free flowing locks these clearly defined lines and sharp angles can indeed be shocking. To sweeten the blow the color is a mellow blonde with subtle pink accents.

A minimal fringe and shaved eyebrows add a surreal layer to the appearance. Art and rebellion are an interesting pair and a fun one too when the styling is loosened up a little with more lift in the back and gentle movement throughout.


Versatile Impact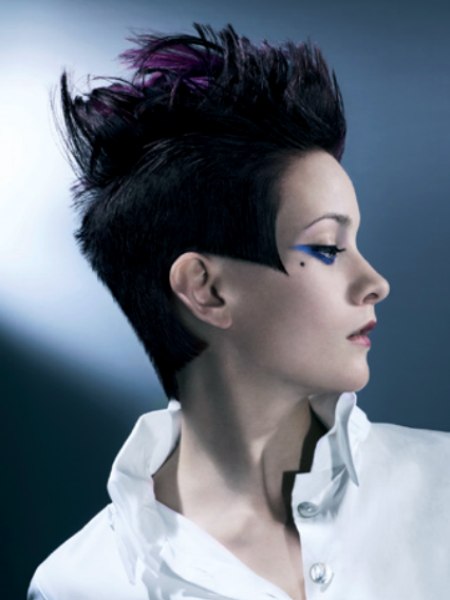 Dramatic expressions come easy with this boldly colored short cut. Lines, textures and colors are all used to their maximum capacity to create this artistic statement of hair. Beyond all this it comes with flexible styling options.

The finely graduated cut with the longer top section and the sculpted contour can be directed in various directions, each of those showcasing a new pattern of the lilac and black love affair.


Strike of Color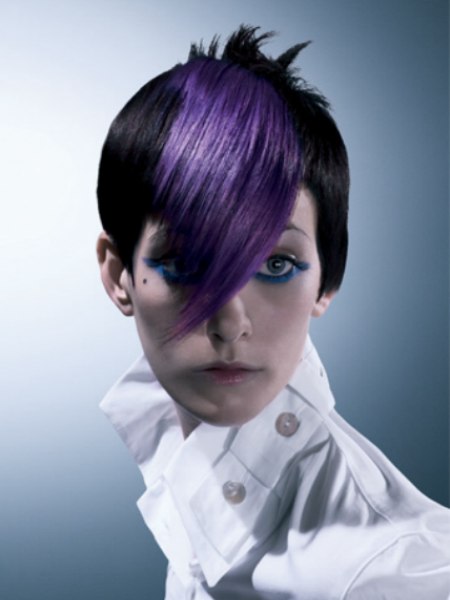 A purple manifesto of style graces the front section of the black short cut. The asymmetry of the flashy purple bangs is a theme for the entire look. The generally smooth appearance is boosted with the creative design of cutting lines around the perimeter and another visual teaser sits right on top in the shape of a few spiky strands that boldly resist conformity.


Modernist Quiff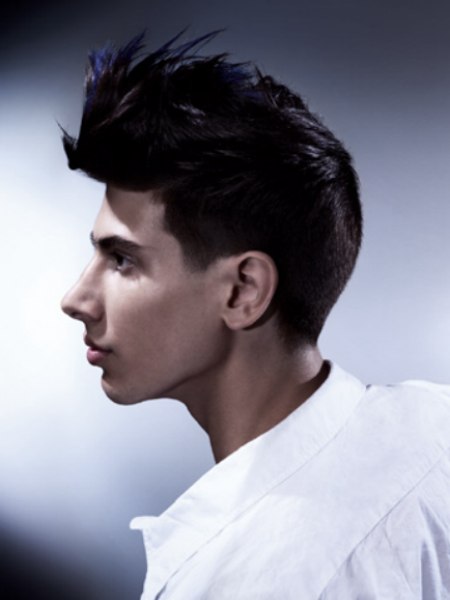 A tightly cropped lower half makes the longer part of this unique men's look stand out even more. An invisible horizontal line at the temple level separates the two extreme parts of this adventurous look.

Pointy spikes rise from a thick quick above the forehead and point towards the back. The length decreases in that direction as does the angle of the black and blue strokes of designer genius.


Two Tone Surprise


The wild look from the previous picture also leaves its mark in a tamed version. Slicked across the top of the head the longer hair now displays the two tone coloring in a surprising and intense way.

Black and blue glimmer in harmony and in a shape that reminds of the elegant and sexy leading men of old time movies like Rudolfo Valentino.

Hair & Color: Sassoon Creative Team