Bridal Collection by Nicky Oliver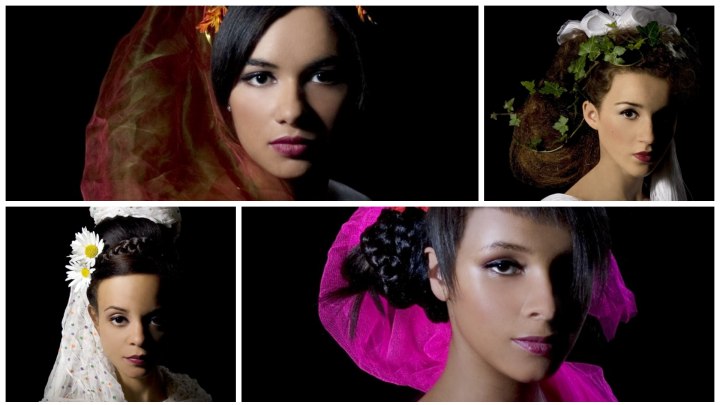 Fairy tale dreams come true with Nicky Oliver's Bridal Collection. Say yes to style extraordinaire, be transformed into a fantasy queen.

Nicky Oliver braids, drapes and decorates elaborate upstyles that are truly haute coiffure and the ultimate way to walk down the aisle. Fine tulles and chiffons with modern textures and patterns are slung around impressive pompadour creations.

Vines and flowers are the final and crowning touch. White is still the big tradition for weddings, but many brides today chose to be adventurous and express themselves with a more colorful approach.

Oliver's bridal styles are modern, extravagant definitions of long standing traditions. These are not broken but developed further to give new passion and choices for brides who are looking for the unusual, breathtaking and unforgettable.


Ivy League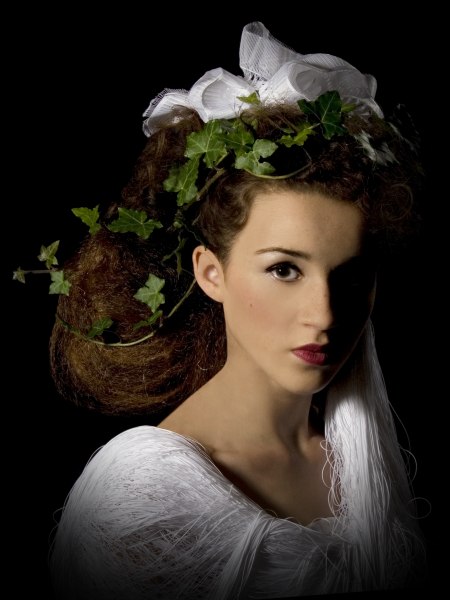 Snow White woke up from her slumber and is ready for her big day. Wrapped in innocent white and fresh greens she wears her opulent curly mane of hair in a sparkling net and pulled out of the face.

Shiny ribbons of tulle were arranged to crowning bows with a cascade of bright fringe flowing down on the side and covering her shoulders like a gossamer cape.


Wrapped in Fire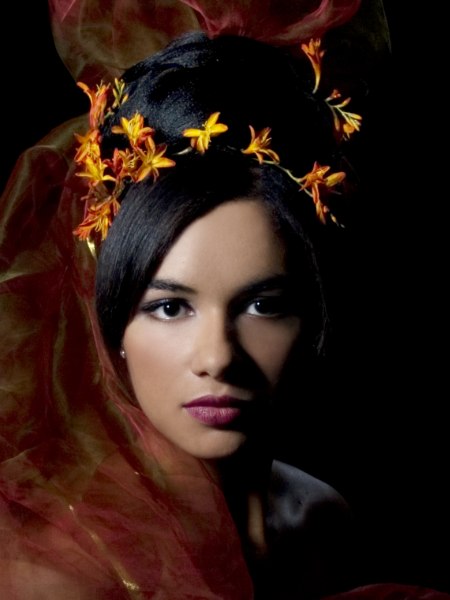 A multicolored, iridescent tulle crowns and wraps around a high volume hive creation. The exquisite fabric changes color depending on the light. A long vine with little yellow flowers adds another splash of color and lightness to the dark hair. This veil also becomes a part of the dress by sliding across the front and being tugged in on the opposite side.


Dots and Daisies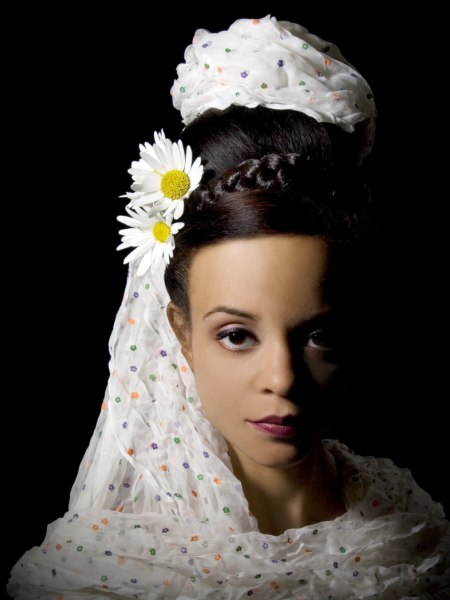 A veil to conceal smooth shoulders and to add festive wedding style to the hair is made out of the finest white chiffon and delights with its small polka dots in rainbow colors. What a beautiful, playful and adorable contrast to her dark hair.

Two daisies on the side are adorable and in this constellation even more dramatic than any rose could be. A large braid of her own hair or borrowed accentuates the front and the shape of the marvelous updo.


Forever Fuchsia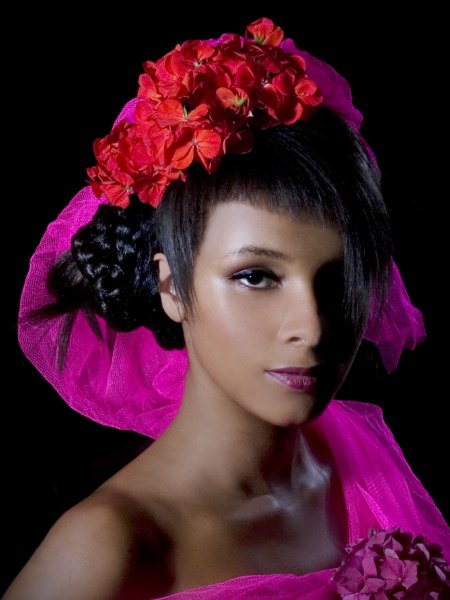 Her asymmetrical modern cut stands in beautiful edgy contrast to the soft flow of the fuchsia veil that flows from her crown around one shoulder and across her chest.

Large bundles of flowers in red and soft purple remind of luscious summer gardens and her braid wrapped buns behind her ears are a touch of youthful innocence and homage to classic looks of pure romance.

Hair: Nicky Oliver
Make-Up: Sylvia Oliver
Pictures: Jenix