"Woman in Love" by BUNDY BUNDY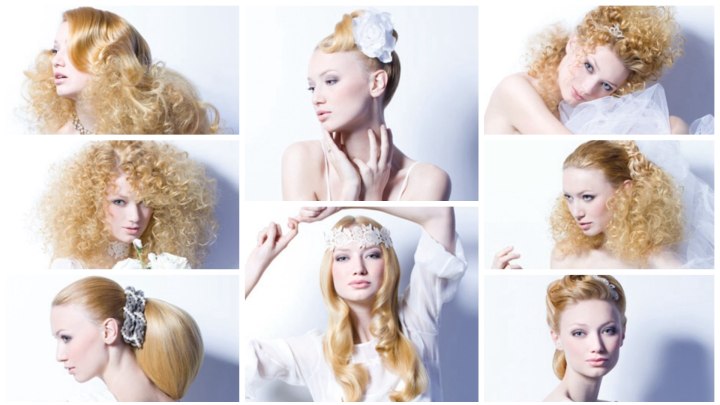 Scroll down for more photos ↓

White is the new black in casual fashions and still the number one when it comes to weddings. Bright and shiny but designed with cool understatement of modern simplicity. The ethereal brightness finds its match in the bridal hair color of the year: a golden blonde.

Wedding hairstyles were created with romance and glamour in mind. Pure luxury made into hair with smooth, straight lines or designed as a love song out of effervescent champagne-colored curls. Another masterpiece collection by BUNDY BUNDY - made for modern brides who dare to yes to outrageous style, opulence and preciousness.


Bridal Hairstyle with Small Curls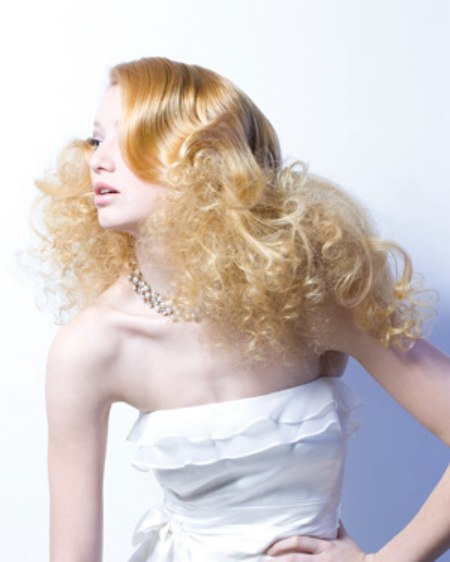 Small curls grow up to become large, waves and sweeping, swirling curves.

With less movement but a lot of silky shine on top, a beautiful contrast was created that brings an extravagant and out-of-this world romantic appeal for this bridal hairstyle. Honey blonde with light blonde effects speaks of luxury and is a thrill to all senses.


Wedding Hairstyle with Curls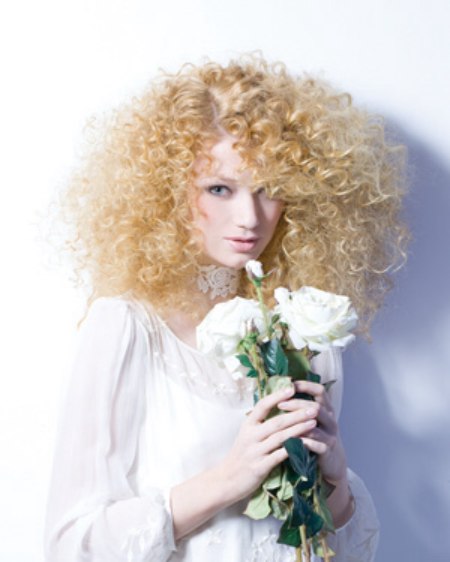 Big hair for her wedding day. A side parted mass of corkscrew curls undulate their way into his heart in various sizes.

The angelic appeal of the wedding hairstyle is enforced through the perfect definition of each and every curve in the long, voluminous strands. A golden blonde makes this halo shine in celestial beauty.


Wedding Hairstyle with a Ponytail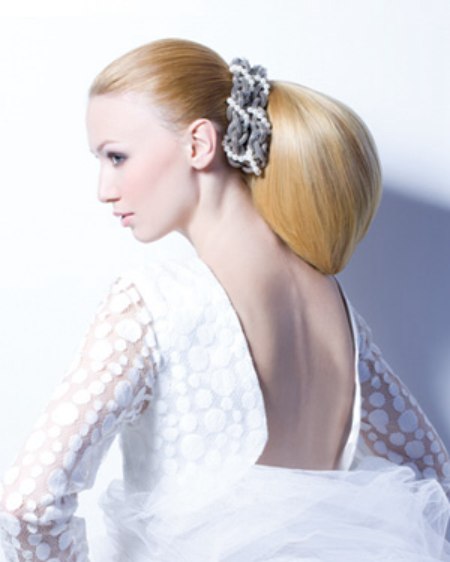 A variation of the ponytail features extremely smooth wedding hair, sleeked to the back and gathered at the nape from where it develops into a bulbous poof of perfectly balanced roundness.

This balloon of hair will not deflate, and it is adorned with a wreath of braided velvet and pearls. Flowers or silken threads could be an alternative.


Wedding Hairdo with a Flower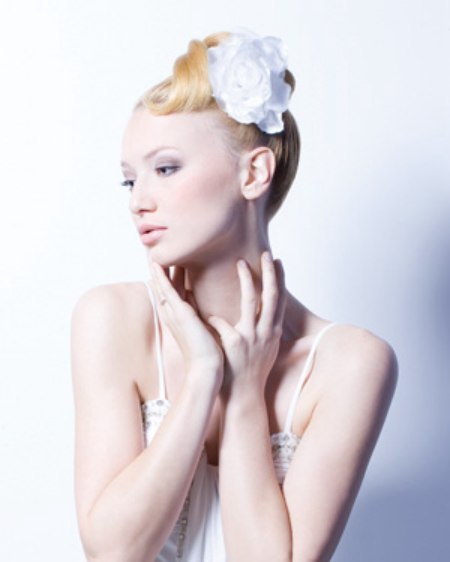 One of the best things that can happen to a beautiful flower is to adorn the hair of a bride as she steps into a new part of her life.



This gardenia sits high on the forehead, tugged under strands of hair that were gathered there from around the head. A smooth asymmetry is the result and a luscious exotic look with the best scent in the world.


Long Wedding Hair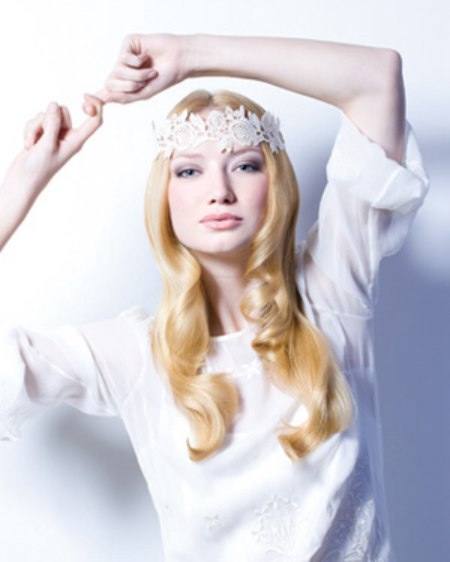 A headband of broad white lace juxtaposes the simplicity of her dress and adds a fun and elegant touch of a flower child and trendy boho feel to this fairy tale wedding look.

Her long hair was treated for extreme smoothness and then curled to large, precious barrel curls that cascade down her chest and back. The hair is the color of fine champagne and equally seductive.


Wedding Hair with Curls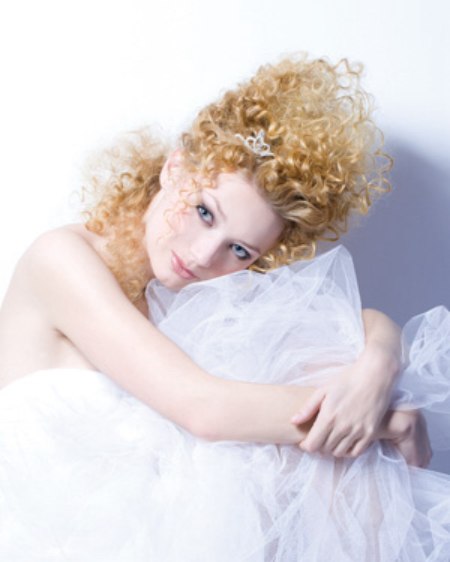 In fairy tales princesses always have perfect, impossibly beautiful hair. Just like this dreamy bride with her unreal arrangement of curls. The long twirls form most of the volume on top of the head with just a few strands playfully falling into the face and down the back to touch the shoulders.

A small diadem or tiara is the fitting accessory that still won't outdo the sparkle of the blonde extraordinaire.


Modern Wedding Hairstyle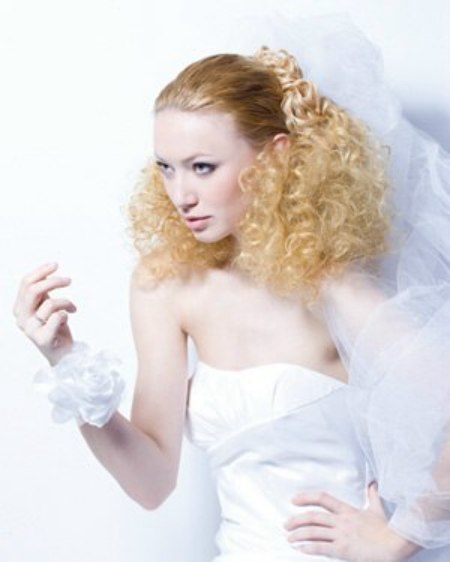 Contrast brings energy. All of the top and side hair was styled towards the back, not perfectly straight but with gentle movement along the scalp created by the intense curling of the long strands.

In the back the hair explodes to a cloud-nine of curly, honey colored love. Large corkscrew curls and twisted elements bring structure and excitement to this modern wedding hairstyle.


Wedding Updo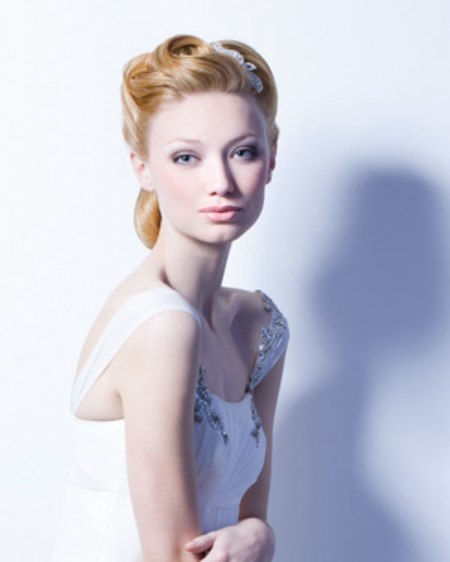 A timeless favorite for wedding hairstyles is the elegant updo with soft lines. The face is unobstructed with all the side hair and the fringe section pulled up and draped to three large, overlapping swirls.

The rest of the hair is gathered in the back to a small, but elegant tugged under pony-tail pouf. A small piece of bedazzled hair jewelry is all she needs to make it clear that this day was made just for her.

Hairstyles: BUNDY BUNDY Artistic Team

See also: Long hairstyles | Up styles | Wedding hairstyles