Infinity by Sébastien Marchand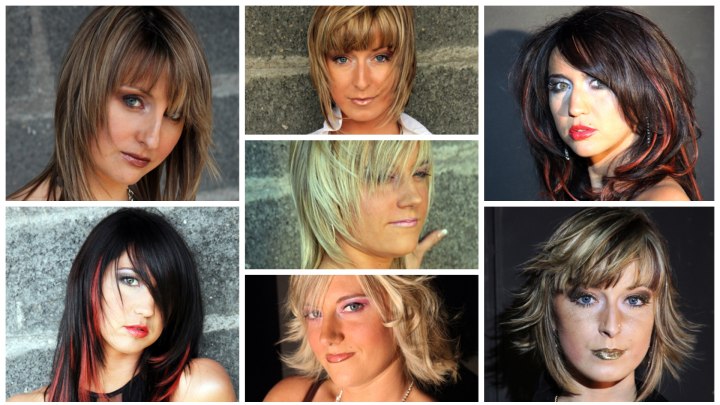 Scroll down for more photos ↓

Endless texture gives Sébastien Marchand's new line its distinct character. Medium and long hair is layered, sliced and styled to boast texture in every strand and from every side. This consequent shaping of the entire hair results in a series of hairstyles that are full of movement, controlled volume and a lot of attitude.

With the weight of the hair centered around the head and a thinning effect in the lengths the shapes are pleasantly rounded, yet slender. A virtuoso of hair, Sébastien Marchand also uses color to enhance the structure and to boost the bold character of the styles even more. The hair color may come in subtle ways - as gentle highlights in natural tones, or as intense contrasts to the base color.



But that's not even all - each casual look has a counterpart made in glam world!


Feathered Flow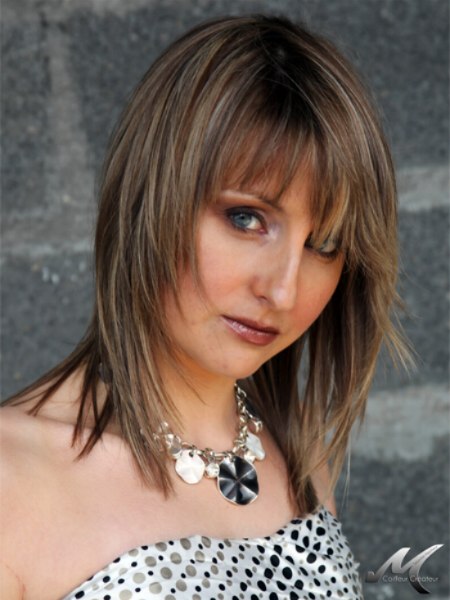 Tapered, layered and textured - what more can you do to hair? This style for long hair was created using a range of cutting techniques with the result of a lightweight, yet full style that goes along with your every move in sleek perfection.

Tapered feathering along the face is flattering and adds to the dynamic and feisty, rocking attitude of the look. Ash blonde with highlights is a masterful touch of trendy understatement.


Curled for the Night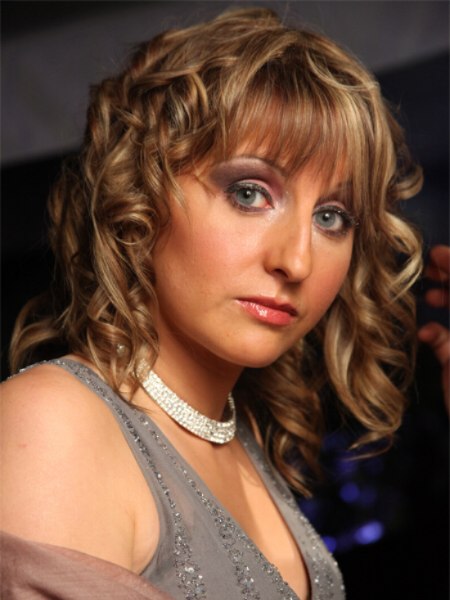 Sporty beauty's glamorous twin sister wears her hair in corkscrew curls and shows of her textured bangs. The layers with their lithe structure are an ideal medium to shape into long, winding and appealing curls.

This new shape also allows the highlights to live up to their true potential by lending their shine for ultimate dimension and definition.


Two Tone Rocker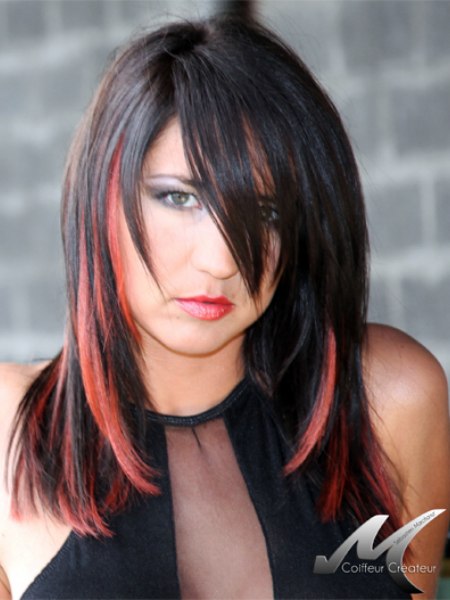 Choppy and tapered lengths with only light texturing in the tips get their ego boost with the intensely colored streaks that peek through the black base color of the long hair.

The stoplight red effect was added to a sub-layer which hides potential roots and also gives it a more refined and stylish appearance. Different patterns emerge with every move and can inspire fun and creative styling variations.


Pump it Up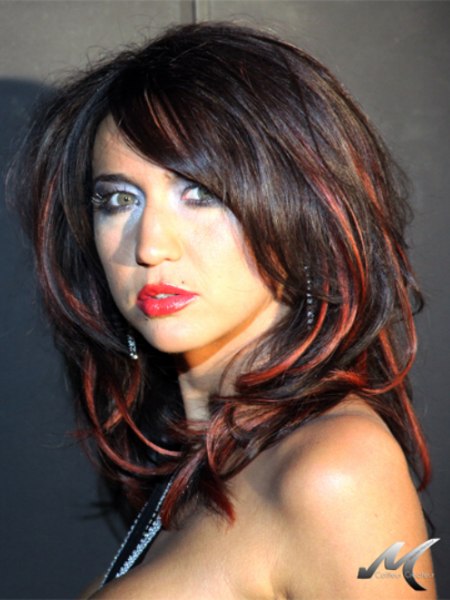 For this beautiful look you need to glam up your long hair with an extra dose of volume. Compared to the daytime-casual version the volume has more than doubled for a roof-raising big hair exposure.



Products and handy hot tools are the secret to inflating the locks with more luxury and feminine power. Of course the make-up has to keep up with the new glory and gets its own intensifying color boost.


Sweet and Short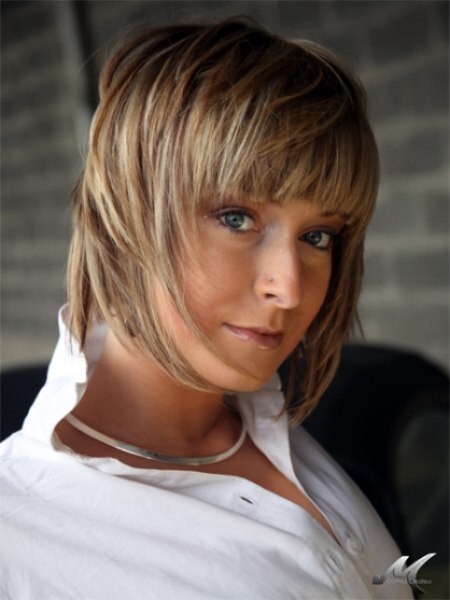 Full bangs barely reach the eyebrows and leave a lot of room for the eyes to sparkle. Long tendrils reach in from the sides and bring focus to the cheekbones and the jaw line. The short bob that was the base for this look is textured throughout and done so with no restraint.

The resulting layers are enhanced with multicolored streaks in natural tones from ash blonde to platinum and also a dark copper for more warmth.


Golden Girl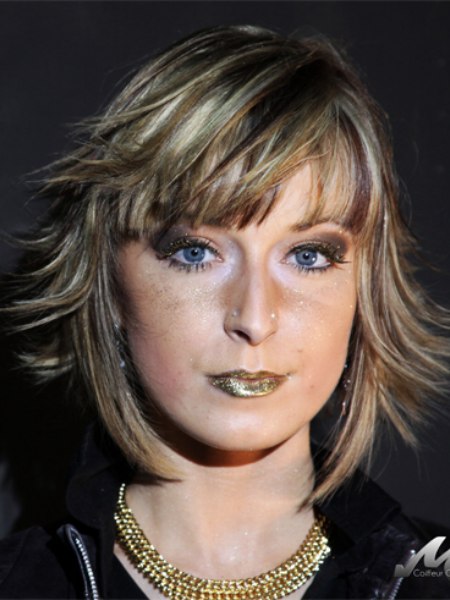 The golden touch reaches from the make-up to the hair. A super glam look for really sparkly nights is made easy with the easy to style base cut. The textured layers were curved outward to create a dynamic, vibrant and wispy outline.

Highlights boost the shine and are almost outdone by the glitzy glimmer on lips, cheeks and eyes.


Summer Sizzle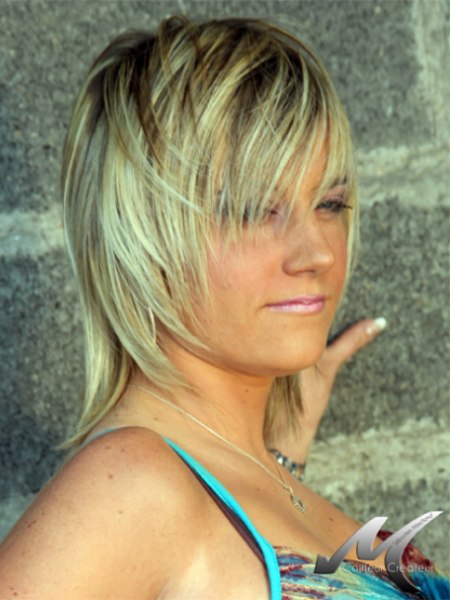 Surf's always up for this sassy blonde who loves her easy going shaggy cut.

Generous layers are fine tuned and shaped with exquisite texturing that ensures and even distribution of the weight, lots of movement and even more visual interest.

Light blonde summer highlights radiate sunshine even in the shade.


Summer Nights


It only takes a few steps to morph from sassy beach blonde to elegant evening fashionista. The texturized layers are fluffed up and kneaded into a curly and wispy shape with just a little bit of product.

Nothing is too defined but still elegant and sexy, especially with the sandy-gold blonde shine of a summer that never ends.

Hairstyles: Sébastien Marchand

See also: Medium hairstyles | Long hairstyles