Bruno Melgani
Hairstyles Collection 10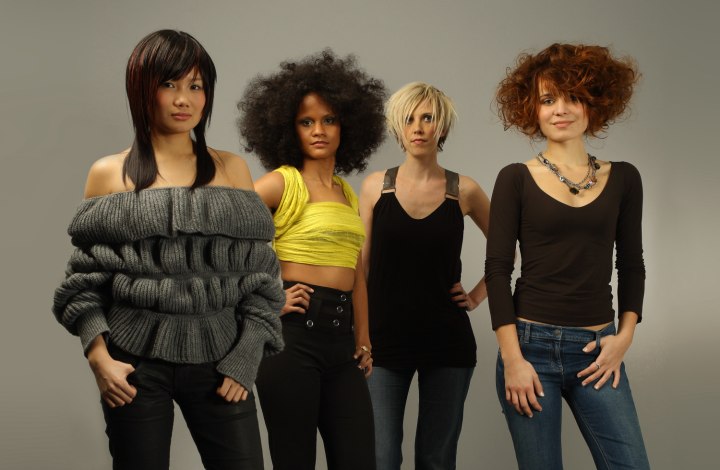 Scroll down for more photos ↓

Enter the kaleidoscope! With his new collection Bruno Melgani gives us a magnificent mosaic of extraordinary hairstyles. The theme is individuality, freedom of expression and finding the perfect fit for each personality. Therefore, no style is like the other.

He gives us a cross section of modern haircuts in all lengths and many colors. Men and women are asked to follow their inner voice and passion and to find the look that suits them best - be it curly, straight, spiked or geometric and bold.



High quality cuts and styling with a statement will not go unnoticed. Hair colors, natural and dyed, are used to accent and support the styles. Extravagance is an important element, but all looks are very wearable on and off the catwalk.


Updo for Curly Hair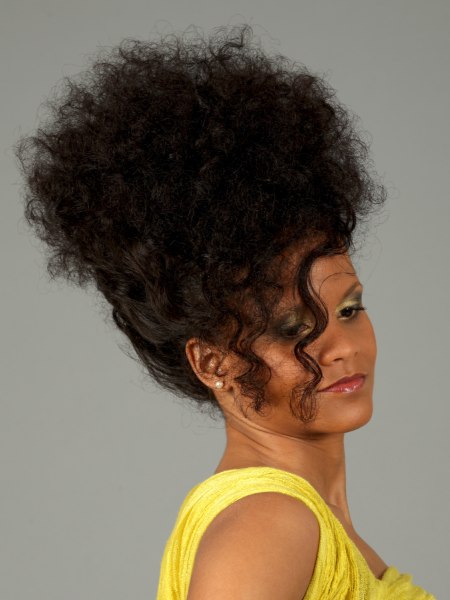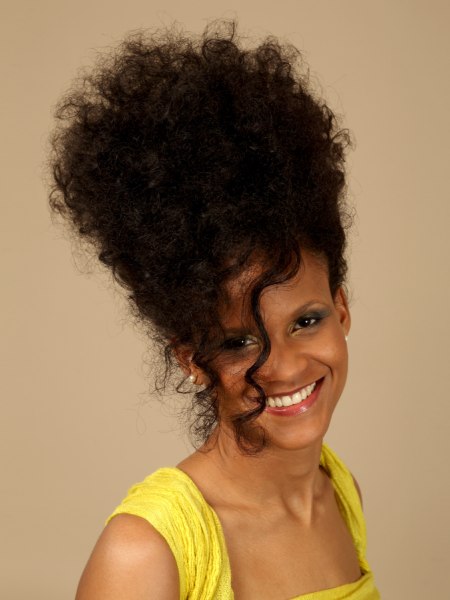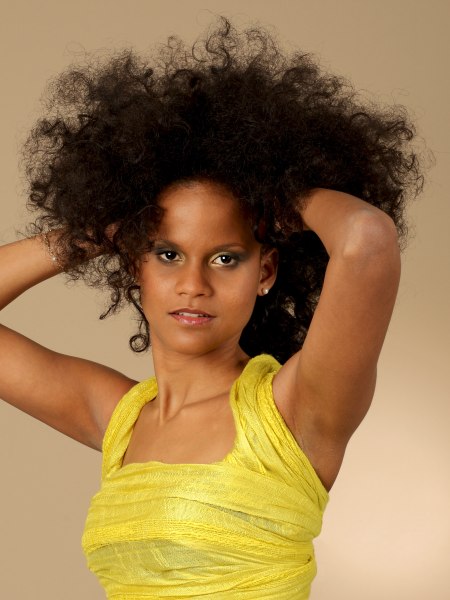 Blessed with such a delightful mass of naturally curly hair women often don't know how to tame it without cutting. Especially in the warmer months this elegant high updo is an attractive way to show off the volume and stay cool at the same time.

The neck and side hair was stretched and pinned up, pushing a billowy mass of curls to the top. Very attractive are the long accent strands that twist and curl diagonally into the face.


Curls for a Long Neckline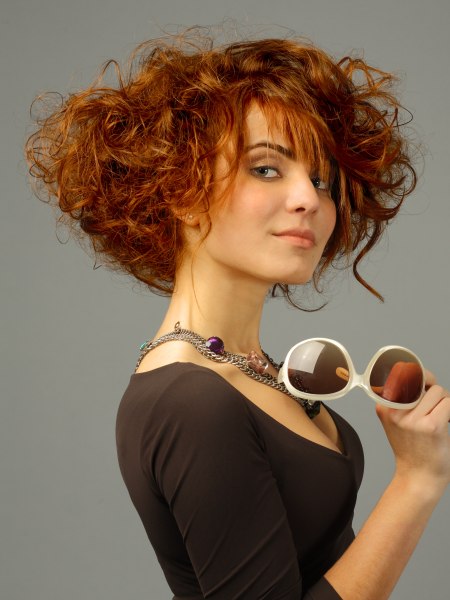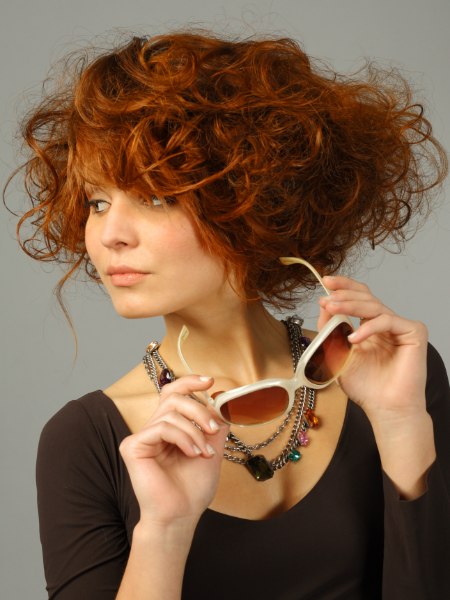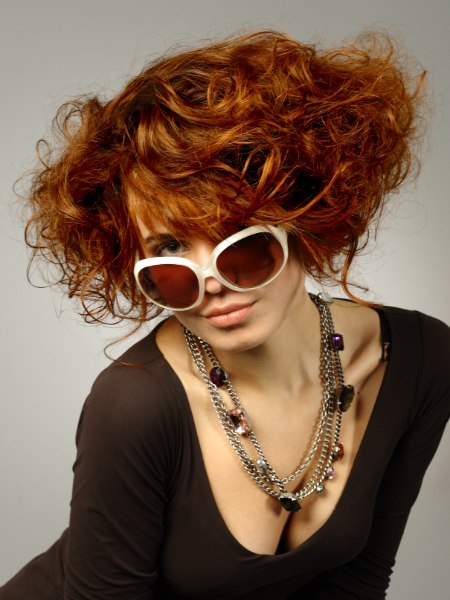 Various sizes and textures of curls shape a trapeze of irresistible copper radiance. The widest part of the hairstyle is at about eye-level and provides a beautiful long neckline. Larger curls swirl towards the front where they are partly mussed and redefined with the help of styling tools.

A little edge never hurts and in this case it is in the diagonal, sleek but textured fringe. If the shape is not exciting enough already, the bright hair color takes it to the top.


Hairstyle with a Tight-fitting Neck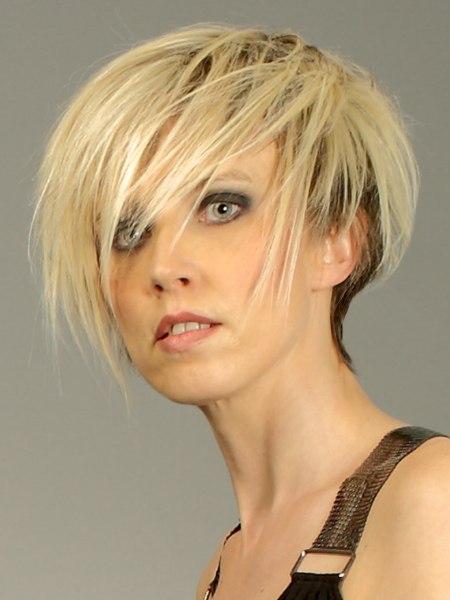 A round silhouette runs into a tight-fitting longer, dark neck section that is so smooth everyone will want to touch it. The longer top layers are sliced and spliced, pulled forward to a fringy veil framing and partially covering the face in a fascinating blonde shine.

A little bit of rebel and a little bit of artist are combined in this contrasting short haircut.


Mohawk Shaped Curls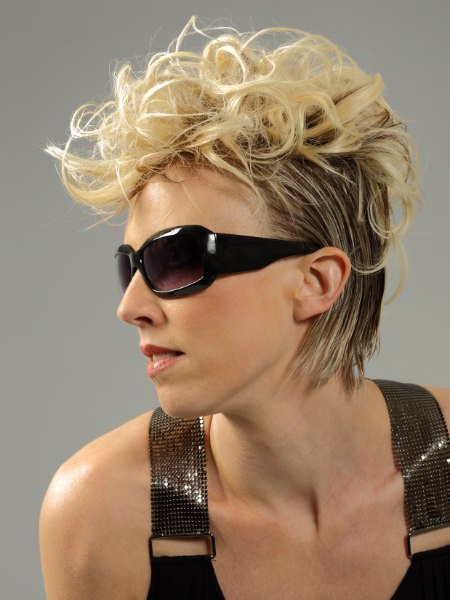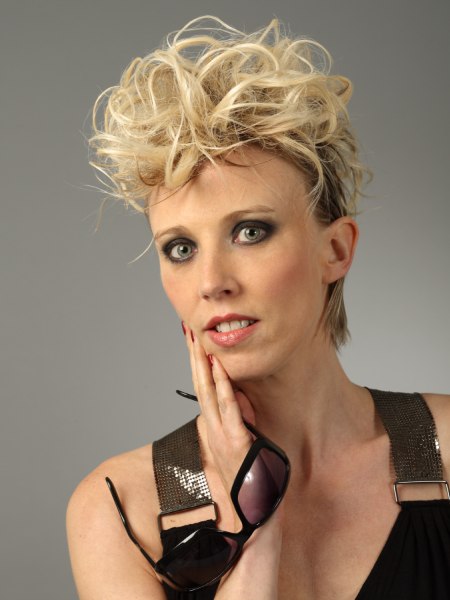 A very expressive incarnation of the previous hairstyle features a Mohawk shaped row of large curls right along the ridge of the head. This curly sensation tops sides that were sleeked back with a good dose of product.

With this styling the two colors become more evident - a beachy, golden blonde for the top hair and a very dark ash tone underneath for an energetic contrast.


Long Straight Asian Hair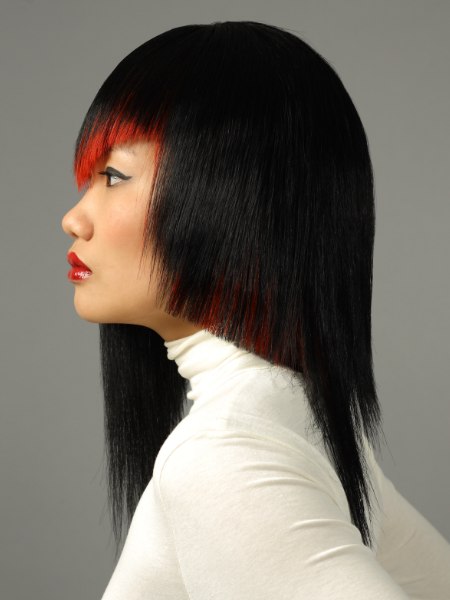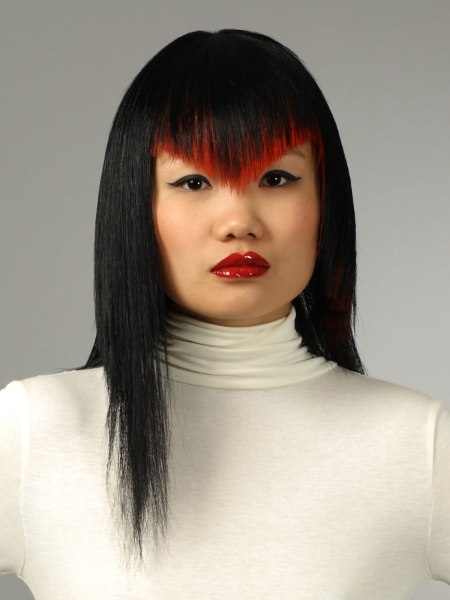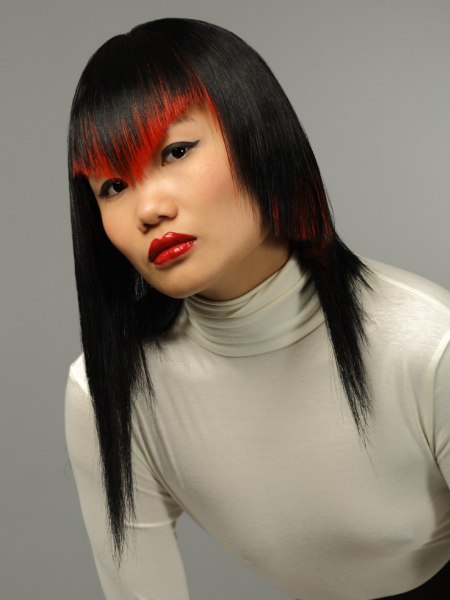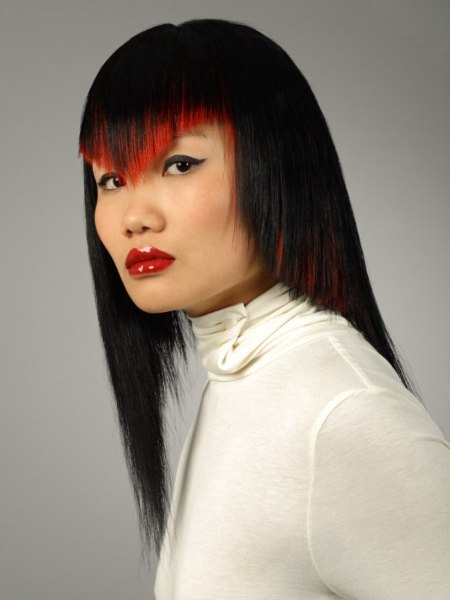 A sharp blade and long straight Asian hair are necessary to create this spectacular asymmetrical look that reminds of a modern art painting. Bold lines in varying lengths, cut with cubism in mind and color right from the palette of a modern master let this powerful haircut stand out.



A bright red is dyed in a whole layer underneath the black. It shines through on the side and also outlines the triangular bangs.


Boys Haircut with a Fringe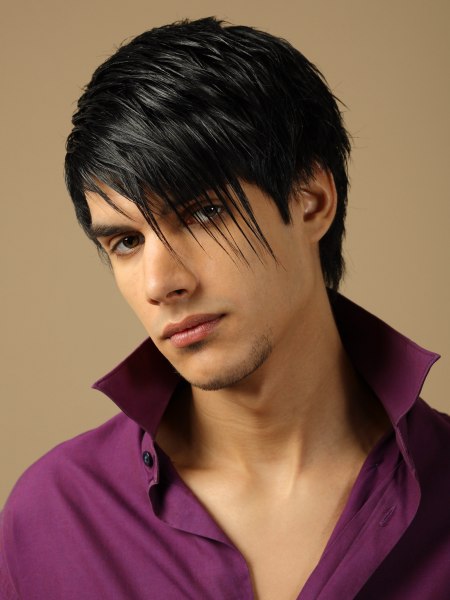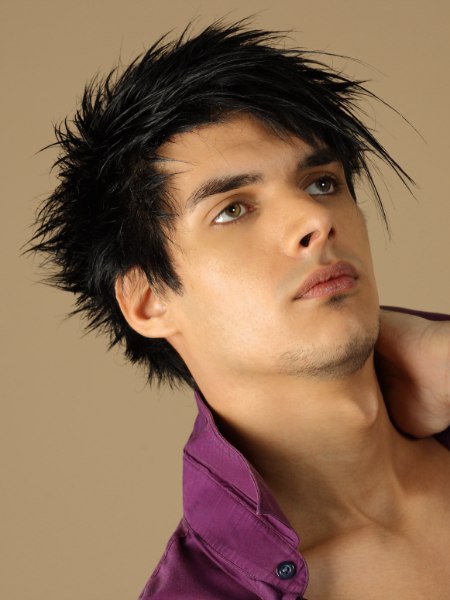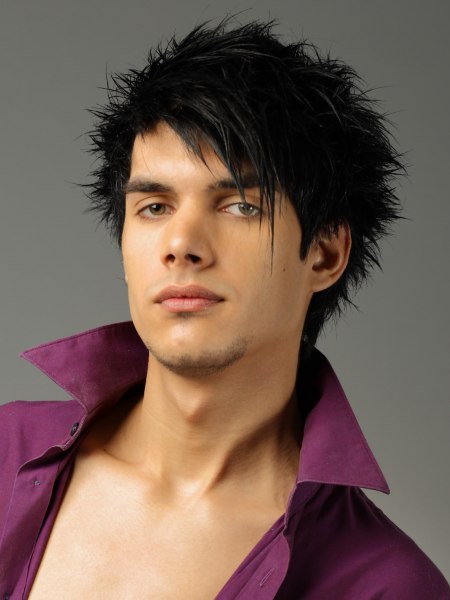 The side parted short haircut for young men is cut at the same length all around and has a lot of fine texture in the tips of the hair. Breaking through the dapper black sleekness is a thin layer of the fringe (bangs) of at least a couple of inches length.

It is the frosting on the already handsome cake and gives it a sizzling modern piece of eye-candy. Styling uses just a little product to give the boy's hair it's a suave flow.


Mohawk and Buzzed Sides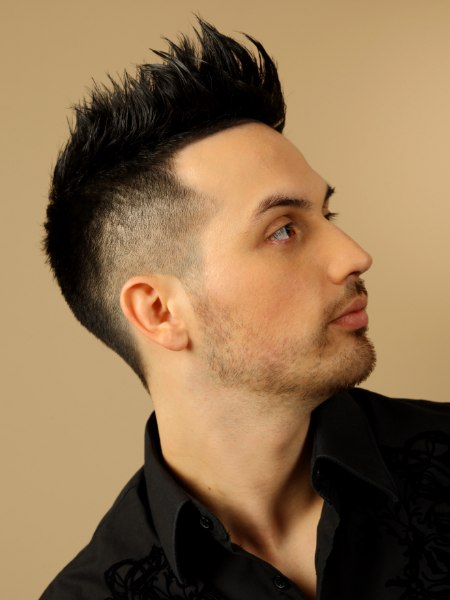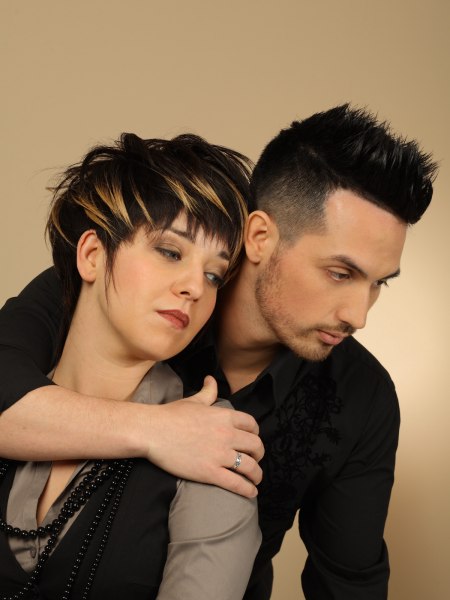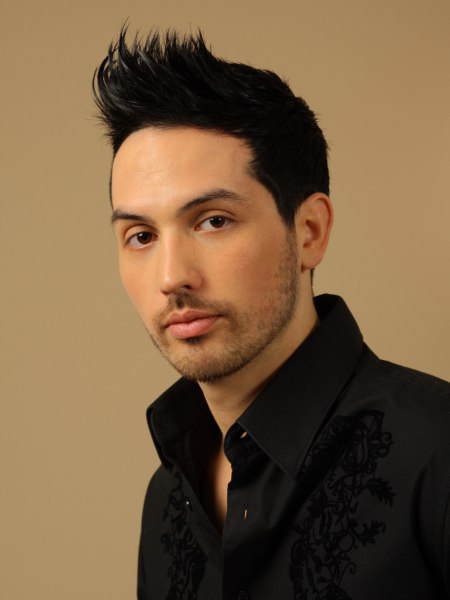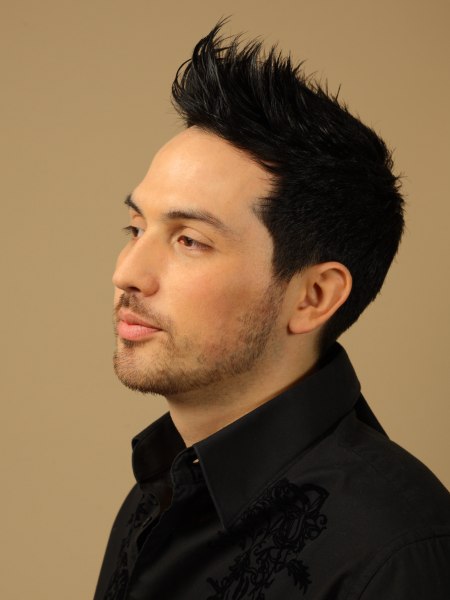 Daring men play with textures and clip off their sides. A masterpiece in smooth transition of length, this Mohawk look stuns with its barely there sides and the buzz cut neckline from where the graduated ridge slowly emerges to its apex at the forehead.

Soft stubble of face hair is a fun addition and the styling brings out a feathery, spiky texture for even more visual impact.


Shoulder Long Asian Hair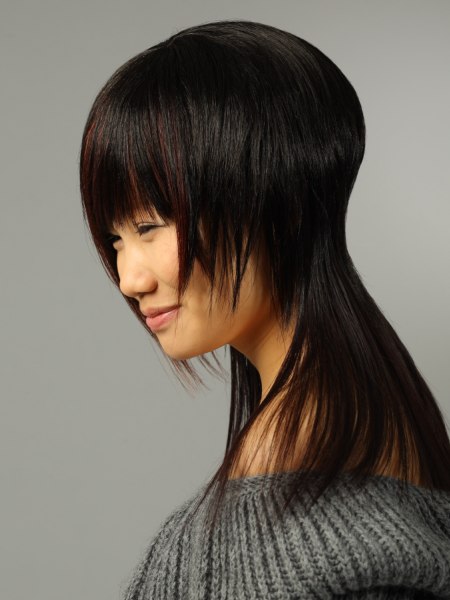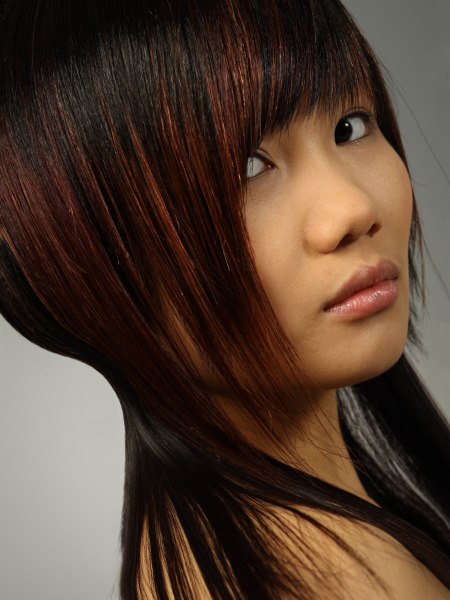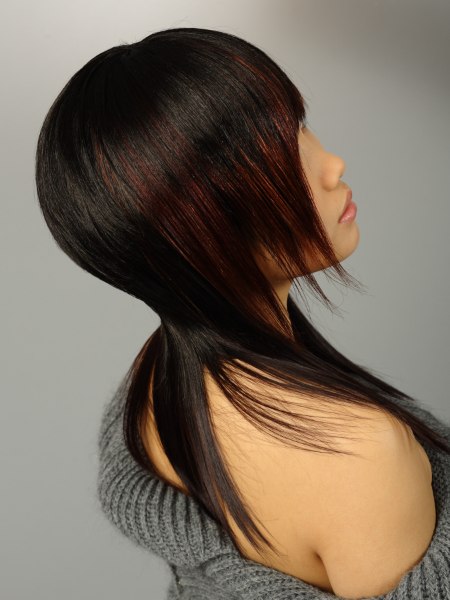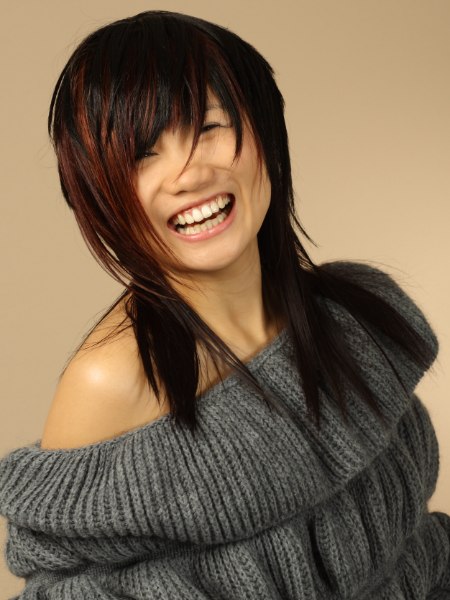 The perfectly round silhouette along the head is elongated in the neck by the lower layer of over the shoulder long hair. This leads to a statuesque effect featuring a beautiful curved, organically shaped hairstyle.

The silky smoothness of the Asian hair helps with the close fit. The face is framed by slightly diagonal bangs and longer, textured tendrils coming in from the asymmetrically tapered sides.


Medium Long Curly Hair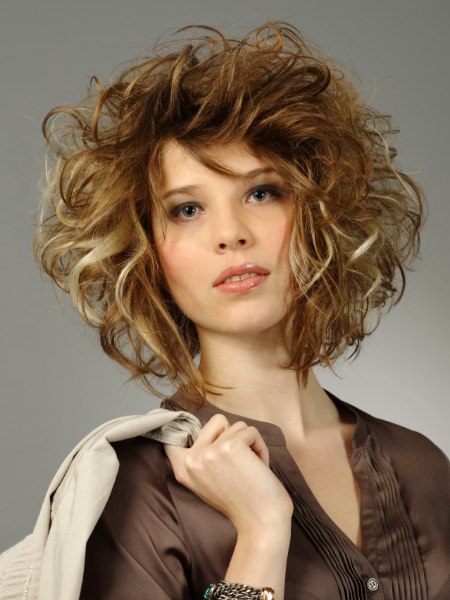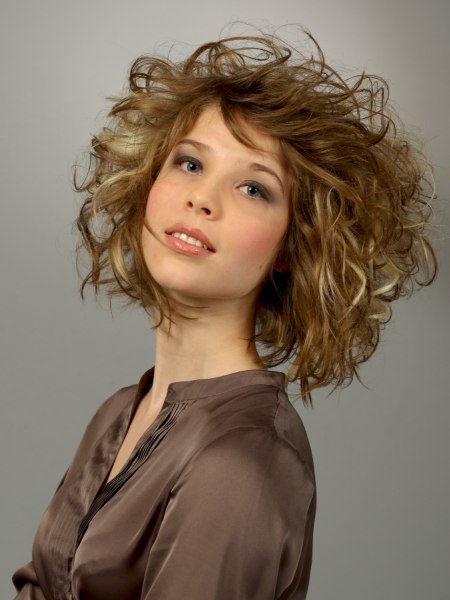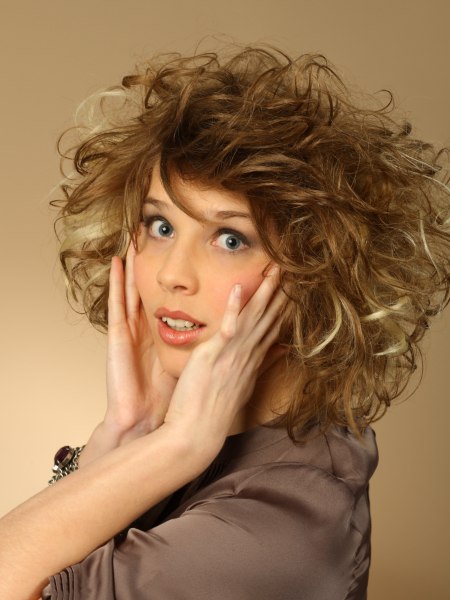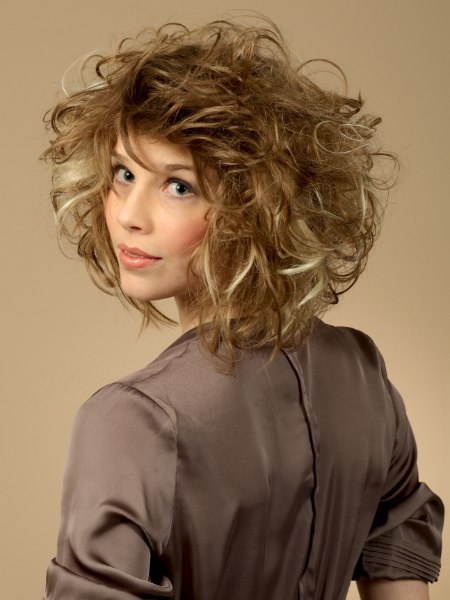 This medium long swirly curly hair will put an extra swing in your step. Amazing texture is created by styling the large curls in a wild, stringy and yet contained and organized manner. The fringe sweeps upward in a most cheerful and dynamic curve.

Thick contrasting highlights add another level of drama to the heart stopping appearance that looks amazing from all sides.


Sleek Neck Section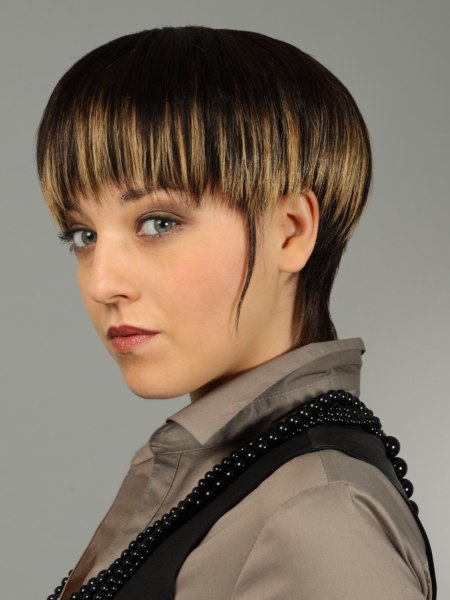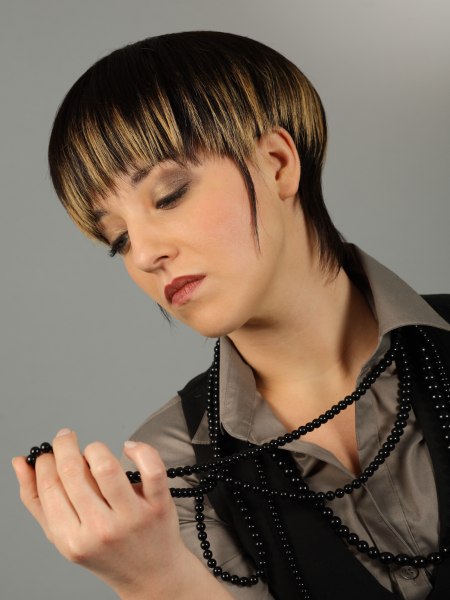 The classic short mushroom haircut turns jellyfish with the longer, sleek neck section and a playfully curved tendril in place of sideburns.

A roughly textured cutting line runs all around the head creating a jagged rim that is made even more prominent through the infusion of painted blonde highlights on the dark background.


Ruffled Hair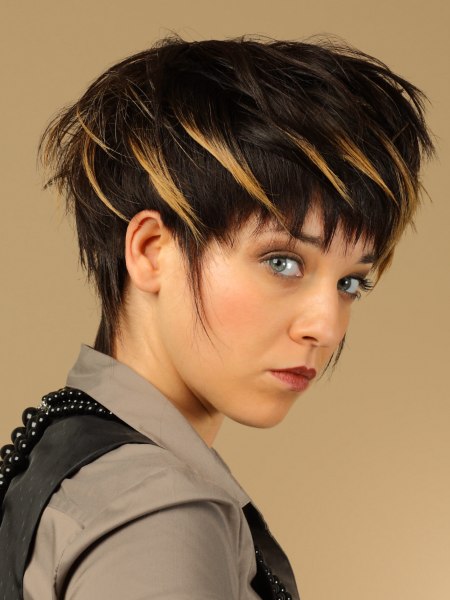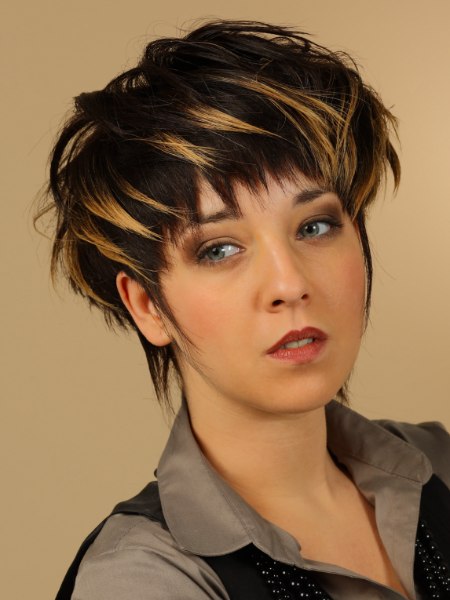 Pulled forward by an invisible force, the caramel blonde highlights turn into a major character element.

Styling brings out three tiers of hair fun with the lowest one being straight and pointed downward, just lending its ruggedly textured outline as a launch pad for the forward flying mid section and the slightly ruffled dark hair on top.

Hairstyles: Bruno Melgani

See also: Short hairstyles | Medium hairstyles | Long hairstyles | Men's hairstyles