New Romantics Collection - Joanne O'Neill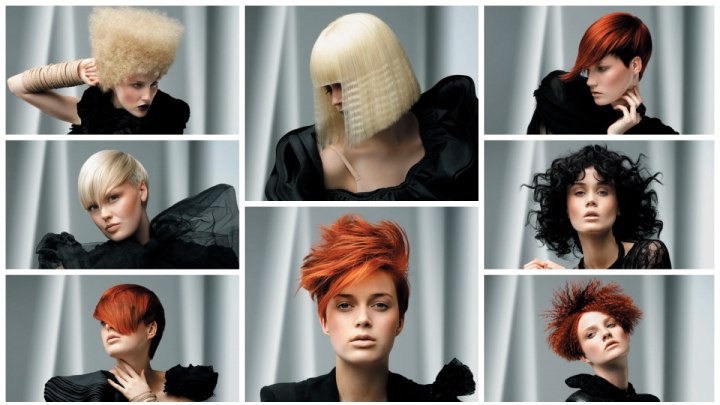 Scroll down for more photos ↓

Romance is all around, all the time. It is as essential as the air that we breathe. The only thing that changes is the way we celebrate and invite this basic human experience. There is nothing basic however about Joanne O'Neill's "New Romantics" collection.

In the 1980s the new romantics captured our hearts with soulful tunes and fantasy fashions, today the Joanne O'Neill captures the essence of modern romance in hair.



Beautiful short haircuts and dramatic middle length hairstyles come in the hottest hair colors of the season - as pure as love itself - black, white and spicy red. There are no compromises, no in betweens.

Let yourself be seduced by these classy and edgy looks!


Long Graduated Neck


A long and finely graduated neck balances the asymmetrical adventure in the shape of long, layered bangs that coyly hide one eye and touch the face below her cheekbone.

The hair is styled towards the front in a soft motion but with maximum impact, especially with this flaming copper color. Lighter and darker sections in the hair color increase the dimension and power of this short haircut.


Short and Long Sections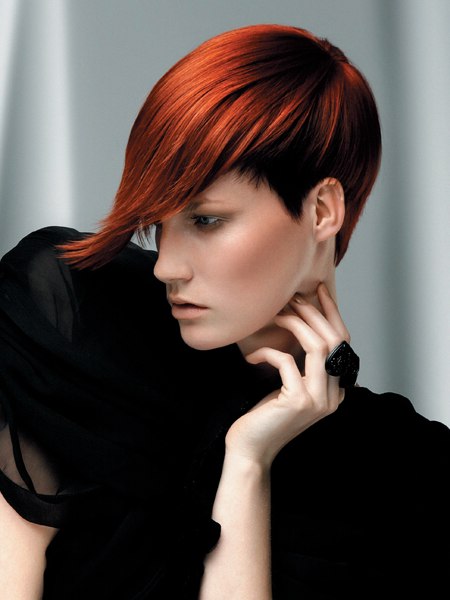 Finetuned from the short, graduated neck to the long, petal shaped fringe, this look turns heads and melts hearts. A refined play with short and long sections, overlapping and next to each other, keeps the tension.

Adorable texture at the short temples plays with the senses... as does the mélange of hair color in a black underneath and smoldering lava red on the top and all around.


Short Hair with Styling Options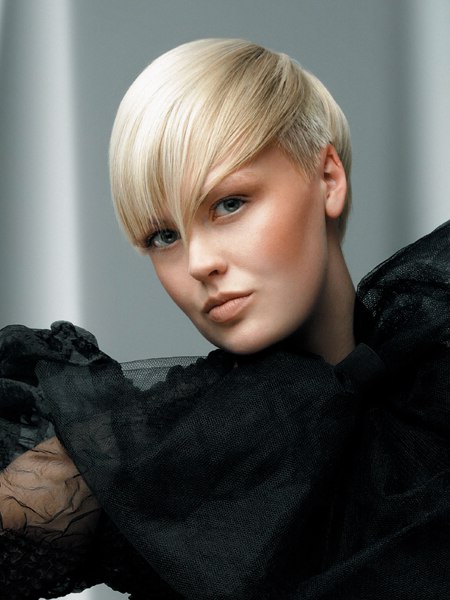 Don't let the cool hair color fool you. There is a lot of romance going on in that pretty head. A combination of short, textured hair and soft, sleek longer parts on top gives the eye a lot to admire and for the proud wearer of this beautiful short haircut there is a bunch of styling options to play with.

Here the hair was styled to the front with a long, pointy strand as a charming focal point right between her eyes.


Neo Punk Hairstyle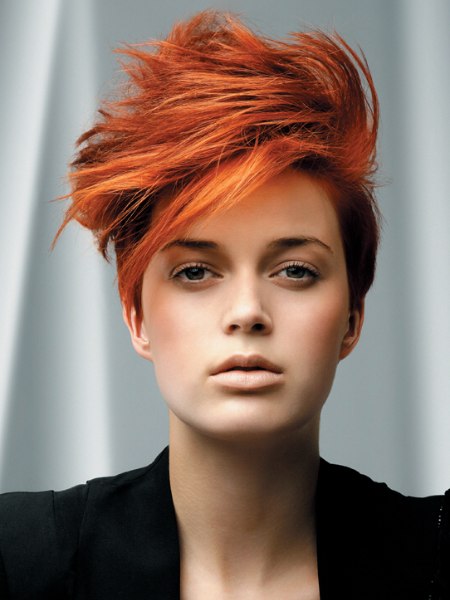 Morning or night, the shaggy love affair with a neo-punk hairstyle will break hearts left and right. Short sides and back hold back in shape and color to take all the attention to the long top hair, styled to one side and upward in rough textured strands and spikes. Flaming red and a dark brown base color kick boredom and mediocrity right out of your life.


Raven Black Curls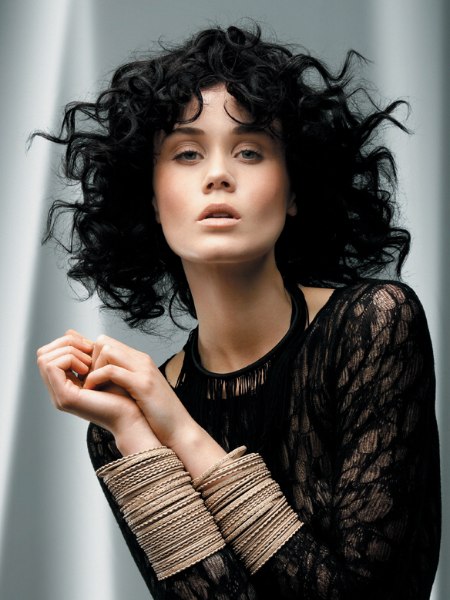 Beware of the spell of this dark vixen. Mysterious black meets powerful curls with the result of a very seductive hairstyle. Motion and rebellion are part of the secret attraction as is the face framing volume. Layers all around guarantee an even distribution of all of the edgy, superhot volume.


Short Hair with Crimping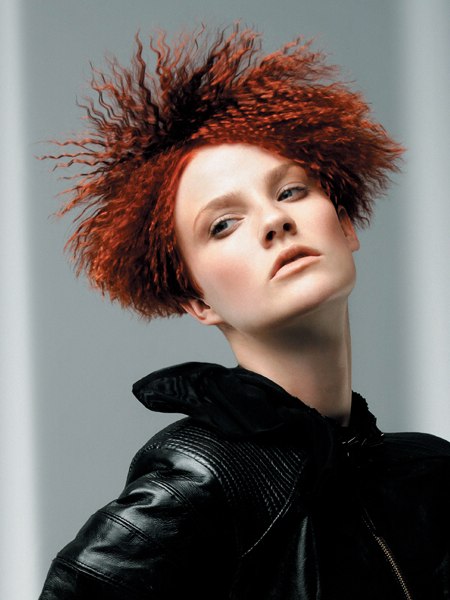 The art of crimping evolved as we can see with this stunning evidence here. Starting at mid-ear the hair was cut to form a rounded shape after going through anti-gravity styling.

Crimped through and through the volume takes on a life of its own and seems to be hit by severe static to shape those lightning bolds of love on the crown. Deep dark red makes it unforgettable.


Blonde Afro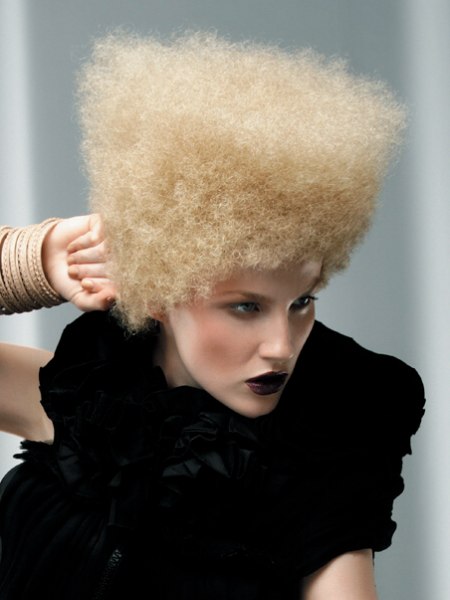 This blonde afro wants to be admired and desired. The highest artistry of curl is shaped to a triple high flathead with geometrical precision all around. Thousands of tiny curls seem to be molded into this flamboyant shape. Vanilla blonde softens the otherworldly flair.


Crimped Cleopatra Bob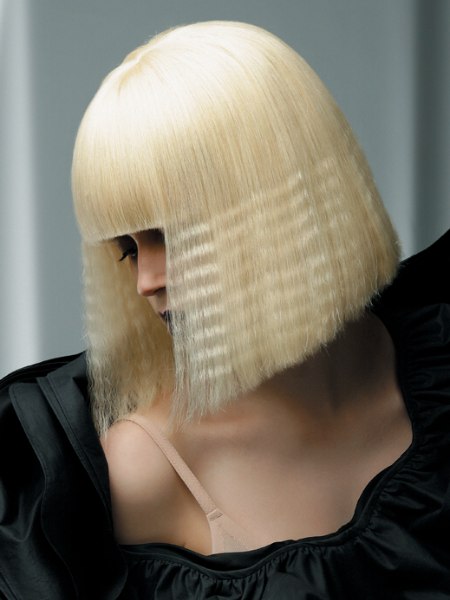 The most ethereal Cleopatra bob ever comes in platinum blonde. A sleek top changes to crimped delight where the blunt fringe meets the sides. A bit over chin length is perfect for a free, unobstructed fall and cosmic balance in the proportions of this extraordinary hairstyle.

Hair: Joanne O'Neill
Photography: Jim Crone
Make-up Artist: Irene Rogers
Clothes Stylist: Aisling Farinelle

See also: Short hairstyles | Medium hairstyles