Evolution by Barbara Wuillot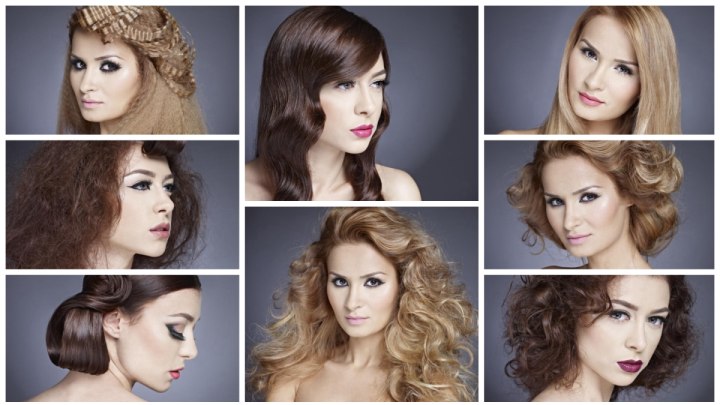 Scroll down for more photos ↓

Barbara Wuillot always stays a cut above the competition and once again proves an elevated sense for what women need and want on their heads. Elegance paired with avant-garde shapes and daring effects comes in several shapes for one base cut. Can you see which hairstyles are all made out of the same hair?

This collection shows the possibilities and the versatility of hair treated right. Long and shiny is a good look, but there is a big, big world of fabulous styles out there. It takes a little more effort, but we are so worth it, aren't we?



Blonde and brunette are on the palette in smooth and smoky tones. Open styles and curls are stunning but it is the extreme updos with the most amazing designs that complete this evolution of looks.


Sophisticated Simplicity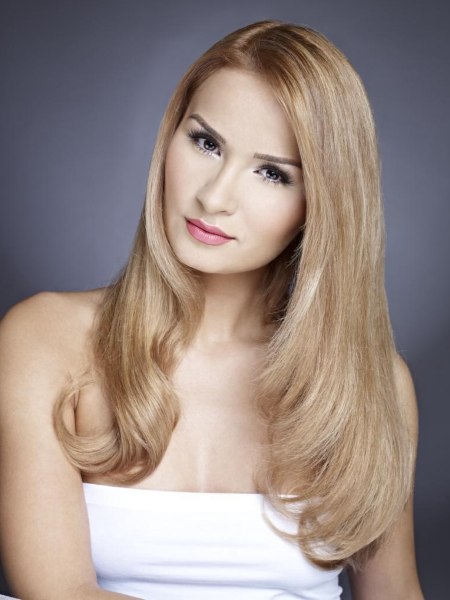 This sounds like an understatement as there is not really anything simple about this look for long hair. The lines are sleek and the form is supple, full and shaped with a beautiful face-framing curve that turns into a stylish, tapered angle.

With the large curls that are applied, it is just this angle along the sides that gives this hairstyle its exquisite flair of timeless beauty. A great touch is the asymmetry, which is created by the off center part and the twist in the styling of the opposite side. A rich honey blonde becomes ethereal with beige blonde highlights.


Waves of Satin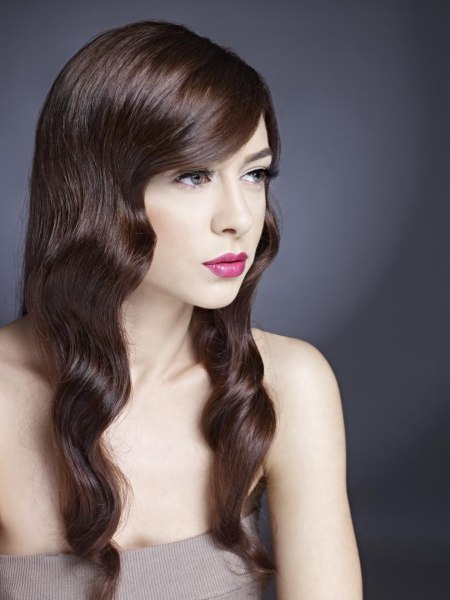 The smoothness of the wide and defined waves is just incredible. It gives the satin sheen that makes this long hairstyle so precious and unforgettable. After the hair was treated with a very good, non-sticky, smoothing serum, large sections were separated about from behind the ears forward.

The beautiful waves decrease in size from the crown to the tips and the large curve of the fringe is the beginning of the fluid movement. The back falls heavy and smooth with some roundness in the ends. With a side part this look is a classic of timeless beauty.


Lovely Fuzz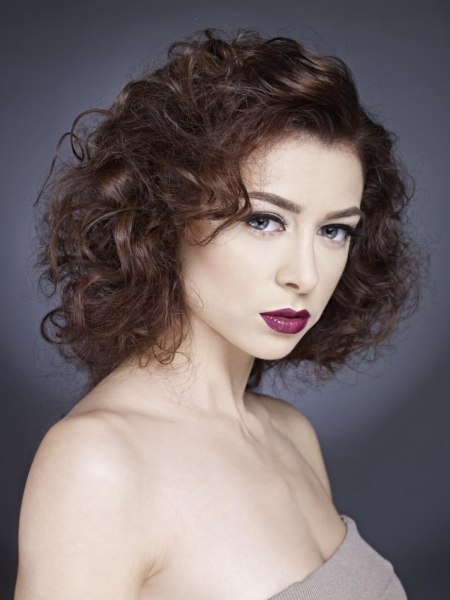 Create sparks and leave a big impression with a head full of wild curls in many different shapes. Round, large, small, crinkled, some sections smooth others fuzzy and with a kink. It is the mix of wave patterns that makes this voluminous hairstyle so unique and interesting.

Most of the hair is styled out of the face to not cover up any of her ivory beauty. A larger wave created out of her long fringe is a stylish eye-catcher. The texture becomes smaller towards the bottom and the cut layered and rounded in the back.


Long and Curly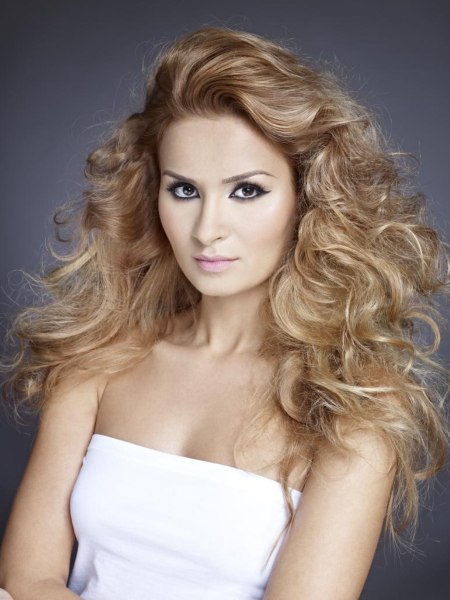 Long, curly and full of wondrous volume, this giant mane of all manes is going to make you the star wherever you appear. Large, sweeping waves adorn the crown and transition to a mix of smaller and medium size curls and waves.

The hair is styled out of the face, and much effort was put into creating stylish lift on the crown. The rest of the hair is a wonderful mix of definition and wild abandon, with thin highlights adding to the depth and creating little sparks of sunshine all over.


Up-Style with Elegant Waves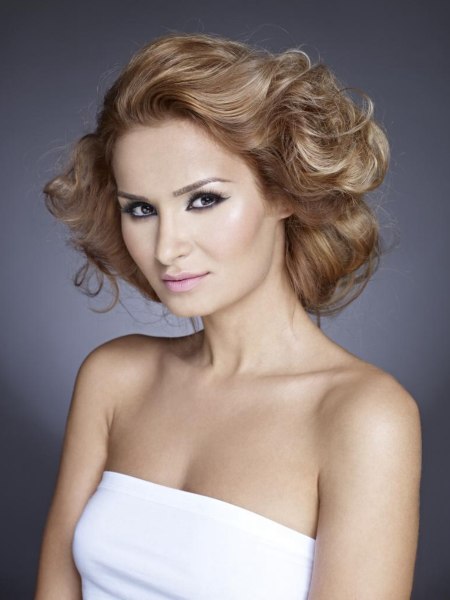 The high volume boosted by large waves and curls comes in handy to create this airy, soft and feminine up-style. The long back and layered sides were gathered ever so gently and rolled up in the back.



Fastened invisibly with some pins, this look is still a bit casual but already on its way to high elegance and a very stylish statement of distinguished taste. A perfect hairstyle for a festive evening, but it is not too much to also go on a date or to wear it for more informal social activities.


Contrast in a Loop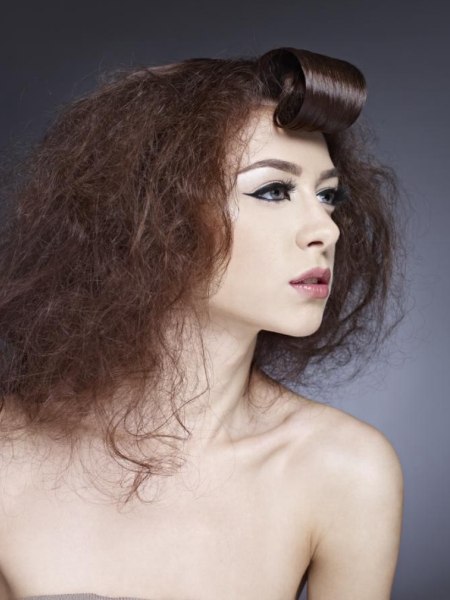 Feeling very expressive and like you need a little more drama in your look? Creative spirits who are not afraid to get a lot of attention will love this combination of two intense structures. The main body of the more than shoulder length hair consists of extremely deconstructed curls, just a couple of steps away from the hair being matted and perhaps comparable with the texture of fresh cotton candy.

Teasing, smoothing and teasing again can achieve this kind of texture. The dramatic contrast is the fringe, which was rolled into an ultra smooth barrel that sits high on the forehead. Abstract shapes, emotional textures and so much charisma are the secret ingredients of this amazing look.


Modern Sculpture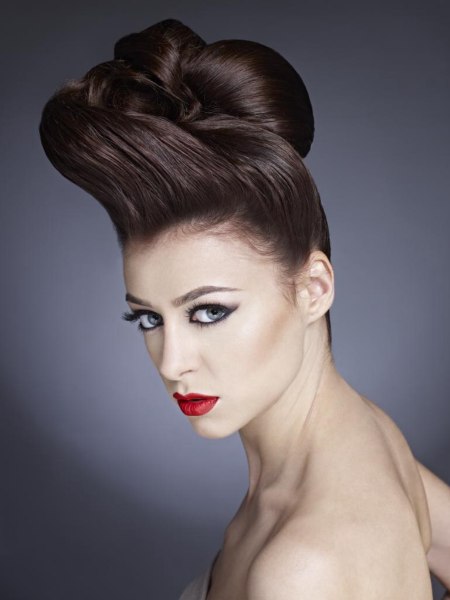 If the famous sculptor Henry Moore had done hair, it would perhaps look somewhat like this up-style. Large sections are twisted and slung around each other. Overlapping and supporting one another while coming together to a rounded, abstract shape with a very high forehead and extreme elevation. The back and sides also stretch upward, giving her face and neck a very slender appearance.

This is the new kind of elegance, with a touch of abstract art and unconventional, free-flowing shapes. The surface is free of any random hairs. Smoothing serum is the best friend you can have for hairstyles like this. Take this look to the opera or make yourself feel special any time when you need a good dose of extravagance.


High Updo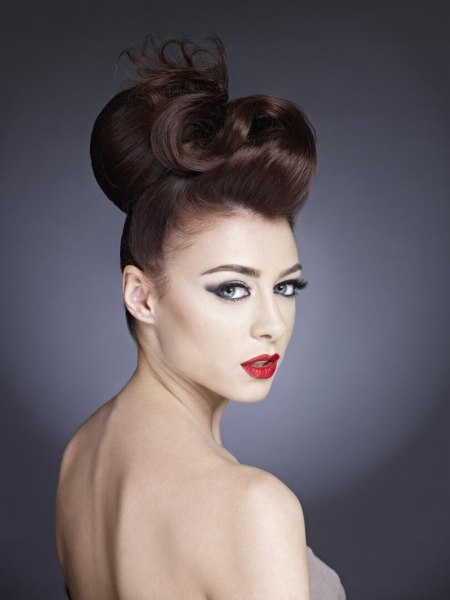 You are the Queen of your life, and it is time you show the regal side of you to the world. A high updo with wide sections of hair, slung into a curvy, snaky shape is just the right hairstyle to wear.

A very artistic and tingling touch of beautiful contrast is the fine strands of hair that peek out on the very top and are shaped like small tendrils or branches of coral. It is contrasts like that which elevate the artistry and energy of a hairstyle. This refined creation also has elements of Japanese geisha styles.


Melody of Style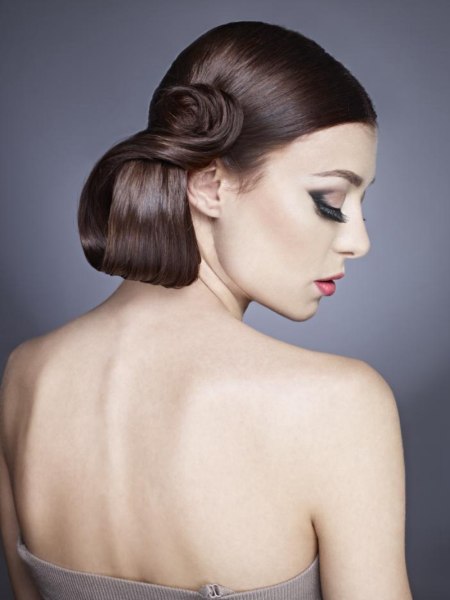 A shape that reminds of a precious musical instrument is created out of a long section of hair that was slung and draped on one side from mid-height to chin level. After the hair was gathered to a tight and extremely smooth side ponytail, it was curved up and arranged in this artsy pattern that looks so natural and eternally beautiful.

An up-style as intense as this does not require any additional accessories and has to stand on its own to play its song about the magic of perfect proportions, harmony and esthetics.


Crimp and Crinkle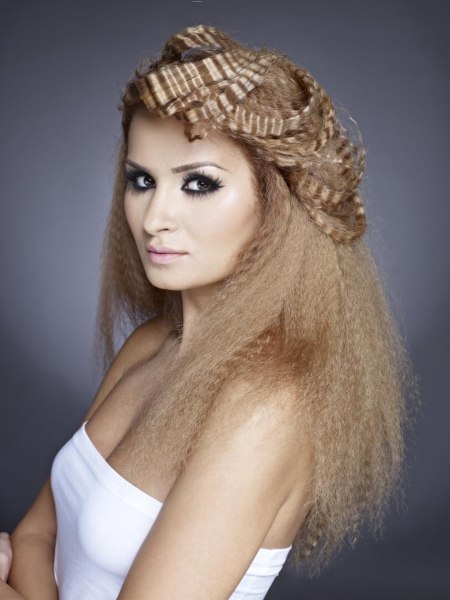 Two strong textures from the same source but in different sizes turn up the heat and fashion factor for this long and extravagant hairstyle. Get out the old crimper and use it all over, or even better, let your stylist do it.

Barbara Wuillot created a wonderful tension and contrast with the body of hair crimped to tiny, fairy wing fine ripples and several long strands in front that where ironed to a larger pattern of waves before they were slung around the head in a loose and seemingly random fashion.

The pattern also influences the shine and the way the light is reflected which adds another layer of texture to this highly exciting example of haute coiffure.


Crinkled Updo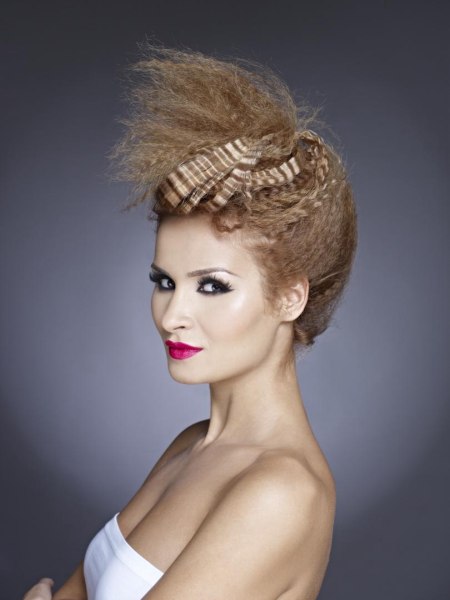 Go out in style and be as flamboyant and beautiful as you can be. There is no limit to finesse and elegant hair fashion when it comes to Barbara Wuillot. The high grade of skill and visionary design that went into this crinkled updo is award worthy and even if you cannot get the original, take the idea and spread a new trend.

The crimped mane from the picture before was taken to new heights by gathering all of the hair right in the center of the crown. Ends are left to stick out, shaping the fun, feathery accent pointing forward.

Hair: Barbara Wuillot
Photography: Marius Baragan

See also: Long hairstyles | Up styles