The Core Collection
Steve Salon de Coiffure


Metal is not necessarily something that comes to mind when we think about hair. Not so for the creative team at Steve Salon de Coiffure. In their Core Collection colors of metals are combined with warm tones of the natural palette of hair.

Three adventures in cut and color are presented in different stylings and perplex us with the haunting beauty that derives from the contrast of steel, platinum and even rust to muted browns. Futuristic expression meets Goth and classic elegance.



The Steve Salon de Coiffure managed to bring the seemingly contradicting together. Unusual, visceral, seductive and showing the way to the future of hair design.


Fade to Grey


Who is afraid of the grays? Not any more! Metallic colors like this hard steel tone establish themselves more and more in hairfashion and not just the domain of natural aging any more. Grey is chic, the new color of power and confidence.

Paired with a classic bob, updated with a diagonal fringe, it is a head turning statement of modern taste. With the fringe as the center the dark silver and steel tone transitions into the natural brown in narrowing streaks. A blunt cutting line adds to the boldness.


Unchained Melody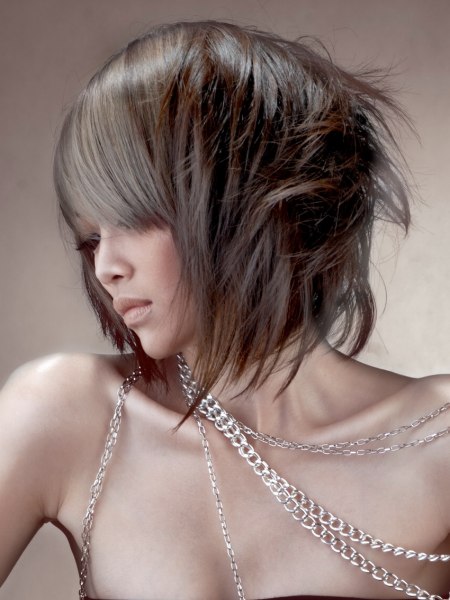 This is how the sexy comes into the steel. Besides the stylishly draped chains it is the color of her hair that creates the most unusual effect that just goes under the skin. The bob with a long fringe was blown out and styled with defined strands reaching from the back to the front.

A bit of wax in the tips sharpens and disconnects even the bluntest of lines. Amazing what a change of direction can do!


Lightning Strike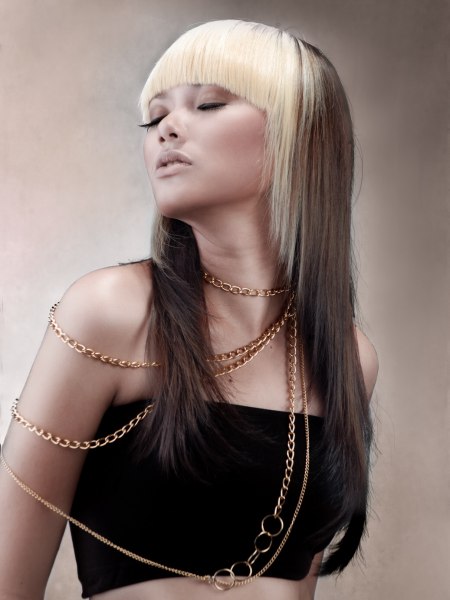 Combine the brightest platinum with an earthy brown, gently highlighted with toffee and you get a creation of unique beauty that is nothing but breathtaking. Glamour like this is not for rock stars only and with a bit of boldness and the right length of hair it can be yours.

The cut is a long sleek style with tapered edges and a massive cheekbone to cheekbone curved fringe. A second contrast besides the resonating play of color is the consequent bluntness of the bangs and a feathery light texture along the angled sides.


And it Strikes Again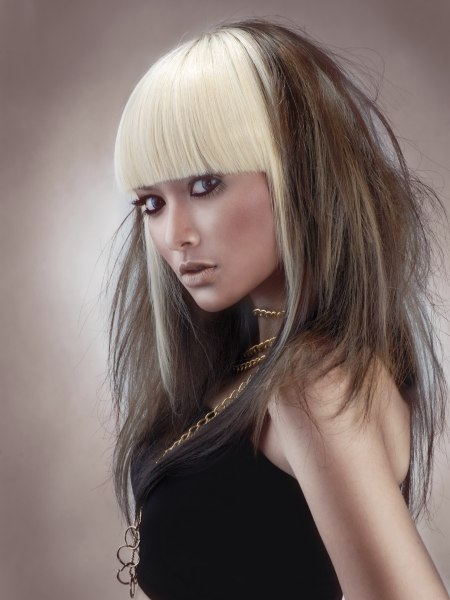 The coolness of the previous look still lingers but an attack of disheveled passion is about to take its place. The blindingly bright fringe remains sleek and glamorous with blunt lines and long, face framing tendrils.

It is the brown colored part of the seductive hairstyle that has been teased to tease. Billowy volume and controlled chaos bring the right contrast for a real sizzle.


Noble Rust


Take a classic, add an extraordinary combination of color and you will get a modern masterpiece. This equation is the secret to success for this outrageous collection by Steve Salon de Coiffure.

This chin length bob has all the elements of the timeless icon, including a gentle inward turn and pointed tips, but the rust colored fringe and the cool ash blonde background make it anything but usual. The amazing contrast of hot and cold hair colors confuses and delights at the same time.

Hair: Steve Salon de Coiffure - Medan