Wedding Collection by New You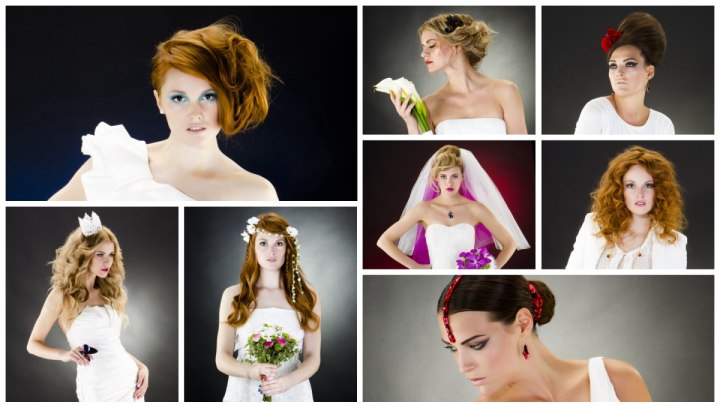 Scroll down for more photos ↓

Before you walk down the aisle, say a big "I DO" to the New You wedding hairstyles collection! Wedding fashions have gone way beyond the veil and the options are amazing. Hairstyles are big, bold, dramatic and romantic, but have moved far from the traditional updos with the curly tendrils hanging out.

You are on the verge of a new chapter in your life and you should start it right with a new approach to your hair, beginning with your wedding. Be daring, creative and get inspired by these innovative looks. A touch of India, flower power, wild curls, colored veils or a beehive are just a glimpse of the possibilities.


Long Waves with a Lacey Crown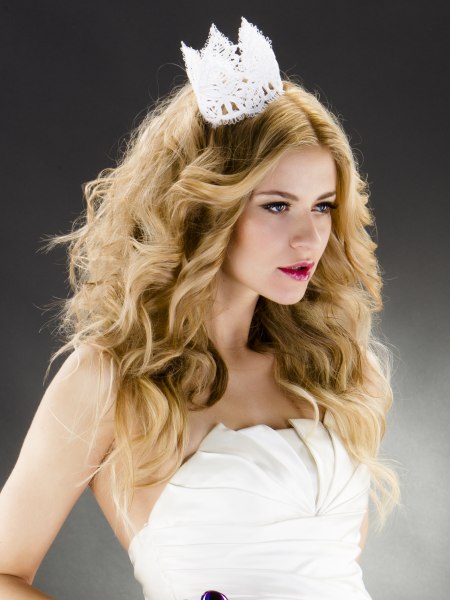 It is your day and you might as well show the world that you are the Queen of it. No one will outshine your wedding style with longs locks and a very special crown. The hair was parted in the center and then sectioned to thick strands of about 2 inches width. These were coiled, twirled and curled then shaken apart.

The hair comes out as a wild mane with elements that show the styling and others, towards the back that are more disheveled as perhaps a preview to the night after. To show everyone how special you on this day, a crown made of lace replaces the traditional veil.


Asymmetrical Updo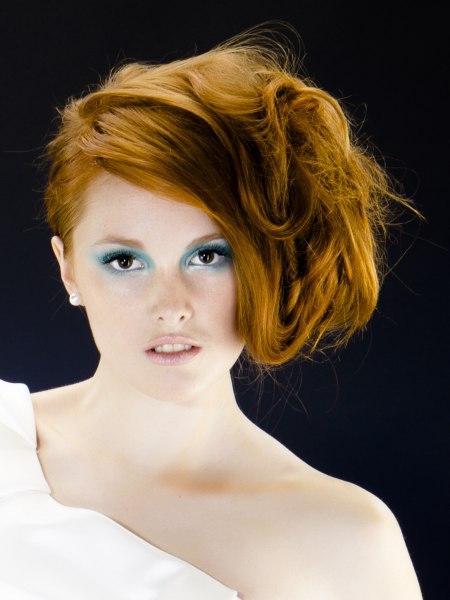 It is time to make your dreams come true and discover yourself all over again. Start this exciting new chapter with the most exciting wedding hairstyle you can think of and if you can think outside of the famous box, then this might just be the right look for you. Beautiful tousled hair was pulled over to one side where it was arranged like a huge skein of the finest silk.

The art to this style is to make it look effortless but with purpose and sophistication. The line around the face and the smaller side are neat and beautifully curved. All of the action is in the asymmetrical bundle that seems to float on its own. Her hair color is also as unique as the style with its yellow - hazel lights and shadows.


Romantic Wedding Upstyle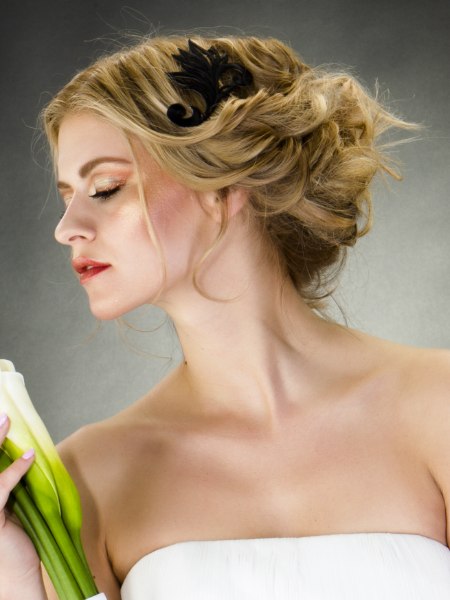 A wedding hairstyle that looks like a love song! It could not be more romantic. Twisted strands are draped from front to back where both sides meet and are rolled into a thick and deliberately messy updo. Thin strands are left hanging out in strategic places like over the ear and on the sides of the face.

With a curling iron these can be curled or waved to your liking, and they just add this romantic special vibe to any look. A beautiful hair accessory finishes the look. Here it is a black lace phantasy flower that stands as a unique and interesting contrast to the dark blonde and highlighted hair.


Flower Wreath and Accent Braids


A band of small flowers wrapped around the head makes the bride look like she just stepped out of an enchanted fairy garden. What could be more romantic than this? Together with some accent braids along the sides and large daisies in her hair, she mixes an appearance of innocence with the sweet seductions of her mid-back length coppery hair.



A special touch is also the curved fringe which originates at the angled side part and is made of a long strand, twirled around itself, then draped and pinned.


Dramatic Beehive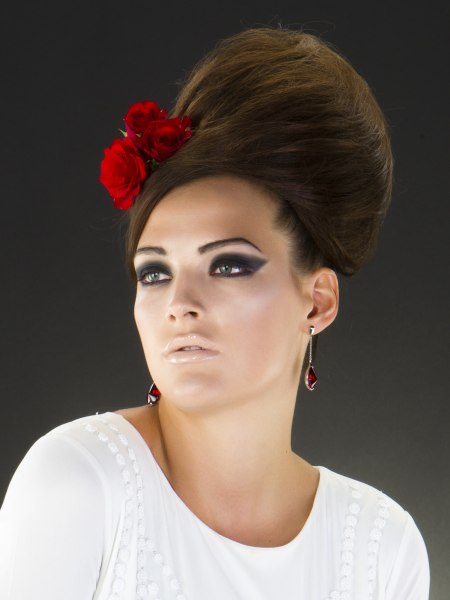 Say it with a flower. The red roses in her hair add even more to the dramatic expression of her breathtaking upstyle. The vintage beehive influenced this bridal look and most likely operas with a strong female lead like Carmen.

Go for your happily ever after with this bold and edgy wedding hairstyle. The hair is styled as high as the hairspray, the teasing and some pins can hold it and to make it even more interesting it is arranged in a whirled direction that will sweep the lucky groom right off his feet.

With hair like this, make sure your make-up can stand up to it and don't be shy with the eyeshadow. How about a red wedding dress to go with this? In China red wedding dresses are tradition and supposed to bring good luck.


Regal Orchid Look with Waves


Colored veils are one of the latest trends that walk down the aisles of the world. Combine a hot purple with the traditional white veil and a lipstick of the same color and you instantly have a theme! Orchids have unusual and hypnotizing shapes that cast a spell on their admirers.

This hairstyle has the same effect and will look great on your wedding photos even ten years from now. The hair was taken up to the center of the crown and bound to a large bun out of which a wavy mass of blonde sweeps towards the face where it functions as a fringe and accentuates her beauty with a couple of curly tendrils.


High Volume Curls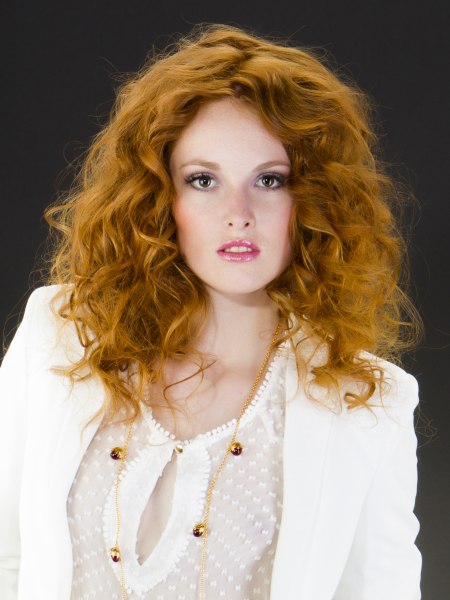 This is a great hairstyle for a more casual wedding, but it sure does not lack expression and charisma. The hair falls to both sides of an uneven partition and is full of luscious volume from all of the curls and waves.

The wave pattern consists mostly of large corkscrews that are partially tousled and scrunched. Simplicity is the key and the awesome volume speaks for itself but has a great ally with the extraordinary color that reminds of a summer sunset with its mix of ochre, yellow and hazel hue.


Star of India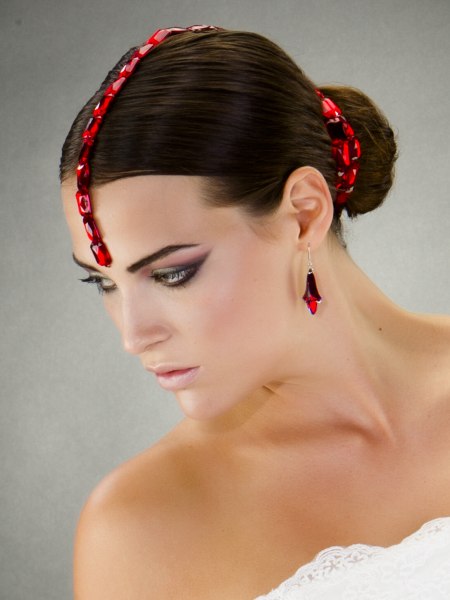 Some of the world's most elaborate, most colorful and most festive weddings are celebrated in India. Bring some of the spirit to your own special day and get inspired by this elegant chignon.

Wrapped with a string of ruby red beads that first circle the low set bun and then follow the line of the center part all the way to the spot of the "third eye" between her brows. Earrings in the same color complete this exotic look that will make you feel like you are in a fairy tale all of your own.


Sleek Elegance in Brunette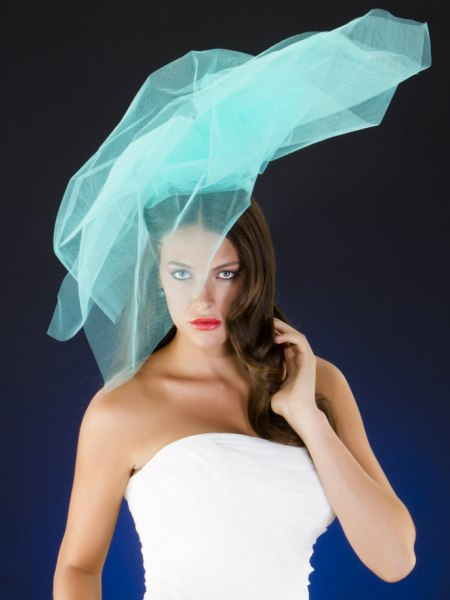 The teal colored veil looks stunning against her brunette hair. The style incorporates long waves with the ultra smooth, silky texture. One side is pinned back with a pretty hair clip while the other one smooths against her face for a coy but seductive look.

This wedding style uses more smoothing lotion than hairspray and is sure to last all day long from the "I Do" to the last dance.

Salon: New You
Hair: Martin Tyl and Lenka Walderova
Make-up: Tomas Moucka and Petra Hrehorovska
Photography: Jan Vagner
Dress: NUANCE
Flowers: Jan Simr, 3J Design
Jewelry: Baccarat

See also: Wedding hairstyles