Desirable by Dessange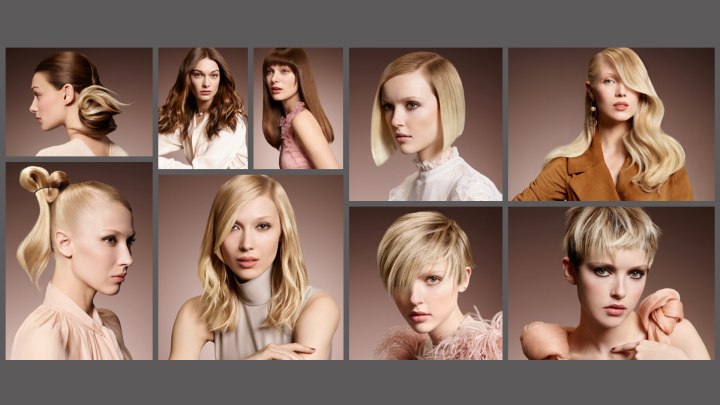 Whether her style is minimalist and fanciful, modern and exquisite, or fun and rebellious, this winter season, the DESSANGE woman is dazzling once again. She's turned her style up a notch and created sustainable fashion.

She sports curved lines and a look that is the definition of DESIRABLE. Everything she needs to step out with carefree optimism and authentic elegance. Pure blonde color, a flowing cut, and glossy locks. Simply gorgeous hair. What a season!


A Wave of Enthusiasm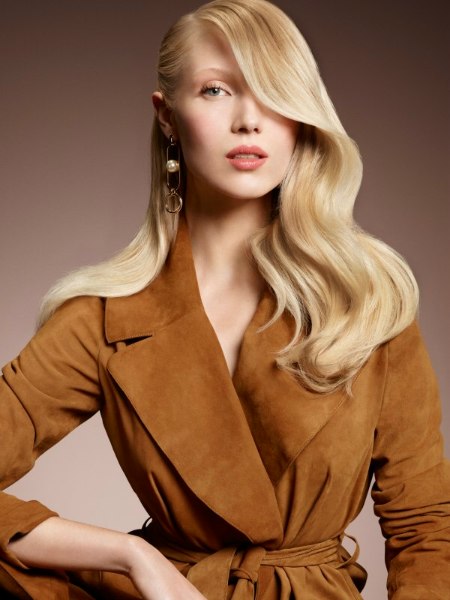 Glamorous hairstyles featuring side parts are the latest trend. These styles feature geometric shapes, faux-scalloped wave effects, brush work, straightener work, and extreme shine. Beauty drives creation, and the day-to-day becomes thrilling. And there's more and more excitement behind it all!


Soft Waves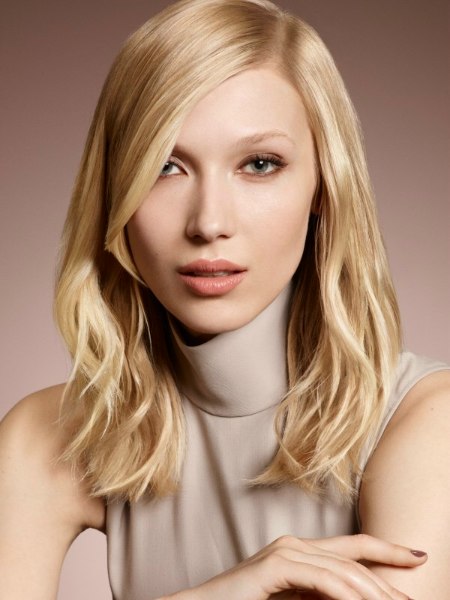 Is straight hair out? Mussed waves that create faux-creased effects make up this season's must-have look.

Make sure to follow this pro tip: Keep hair smooth on the top and near one side of the face. Part hair to the side. This will make it easier to brush your hair behind your ear - a gesture that is eminently feminine and attractive.


High Fashion Smooth and Straight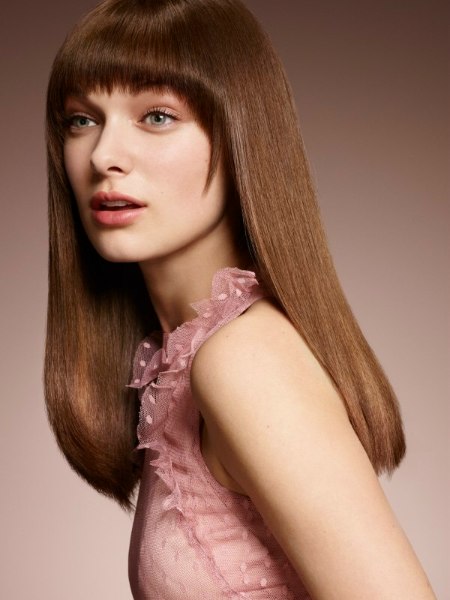 With long, straight, and shiny locks; an eye-catching chestnut color in "Châtain Praliné"; and sculpted, rounded, 70s-style bangs, the season of gorgeous hair is officially upon! Light and attraction work hand in hand. Who would dare to say otherwise?

To add shine to your hair without weighing it down, the best route is to use a taming, anti-frizz serum and an absolute oil.


Long Waves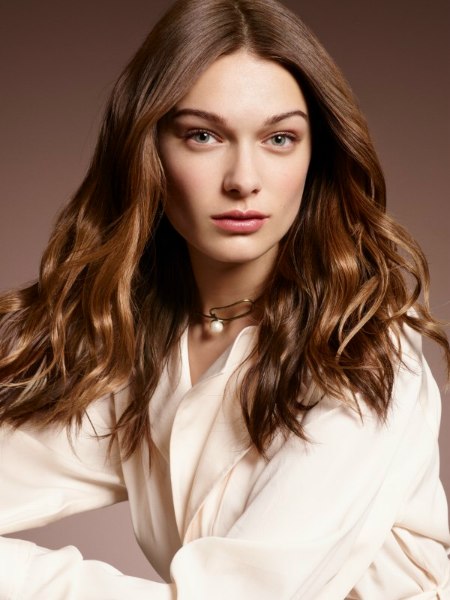 Someone ordered glamor? To combine slicked back curls and natural waves, you just need to concentrate on texturing your hair as much as possible to add body, bounce, and femininity! The slight waviness makes your hair look even fuller. So what's the secret? Use a texturing spray.


Preppy Updo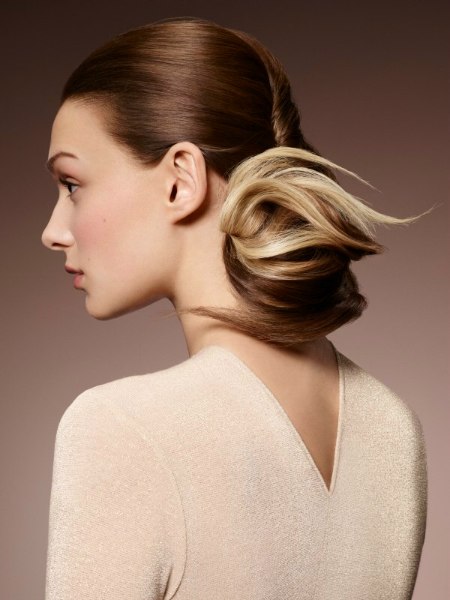 What's the best way to set off the face in profile? Use a natural hair extension, style it with a straightener, and pin it up low on the neck. The style's round shape is accented with loose, graphic pieces, and lighter locks create depth.

These details break up the uniformity of the classic reverse banana chignon. Gloss and a texturizing powder are added to the ends to create a light, airy effect.


Folded Up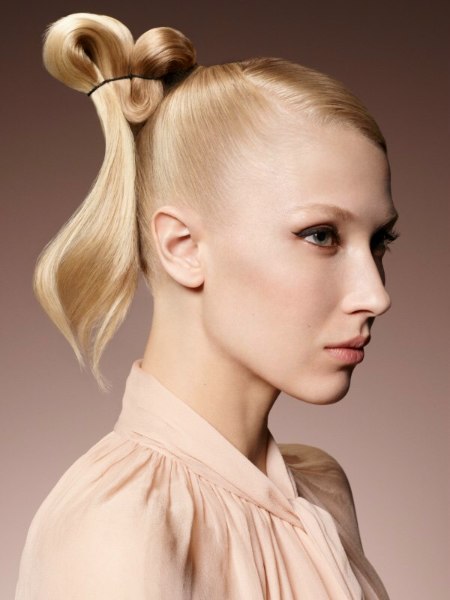 This exciting style is inspired by pleating, folding, and other origami techniques. It features a high ponytail in blonde "Deux Beiges". Thread is used to complete the updo.

The ends are left free and textured with a matte powder. Hair is parted on the side and set off by a high gloss. The hairstyle is sculptural, contemporary, graphic, and architectural. It looks elegant from every angle!


The Measured Bob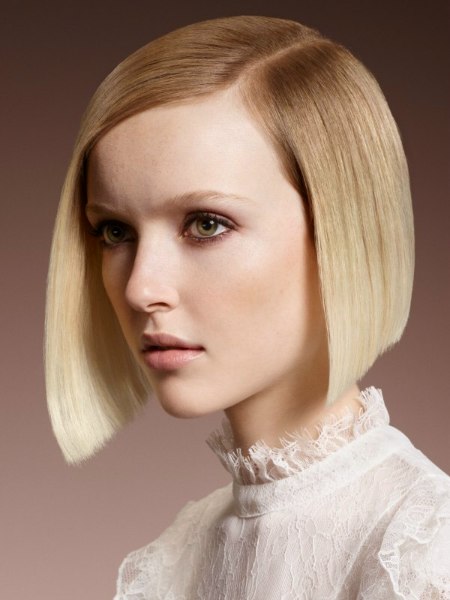 The straight bob, a perennial favorite, plays up modern and graphic styling with a side part and a palette of three, seamlessly blended blonds. The colorist's marvelous job is a look that we're sure to love.


Dual Effect


Short hair is doubling down this season! This style features a layer on the top that is longer than the bottom as well as sculpted bangs. The cut is reminiscent of Jean Seberg and can be worn several ways.

A cool blonde is set off with deeper tones along the roots. This edgy style screams independence. It's striking and absolutely irresistible.


False Short Style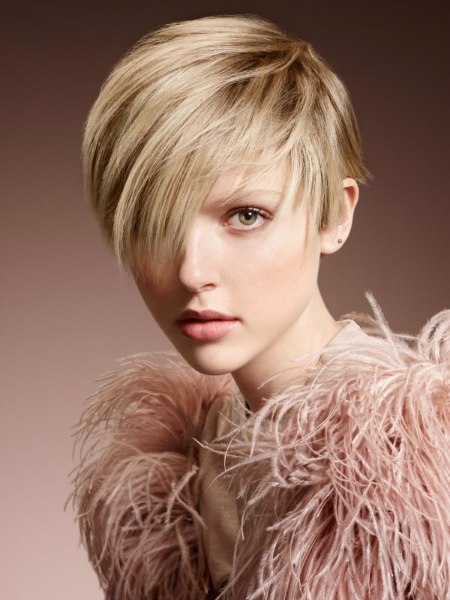 To play up elegant transparent effects, opt for an adjustable, false short cut and luminous balayage highlights set off by three layered blonde colors that showcase the true depth of "Blond Camaïeu". A smoothing thermo-active spray and a gloss spray give hair a satiny effect.

Hairstyles: DESSANGE
Photography: Nicolas Valois