Arual Collection
Albert and Miriam Navarro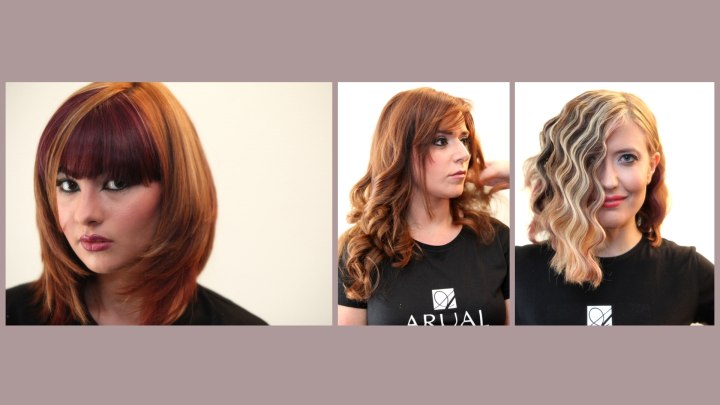 If you're looking for a hairstyles collection that pushes the boundaries, but doesn't cross over into the outrageous zone, this is the one for you. These styles project a perfect balance between fashion-forward and elegance. The stylists incorporated haircuts that are trending now with some of the season's hottest hair colors and styling techniques.

Whether you prefer silky straight, wavy or you're more of a curly gal, you'll find some fresh inspiration among this straightforward collection in a flash. Remember that even if you prefer conservatively colored hairstyles, you can always achieve these impressive color-infused results with the help of various kinds of hair extensions.



Have a look at these stunning pictures to fuel your ideas and renew your look once you've decided on the perfect style and color. And keep an open mind! If you prefer one hairstyle but another hair color, take both pictures to yours stylist and create a tailored look just for you.


Long Bob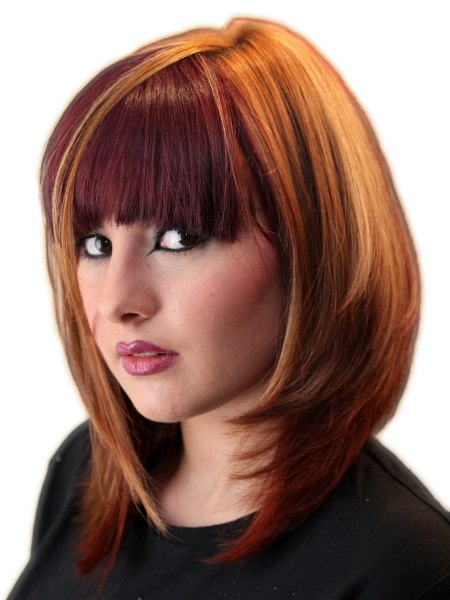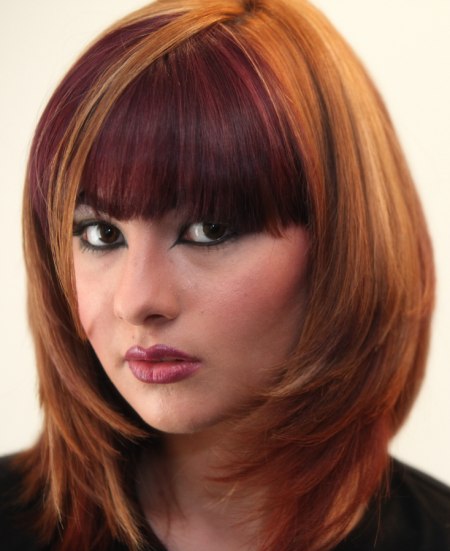 Here we have a beautifully constructed A-line lob, (long bob), with a full and rounded fringe. The lob is superbly cut and well texturized to ensure that the ends are still full and thick, yet fashionably feathery. This hairstyle works especially well with naturally thick and straight hair, but is not generally recommended for thin or flat hair.

Although the actual cut of this style is amazing, you'll see that the real attraction lies in the beautiful incorporation of different hair colors. The stylist used the color blocking technique to achieve this level of differentiated color intensity. The fringe is a deep burgundy red, while the top of the model's head is a progressive color play of medium copper blonde to light golden blonde. The blonde stands out in bright relief against the medium red-brown hue of the bottom part.

The model's make-up is relatively simple, except for the decorative liquid eyeliner detail that reminds one of Cleopatra's beauty and grace.


Blonde Hair with Lowlights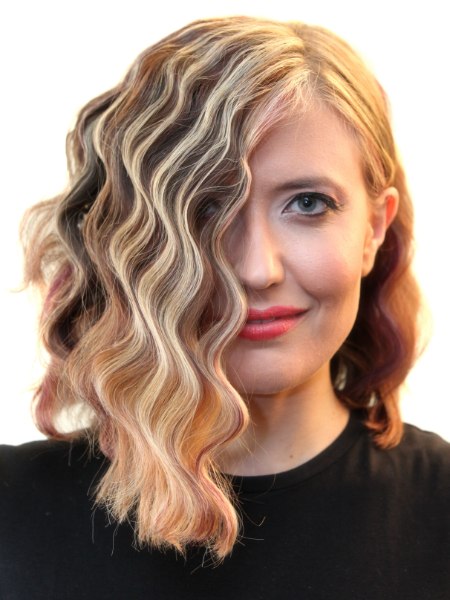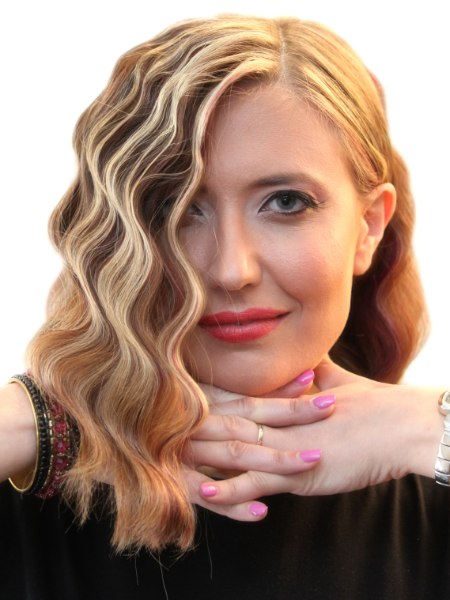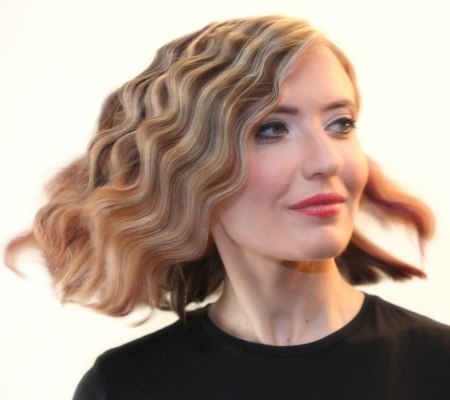 This is a very popular choice for blondes who crave some change, but don't want to commit to a whole new hair color. The model's naturally blonde hair is highlighted to a cool very light blonde hue. Dark brown "peekaboo lowlights" have been incorporated around the face to change things up a little. Adding darker lowlights will always increase the dimensionality and movement of the hair's color, as well as warming up your complexion.

This kind of constructed lowlights works really well with curled hairstyles, as the curls or waves make the colors blend very easily. This is the main reason why stylists will always curl their client's hair after coloring the hair into an ombré or even with color blocking.

If you don't want to commit to adding permanent lowlights to your blonde hair, you can opt for clip-in hair extensions, or even ask you stylist to put in a few strands of permanent dark brown extensions.


Flowing Hair Colors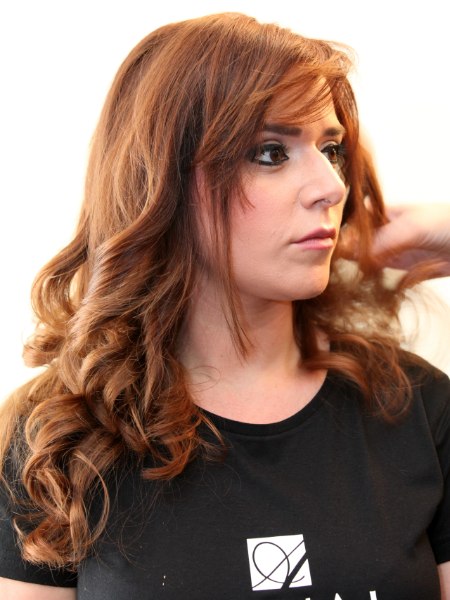 The model's hair is cut into a straightforward long, connected layers hairstyle. Her bangs are cut into a wispy, diagonal fringe that frames her face and finishes the style off well. The hair around the model's face has been colored with a medium copper-brown hue, while the crown section is lifted with very fine champagne blonde highlights that are packed progressively more tight towards the back of the style.

The achieved effect is thus one where the hair color flows evenly from a medium brown fringe, towards a light champagne blonde on the crown area. This is a very good choice for natural brunettes with dark eyes and an olive complexion. Because the hair that frames the face is still predominantly rich-brown, the model's face still looks warm and natural.

The champagne blonde is blended with the brown, but the really light section is on the top crown, creating a dimensional blonde look without draining the model's naturally rich coloring.

Cut and Color: Albert and Miriam Navarro - Malta
Make-up: Analise Micallef
Photography: Johann Cardona