Pastiche by Sanrizz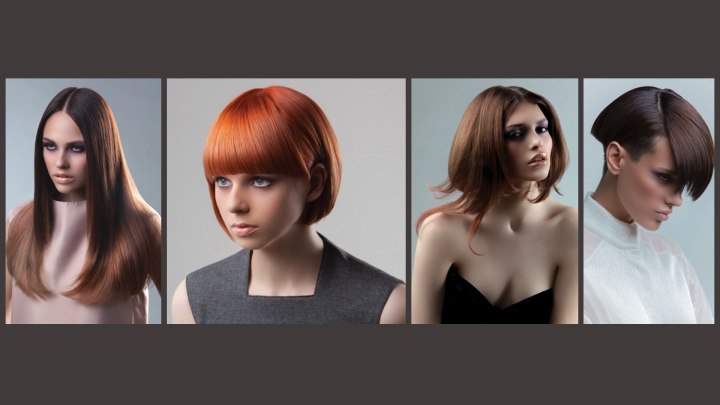 This is an "out of this world" collection of über-modern, cutting edge contemporary styles that automatically makes one think of how people might look like in another dimension, or our own people a thousand years from now.

The makers incorporated special-effect photography with incredibly skilled stylists that use angles, colors, curves and make-up to make the models look heavily exotic to the point that they look like they're of a different species.



Other than the incredible entertainment value of this cool collection, you'll be surprised how much inspiration you can siphon from the different cuts, colors and styles, even if you're looking for a totally "normal" hairstyle.

The most impressive thing about all these styles and cuts is that it is incredibly adaptable, and with a few variations it can be down-toned into a perfectly "normal" look.


Long Hair Pointing Inwards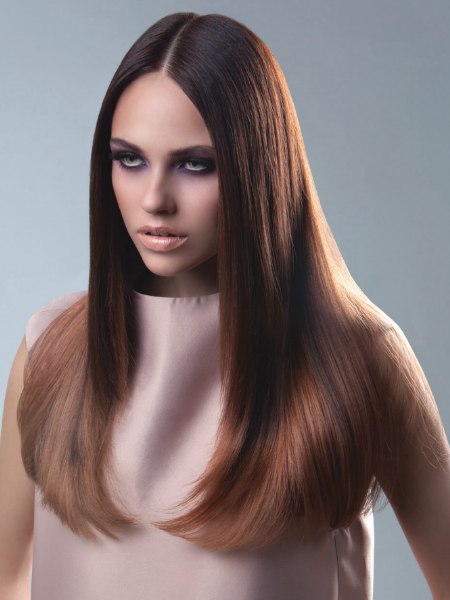 This long hairstyle reminds one of long-haired goddesses such as Lana Del Ray, and even to a certain extent of Jennifer Aniston during her Friends days. This whole collection has been modelled to look very edgy, futuristic and contemporary, and this image is no different.

The model's hair is cut into long, connected layers that have been thinned out especially along the hairline to create a perfect fanned-frame around her face.

Her hair color is a creative ombré that is a dark red-brown at the roots, and progresses very gradually to light copper-blonde tips.

Note the inwards pointing ends styled at the front, while the model's make-up is done in such a way to make her look extremely edgy… almost disturbingly so. The nude colors of her make-up as well as her "ultramodern" top flawlessly focus all the attention on her darker hairstyle.


Bob with Wisps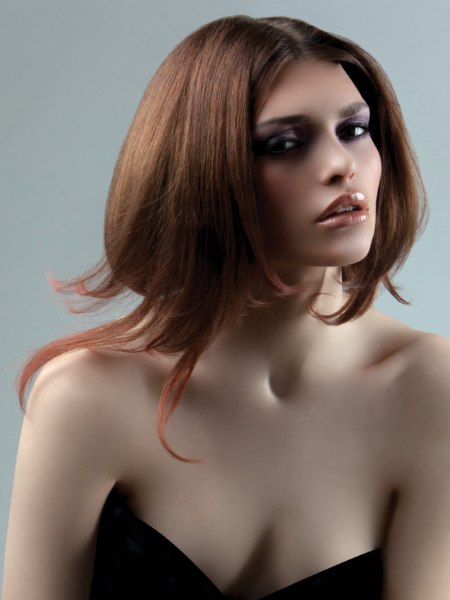 The swirling wisps at the bottom part of this hairstyle almost make one think of a modern Medusa figure. This is probably one of the most imaginative styles that you'll ever come across, thus hairdressing apprentices and hair enthusiasts take note!

The model's hair has been cut into predominantly a very full, slightly layered lob (long bob), while unconnected wisps of hair are left at the bottom of the style to curl and wave in different directions and angles.

The lob "part" is blow-dried inwards to achieve maximum volume, while the individual wisps at the bottom are either blow-dried or curved with a flat-iron in varying angles and directions to achieve the very modern "Medusa effect".

Note how the marble-like special effects on the model's torso and shoulders make her look even more goddess-like.


Short Bob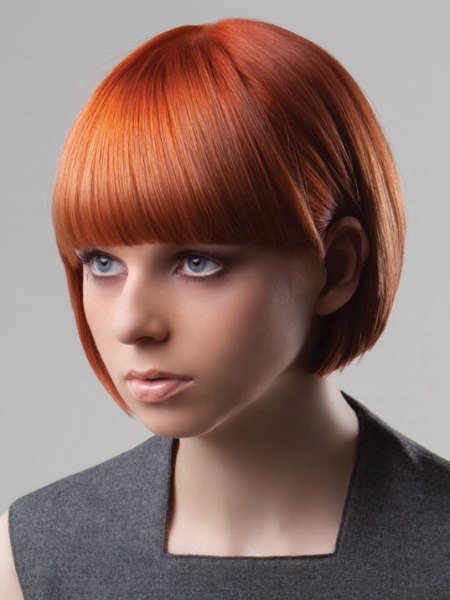 This exquisite image almost reminds one of a red-haired Lady Gaga. The model's short and slightly layered bob is actually quite a simple haircut, but it is lifted up into the extraordinary thanks to the long, structured bangs and incredibly intense hair color.

This light, copper red hair color is probably one of the most difficult colors to achieve to this quality of perfection, even for the most seasoned hairdressers. Note the clever incorporation of a golden copper section that subtly stands out in her bangs.

The intense copper-red and gold makes the model's blue eyes stand out in sharp relief, while her face is seemingly devoid of any other color, which intensifies the "futuristic" theme. This hairstyle might seem relatively simple to the untrained eye, but the underlying detail is incredible.


Bob with an Undercut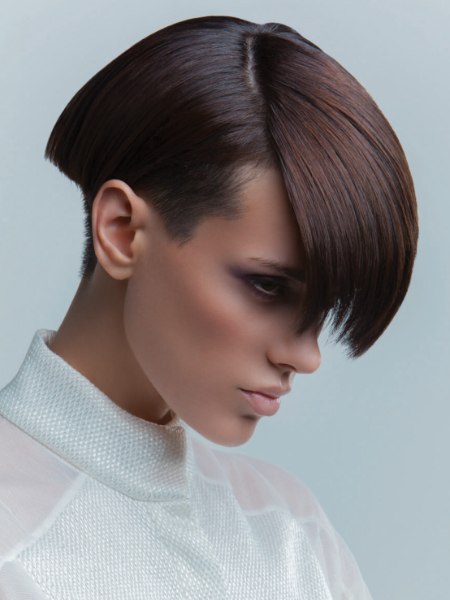 This hairstyle is probably the most jaggedly outlandish of the whole collection, thanks to its intense angles, sharp-looking hooks and enigmatic bangs. How interesting is it that, incorporating sharp angles and pointy hooks into a hairstyle, you can make the model look almost disturbingly precarious.

Her hair is cut into a very blunt bob with a shaved undercut. The hair in the temple area has also been shaved, and gradually blended to the rest of the length. The model's side part, long blow-dried bangs and the angle that she's standing attributes for the striking characteristic of this picture.

Note how well the pale skin, striking jaw line and high-necked white top play off the darker, mysterious hairstyle. Her definitive silhouette and curved nose also make her the perfect model to use for this specific look.

Hair: Sanrizz Artistic Team
Make-up: Lee Pearson
Styling: Sabina Emrit
Photography: Luis Vidali