Rebirth 7.0 by Papas and Pace


Papas and Pace from Brisbane, Australia, makes it their business to nurture your individuality. Rebirth 7.0 makes it clear how far they can go with this. To call these looks creative is an understatement.

There is true genius at work as it is proven in every color and every line of these innovative, refreshing hairstyles. Undercuts, overlapping layers and bright metallic hair colors are eccentric and even radical.



Just the right look for daring women who live in the moment and don't follow the herd. Papas and Pace go beyond mere cutting and styling. Their looks are pure therapy for mainstream tired eyes and souls that demand more. It is time to be reborn!


Undercut and Canary Accents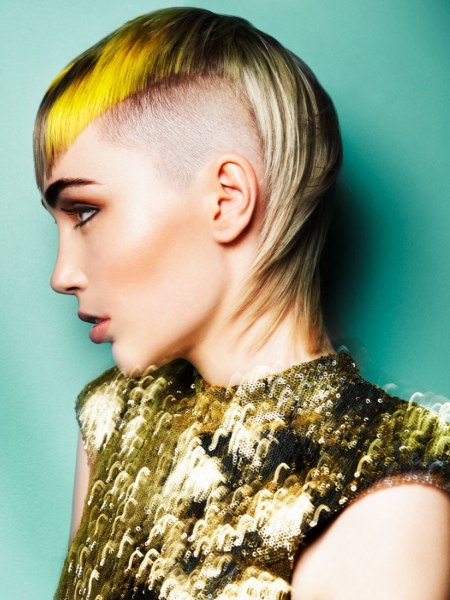 Punk is redefined and lifted to front cover status with this multi-level hairstyle. A wide undercut keeps the sides of her head cool and makes this look even more exotic.

The top and front are defined by a sleek short section of hair dyed in canary yellow and bronze brown. The back has longer layers that curve into the shape of her head. These are lighter in color with streaks of light and dark blonde.


Bob with Undercut


By tugging the side behind her ear she offers a teasing look at the heavy undercut that takes this short, geometric bob into a new and exciting realm. The slick and shiny surface of the hair wants to be painted on, who could resist?

With a blonde main color, the blue, orange copper and dark blonde streaks in the bangs and down the front of the sides make a big impression. A refreshing splash of color on a very graphic haircut. The bangs are straight as is the lower cutting line.


Overlapping Bangs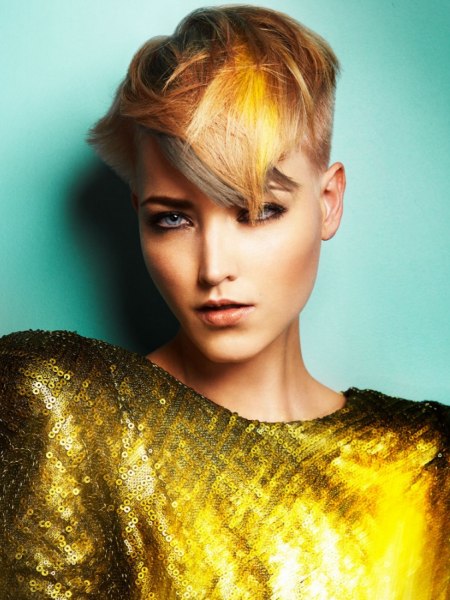 Her golden sequin dress pales in comparison to her gorgeous, radical short haircut. The most dramatic part is her long irregular shaped fringe with its overlapping styling of thin and wide sections that are combed in opposite directions. The addition of several hair colors increases the effect.

The darkest color a cool brown tone is topped by a sheet of golden blonde, which is then hit by the light of a canary, sunflower yellow spot of light. With this much going on the rest of the cut can be a little more demure. Clipped sides and back provide a neat texture for this.


Watercolor Effects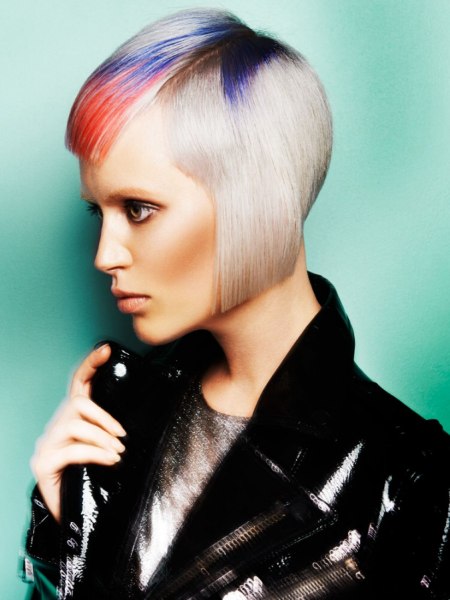 A variety of cutting techniques, style elements and colors in one hairstyle work together well. Disconnected segments, long and sleek parts, a clipper cut and rounded back are the elements that this hair dream is made of.



With its unusual shape it has a surreal appearance, which again is taken to high impact with a watercolor like application of hair color. The fringe and the top of her short silver hair are the canvas for a deep ultramarine blue feathering out from the center and touching the light carmine red in the fringe.


Pointy Bangs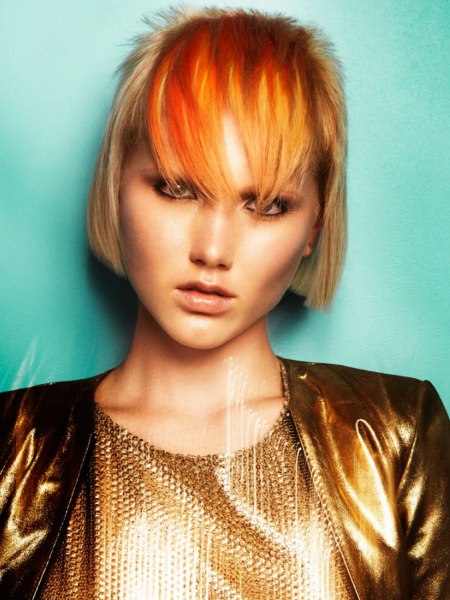 Your fringe can be an art piece all by itself. This creation features a flame like pattern induced by the textured cut and all of the colors of fire. Light red, orange, yellow and shadows in an umbra brown make you want to get out your thermometer.

This fiery tongue of hair is framed by cool blonde bob cut sides and a short little halo of soft spikes. The pointy edge of the bangs is contrasted by the even and straight cutting line of the lower perimeter. The classic elements and the artistic expression that remind of street art make this hairstyle a memorable experience.


Kinetic Metals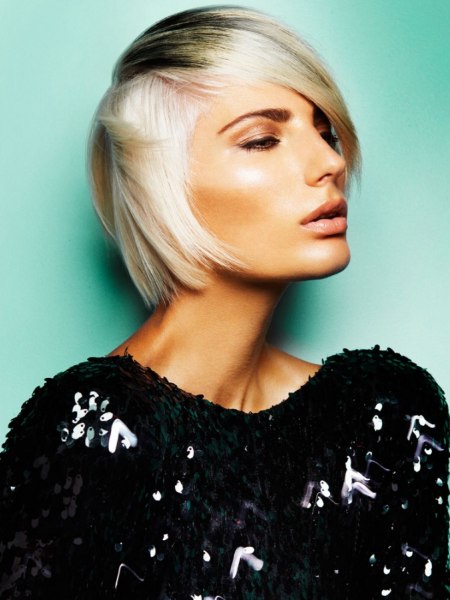 This short haircut seems to move all by itself and takes the wearer on a wild ride of fashion adventure. The cut is based on a bob with chin length sides, textured tips and some angled texture in the length for ravishing styling effects. The top was combed forward from way back and turns into the diagonal fringe.

The movement is enhanced by the dark steel hair color that makes a perfect shadow for the silver blonde, which is also warmed up with a whiff of a golden tone along the point of her bangs. High velocity meets glam rock and runway elegance.


Fierce Bangs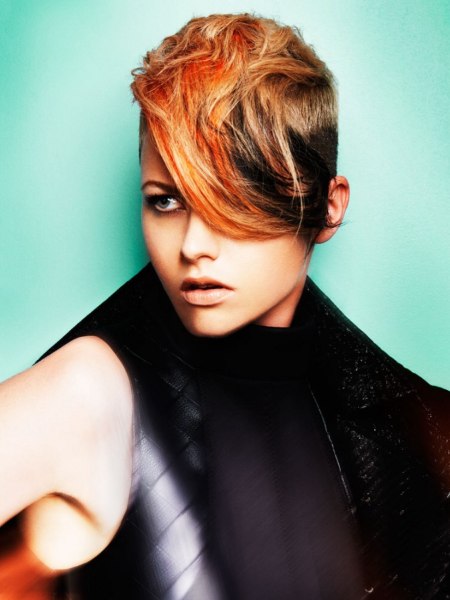 Show your power and express yourself with the right color in your hair and a creative short haircut. A tumultuous pattern of orange, brown and blonde create much energy in the fringe. The hair is combed forward and has a layered effect with texture and multiple shades enhancing each other.

A sweeping curve at the bottom of the bangs reaches into the velvet short clipper cut sides which are also dyed in two colors with a natural dark blonde above a deep and dark brown. All of these contrasts generate irresistible magnetism.


Molded Look with Light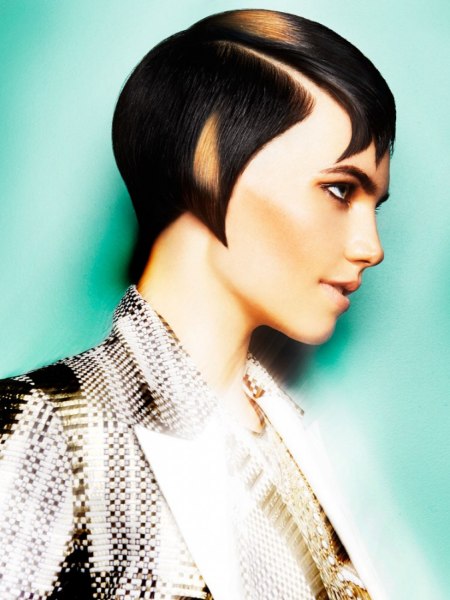 The fine tuned graduation of this short cut makes it easy for the hair to fall into this molded shape. An interesting design with curves, points and graphic waves keeps the eyes wandering to discover more details. One stunning element is the partially shaved side part.

A narrowing line continues from her temple to the back and it separates the longer hair on her crown which is combed forward from the downward directed sides. In addition Papas and Pace added a couple of spots in a feathered out blonde that looks like rays of light hitting the dark brown hair. Beam us up, Scottie!

Hair: Dmitri Papas @ Papas and Pace
Coloring: Justin Pace @ Papas and Pace
Make-up: Kylie O'Toole
Styling: Elaine Marshall
Photography: Andrew O'Toole