Optica by Sassoon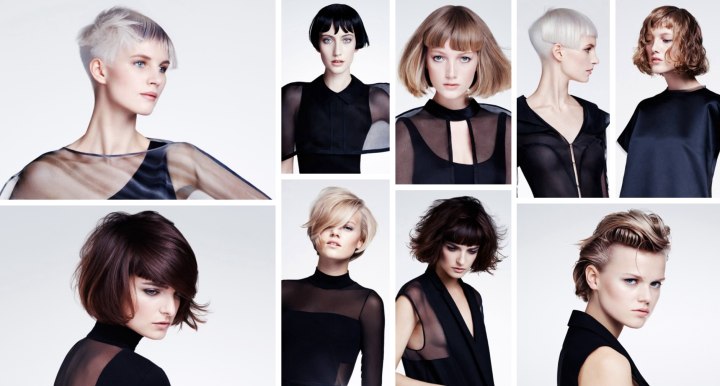 The language of fashion inspires, beautifies and if used well it touches one's soul. Sassoon's latest collection uses chiseled contours, fluffy volume and an artistic use of color to add to the visual vocabulary.

Fine nuances play with opaque and transparent effects in a multitude of tones. The sculptural quality of these haircuts is underlined with a skilled play of light and shadow. Geometry and an androgynous undertone are the seasonings of the short cuts, while medium long hairstyles are utterly feminine with strong movement, waves, curls and feathery light wispy tips.



Sassoon is all about celebrating beauty while developing a style for each individual to perfectly reflect their personality.


Make Believe Short Hair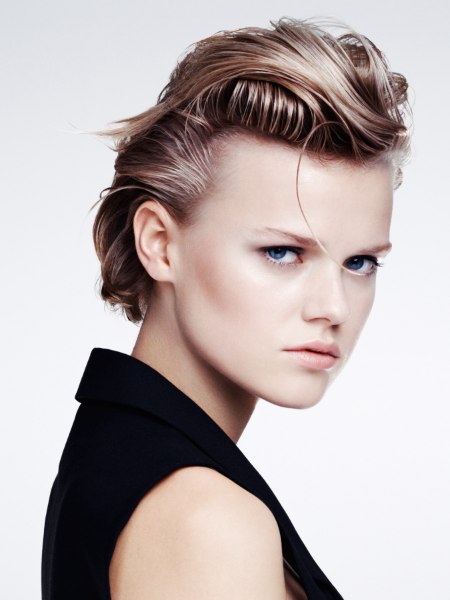 What looks like a rockabilly inspired short cut with an indication of a quiff and styled back sides is actually constructed out of chin length hair. A very creative way to create an unforgettable style. The hair was sectioned off in a lower and upper part by drawing a part at the height of the temple all around the head.

To get its shape and texture the hair needs to be thoroughly treated with a modeling lotion or paste. It is combed before being twisted and slung into its final shape. The lower perimeter is combed to the back where the hair is rolled and pinned to make believe the hair is very short.


Fluffy Bob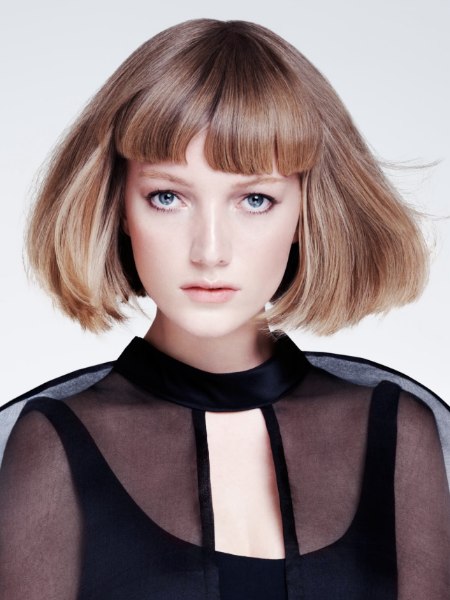 A little more than chin length and a short fringe give this bob its connection to the world of timeless elegance. It gets its modern character through the fine tuned coloring and the amazing volume. Flattering as it gets, this bob combines dense structures and lightweight, transparent elements.

The thick fringe has two small separations styled in and the sides show an unequal amount of light blonde streaks in front and underneath. With every move of her head new sparks of light will be revealed. The flattering volume was generated the old fashioned way, with a great cut and a round styling brush during blow drying.


Dense and Light Hair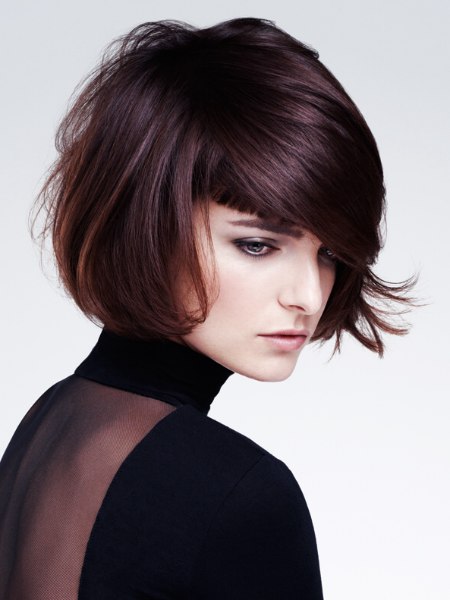 This roundly shaped stunner incorporates the theme of this collection in all detail. Geometry meets movement and dense structures and contrasted by transparent veils.

This is especially evident in the fringe which consists of a straight cut, tight fitting base layer at eyebrow level and a long side slung overlapping curve of hair. The sides are a perfect balance of neatness and ruffled charm with some wispy renegade strands flipping up on one side.


Short and Blonde with Layers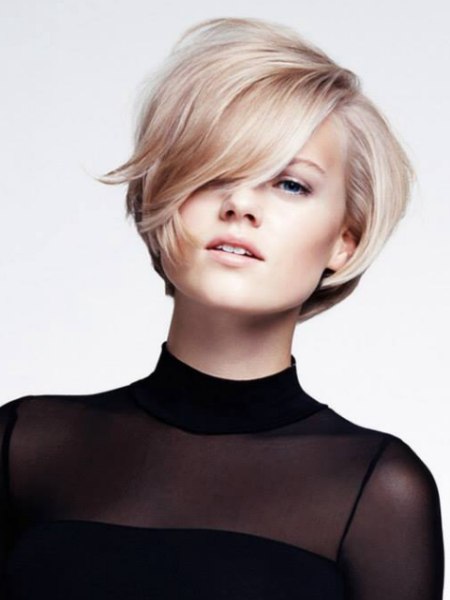 Cuts like these are weapons made of hair that became famous in the 60s on stars like Kim Novak. Flirtatious and cool at the same time a resurrection of this iconic style was overdue.



The hair was cut with some layers and graduation around the lower edge to allow it to fall easily into its head hugging shape. A generous fringe is swept to the side and a little unevenness in the right places make it just irresistible. Various shades of blonde were used to enhance the impression of depth and dimension.


Curly Wet Look Hair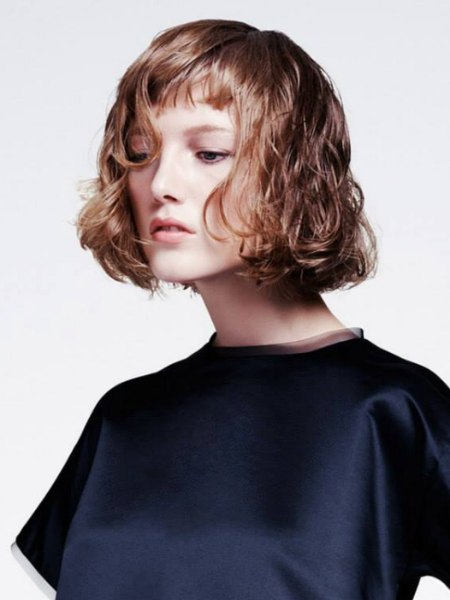 To stay with the 60s inspired flavor, a reoccurring theme in Sassoon hairstyles, this short curly bob is similar to hairstyles that gave Mia Farrow her status as a fashion muse. It is utterly tender and has an almost fragile expression.

Thin strands are separated with a flexible gel, this gives the hair texture and a wet look. It is cut in a bob shape at chin length and has an adorable short fringe that covers only half of her forehead. The colors are a range of blondes with the lighter shades dominant in front.


Very Short Nape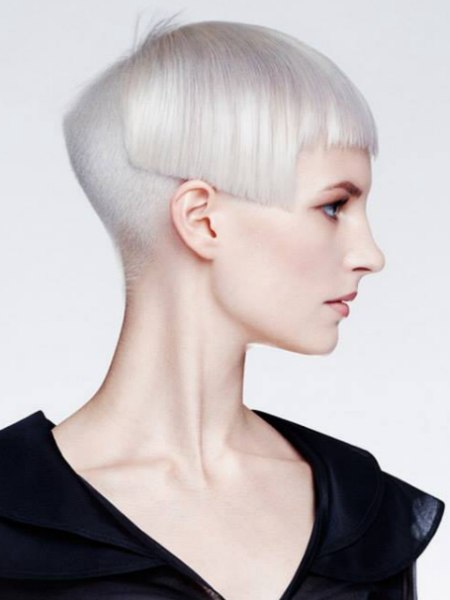 For this platinum blonde graphic look hair was used as a sculpting medium. The cut turns a graduated neck into a distinct geometric shape with a velvety soft texture. The top hair is cut into steps from sides to fringe.

This sleek layer creates an exciting textural contrast to the very short back. In addition is textured along the cutting line with very fine vertical cuts to give it a toothy, jagged but still soft appearance. This is Ziggy Stardust in the 21st century shimmering with the power of a thousand stars (and good chemistry).


Page Boy Cut with Revealed Earlobes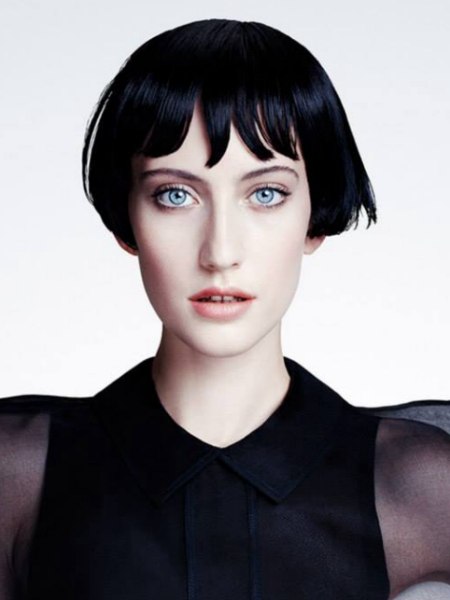 A page boy in all of its onyx colored glory. With the shiny surface of the hair and the amazing reflective capabilities of the dark straightness there is no need for extra color play. Some colors just stand on their own.

The hair is cut to only reveal the earlobes and this is an excellent length to show of those cheekbones. While the sides and back revel in their simplicity the fringe unfolds its full glory with disconnected strands that are shaped individually to a curved pattern. The black makes her blue eyes stand out and enhances her porcelain complexion.


Full Fringe and Wisps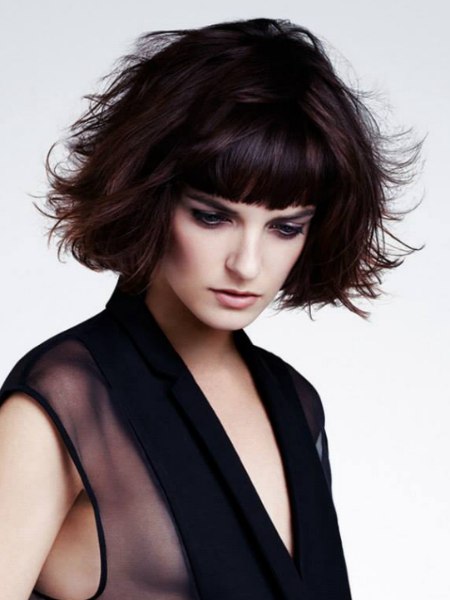 Feathery around the edges and dense in its core, this hairstyle convinces with its gorgeous volume and the lightness of it. The latter has much to do with the fine layers of the cut and the styling, which allows the tips to spring up all around creating a feathery aura.

The inner body is supple and filled with tamed movement. All of that ensures that the fringe remains a solid and dense centerpiece. The rich brown hair color is a melange of dark coffee brown and some whiffs of walnut and mahogany.


Buzzed Nape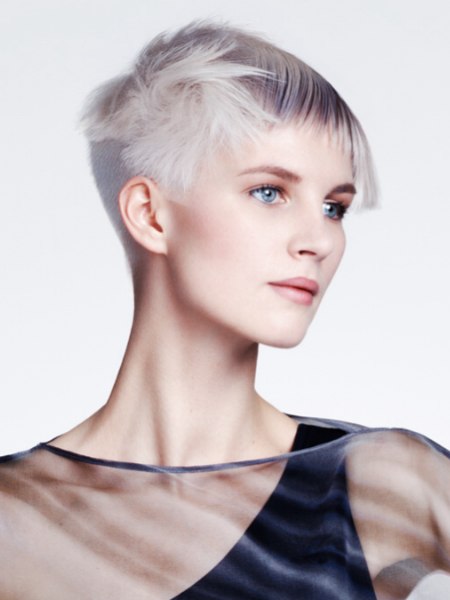 Annie Lennox did not invent this hairstyle, but she would indeed look great in it! If you don't want to run with the mainstream crowd, this androgynous short cut makes the difference.

It is composed of various contrasting elements from the short buzzed nape, over the feathery longer strands to the sleek and diagonally cut bangs. These were further intensified with a transparent overlay of colors including silver, a blue mist and a warmer brown in the lower levels.

Hair: Sassoon