Spring 15 by Laetitia Guenaou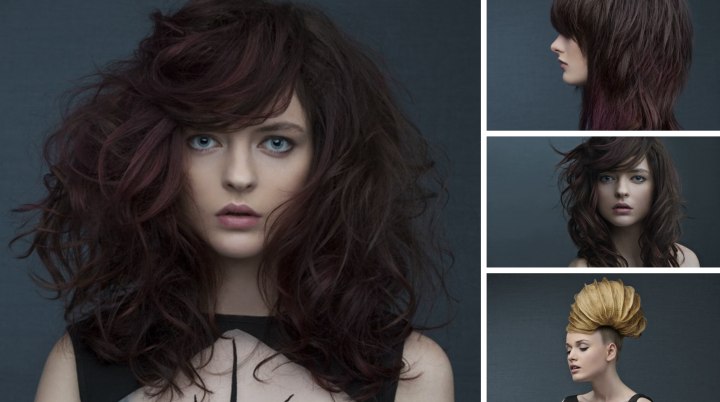 Laetitia Guenaou turns music into hair. Rock music that is. Colors hold back behind the powerful shapes of her collection. Volume seems to come all by itself with cuts that are layered and the layers are then again used to generate the exquisite shapes.

Three looks of wild expression reverberate the free spirit and melody of music that was born out of passion for rhythm and grand sound. A fourth creation takes on a more ethereal role with a pleated cocoon construction that is as intricate as it is unconventional and awe inspiring.


Shag and Bob Combination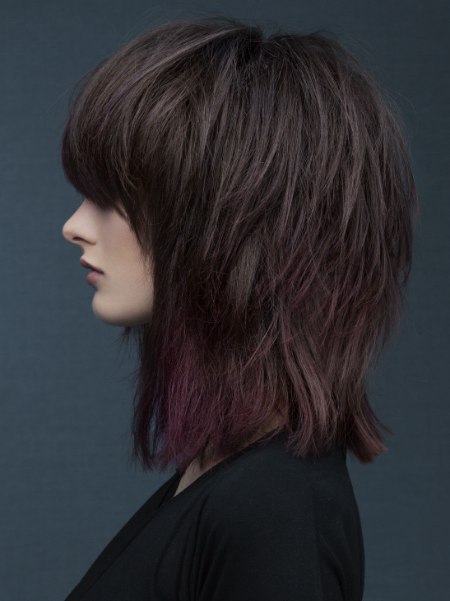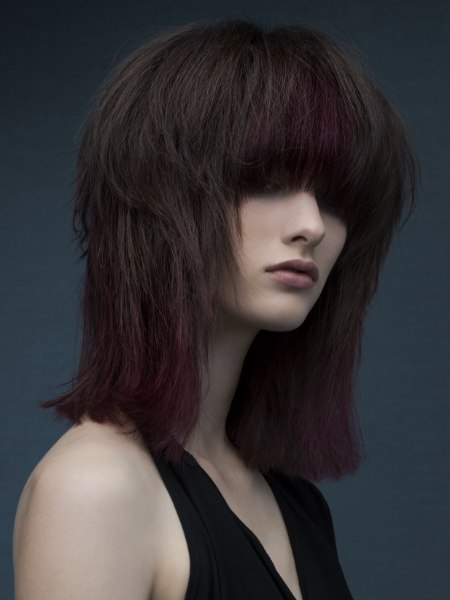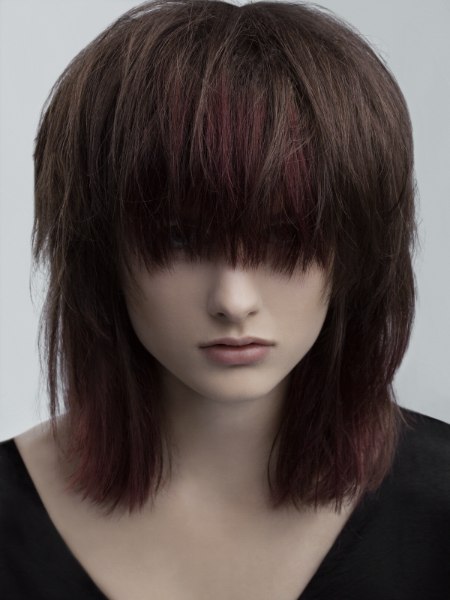 Elements of a bob and a shag are present and balanced in this intense look. Dominated by a deep, eye covering fringe and with its muted cool brown color, this hairstyle spells rock and roll like no other.

The layers are cut with a most intricate technique to create the shape with a voluminous top in a mushroom style. The cutting line of the fringe seems to move around the head and determines the subtle border between the top part and the straighter lengths. Only her nose and lips are visible and we can only guess what she might be thinking.


Stormy Hair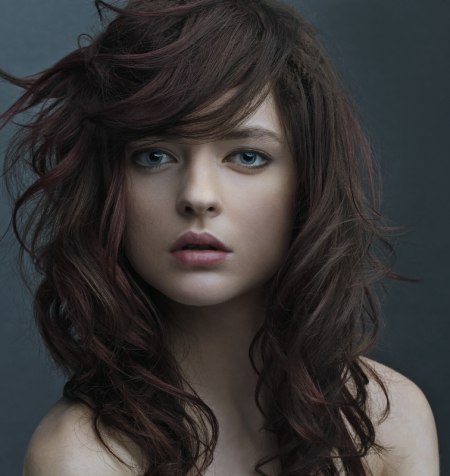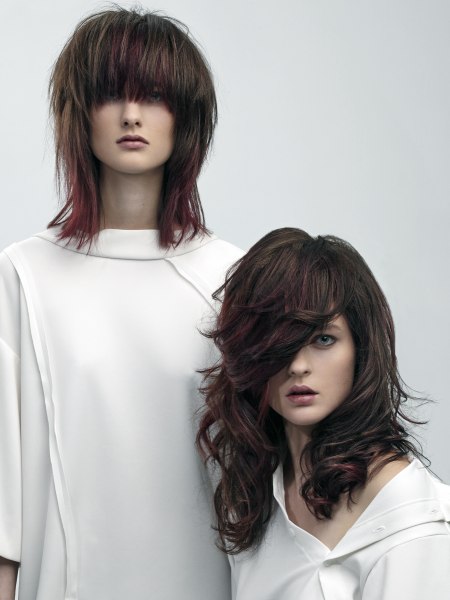 The twilight photography mirrors the character of this storm blown look. Layers, waves and light curls come together to establish amazing movement in her long and layered cut. The impetus comes from the left side, but you can of course change it to match your sweet side and the natural growth of your hair.

The long fringe now sweeps diagonally and reveals her dreamy eyes, all of the hair follows its direction while it twirls and waves its way down over her shoulders. The muted hair color is a dark brown with a cool hue that is repeated in her eyebrows and even her eyeliner for perfect harmony.


All About that Volume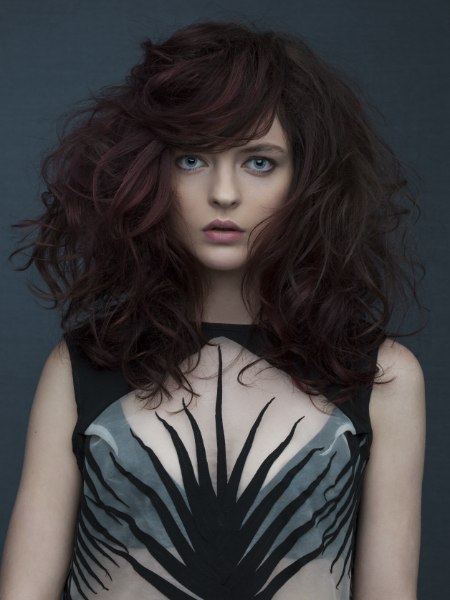 Pump up those curls and go crazy on your long hair. Show your wild side with this gorgeous modern glam look that will rock your night. Controlled chaos is grounded by the earthiness of her hair color. Every strand swings along to her own rhythm.

The curved and lightweight fringe and the bodacious volume of this breathtaking design hug her face and center the attention on her eyes. Finger styling, a good modeling creme, teasing and hairspray are the essential tools.


Cocoon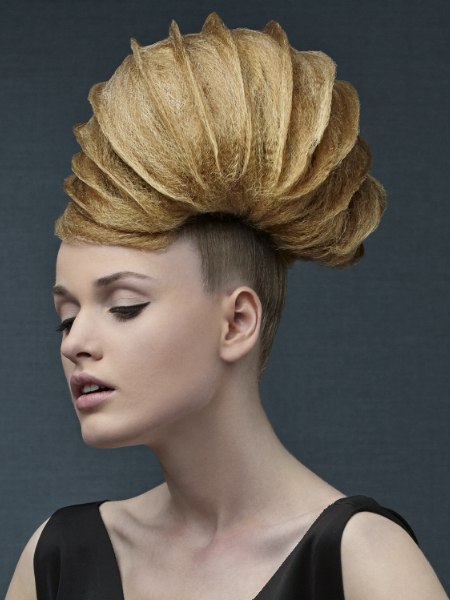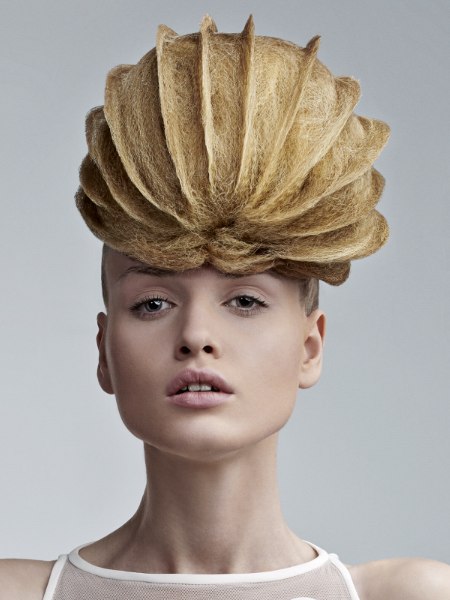 An upstyle of incomparable beauty. Modern scifi, the 5th Element of hair was made possible by the vision of a fine artist and the skill of a master stylist. The sculptural quality and composition is something that you would expect to find in a museum for modern art, but it is truly all made of hair and you can wear it!

After tying her hair up, keeping the sides tight and strict, the ridges were crafted with dozens of hair clips and hot tongs. The surface comes out like the texture of a silk cocoon, for which the crimping of the hair prior to any other work is essential.

Hairstyles: Laetitia Guenaou
Hair Assitants: Agata Kociolek, Dariusz Sochacki, Coraline Gustave
Stylist: Elena Ciuprina
Make-Up: Karolina Supernak
Photos: John Hennequin