Winter Melody by Gandini Club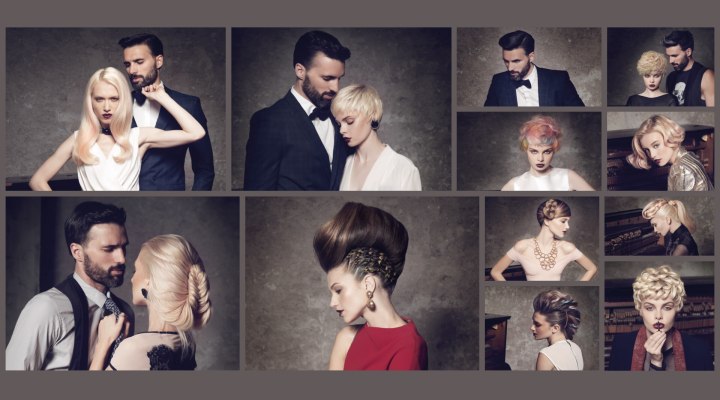 Kick the dust off your dancing shoes and discover a new you. Gandini Club provides a swinging melody as your soundtrack for a beautiful Autumn and Winter season. Fancy and fresh with ultramodern design.

Amazing color effects in short hair are rivaled by the eccentric upstyles with their new and unusual interpretations of glamorous looks for festive events. These are definitely not your mom's hairstyles.



Exciting braids accentuate a regal appearance. Fabulous textures and soft blonde and brown tones are in charge for turning up the magic.


Jagged Platinum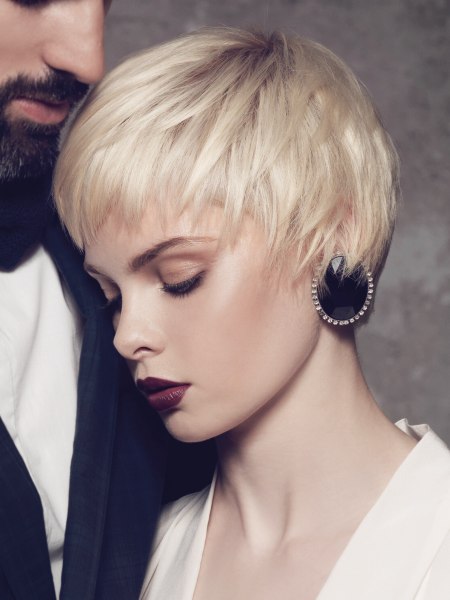 Jazz up your short hairdo with a rim of jagged edges around your face! This platinum blonde treat of a hairstyle has all of the glamorous elegance you can want for a season of parties and events. At the same time it is easy to wear.

The magic is in the perfect cut that always falls right into place and only requires a little bit of help. Here the hair is all styled forward and into the face. A non sticky modeling lotion will do the trick.


Floral Wonder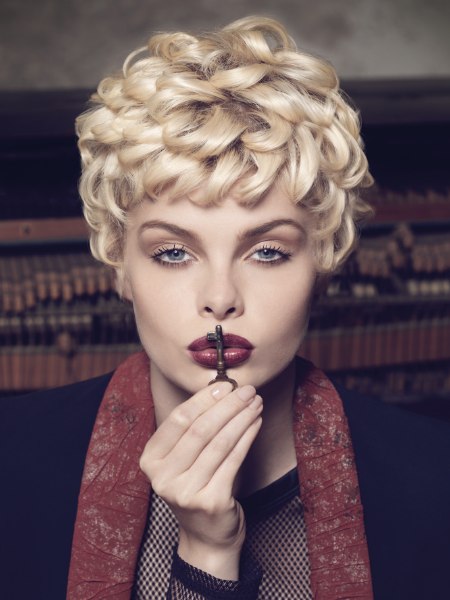 By curling strands over a hot iron and allowing them to set without separating them, the short hair has a structure that reminds of the petals of a chrysanthemum flower. Very luxurious and unique for a time when you want to show off your dramatic side.

Each strand gently curves into the other. A slightly darker color around the roots intensifies the optical effect and gives the hair a very deep dimension.


Shade of Green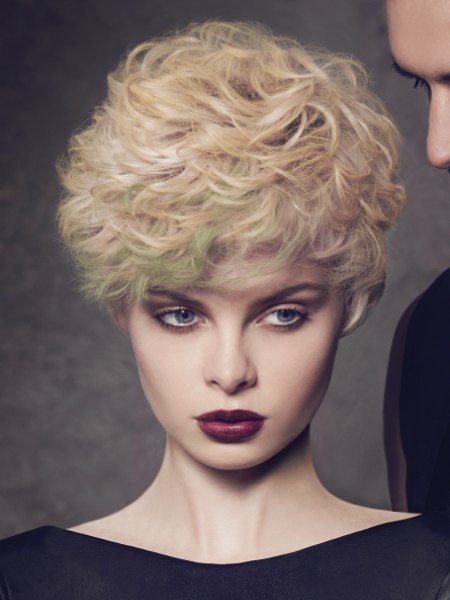 The same short cut is now soft and fluffy. All the curls were brushed and styled with a sidewards motion and much volume around the top. Of course that cannot be all. We need color!

A moss green shade looks as if it was airbrushed just around the bottom of her bangs going off to one side. If green is not your favorite color, try another one. Perhaps a tone that matches your eyes!


Classy with a Bob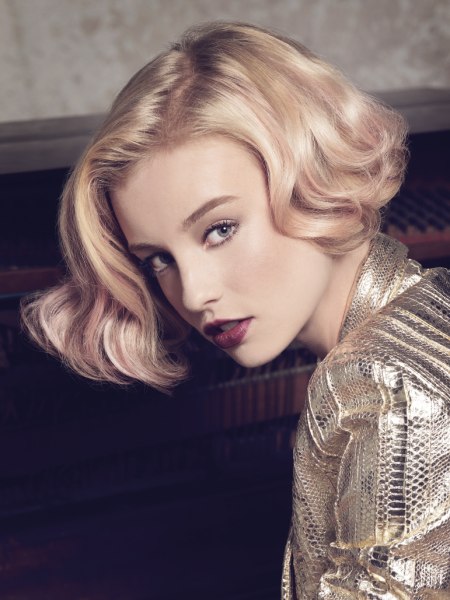 Sophisticated in every inch, this Grace Kelly look brings back memories of times when people still dressed up for dinner. It is based on a simple cut at about chin length.

A side part adds some fashionable zing and the smooth, large waves seduce with their effortless and soft swing. Her hair color is a medium blonde with tones of honey and light beige for extra vibrancy.


Frilly Rainbow


This feathery adornment of a short haircut will make sure you won't get overlooked. The layered and finely textured hair surprises with an exotic mix of colors that include gold, cool sky blue, rose and silver. Contrast of warm and cold colors give an astonishing effect.

The short fringe is styled from the sides towards the middle where a beautiful pattern of overlapping strands brings our attention right to her eyes. There are no rules for styling as long as the hair falls wildly in all directions. A fashion statement for confident women and a perfect hairstyle to match with a simple, solid colored dress.


Blushed Platinum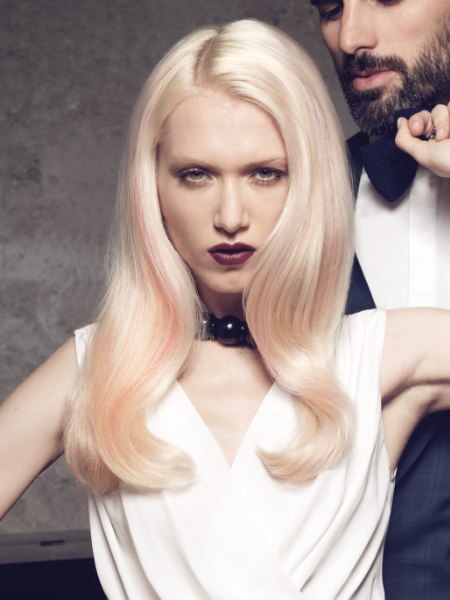 The Belle de Jour wears her hair soft and silky in all of its long glory. Parted off center both sides fall in a solid, curvy stream framing her face in a perfect oval. They curve in at the chin and then again in the very tips.



Platinum blonde is exciting, but with a little blush of a warm pink color, that was applied like a fine mist to accentuate the movement, the color is a delightfully decadent combination.


Faux Hawk


Slick and tight sides make room for the high woven design that pays homage to the once again very in Mohawk looks. Even without shaving anything off. The top hair is crimped in some places, in others it shimmers in metallic blue and pink hues.

This fabulous upstyle was created with a very loose French braiding technique and two large combs hold it all in place.


Artistic Braid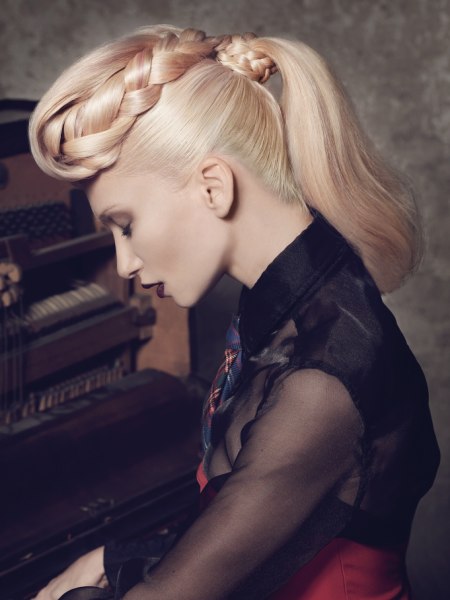 A ponytail like the world has never seen it! All it takes is a vision and masterful skills to transform an every day look into a baroque work of art. The sculptural appeal is created with a thick braid that is folded sideways to a sleek layer right on her crown.

The smaller end of this is rolled around the base of the thick ponytail, which again sways in gentle curves down to her back. All of the hair is ultra smooth and shimmers in a bewitching light blonde. If you feel that you don't have enough hair on your own to create this wonderful style, there are always hairpieces that can be integrated.


Braided Ornament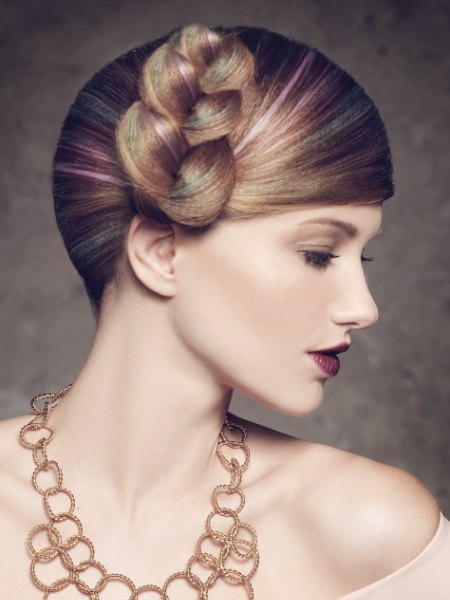 A scalloped braided ornament made of her own hair adorns this otherwise sleek and strictly bound hairstyle just above one ear on the side. This look does not need any accessories as it is overflowing with gorgeous design and an intriguing play of hair colors.

Her base color is a dark honey blonde in which strands of pink, brown and moss green create a truly spectacular light show.


Pattern of Braids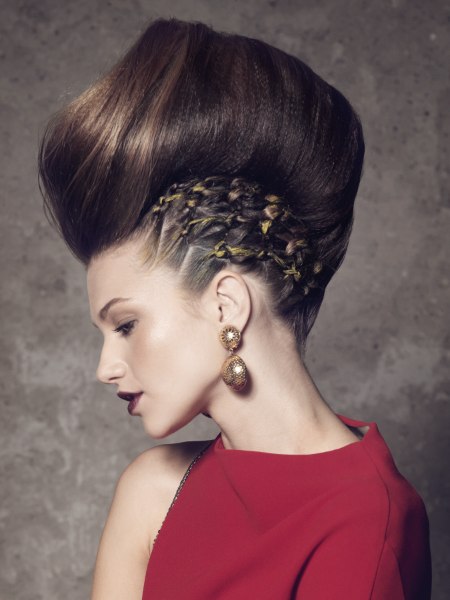 Instead of an undercut she wear several rows of criss crossed braids, which runs all around her head and leaves the top hair free to billow up high. This smooth, gravity defying crown of hair is shaped like a huge wave to lift up spirits and ups the ante for evening hair fashion.

A runway style made to order. Simple and subtle hair color effects accentuate the intricate pattern of the braided sides.


Herringbone Up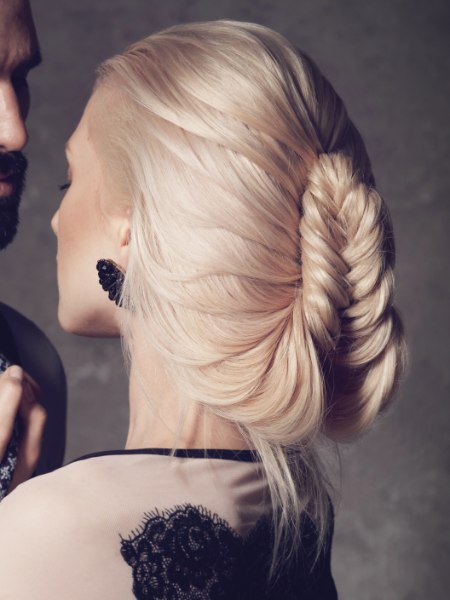 Skill and creativity come together for this unique upstyle. A herringbone braid incorporates numerous small strands and was then pinned up with its ends tugged in to make them invisible.

It is one of those hairstyles that people will wonder about how it is made. You don't have to tell them your secret. A little magic and mystery are part of the allure. A few loose strands in the neck make it even more charming.


Dapper Style for Men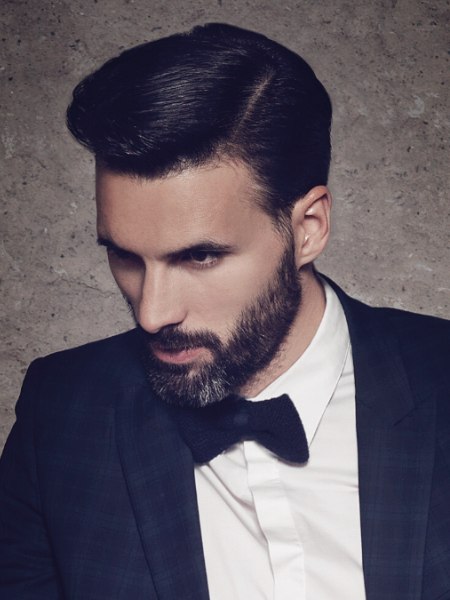 Yes, the days of pomade and fine hairstyles for men are back! His classic cut with the well groomed beard is a great match for his tux. The side parted hair features tight sides and a little more volume in the top.

Smoothed back with a good styling product the shine of his black hair reflects the lights of the chandelier with much taste and elegance.

Hairstyles: Gandini Club
Make-up: Cristina Isac
Styling: Giuseppe Dicecca
Photography: Paulo Renftle