"Pastel Edge" by Vivienne Mackinder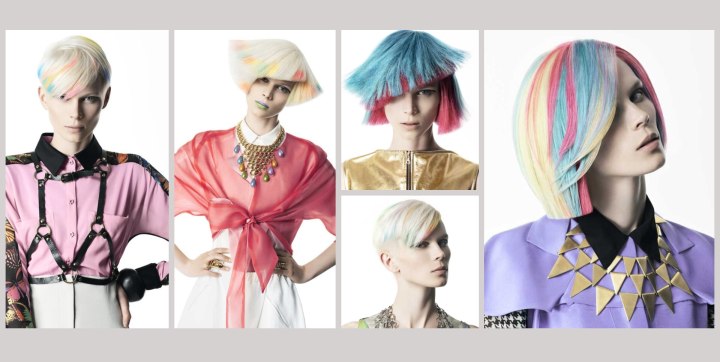 Who does not love rainbow sprinkles and candy colors? Vivienne Mackinder digs deep into our colorful childhood fantasies and combines them with the most daring modern haircuts.

The best of all worlds is now available right at your salon. Pastel Edge satisfies our deep need for hair colors and lighthearted play that takes us away from the demand of every day life. Of course our sense of style needs some nourishment as well and Mackinder does not disappoint.



Swirling shapes with very defined edges and a diagonal positioning give winter weary heads no chance for hibernation. Try a a radical undercut in a short style or opt for a classic bob shape, all shapes and sizes are welcome, just don't be too shy with the color!


Rainbow Bob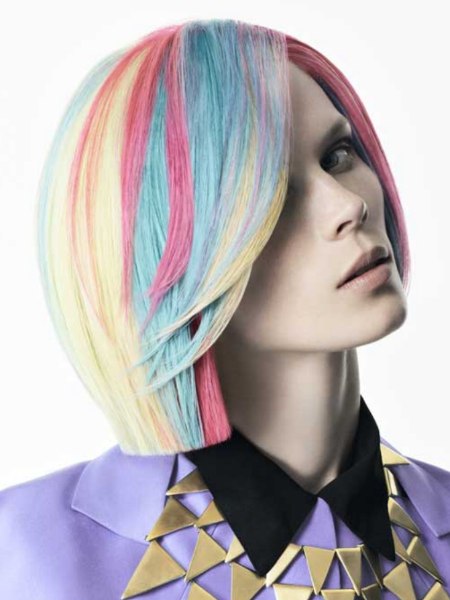 The flawlessly sharp cutting line of this medium long bob stands in strong contrast to the softness and smooth curve of the long side fringe and to the rainbow of colors in the hair. Berry, ocean and vanilla hues are intense even though they are in the soft pastel range.

Each color is applied in wide strands, which then overlap and create new shades with their interplay. What a way to bring some color to the cold and gray days! Just make sure to keep your make-up low key.


Prismatic on Platinum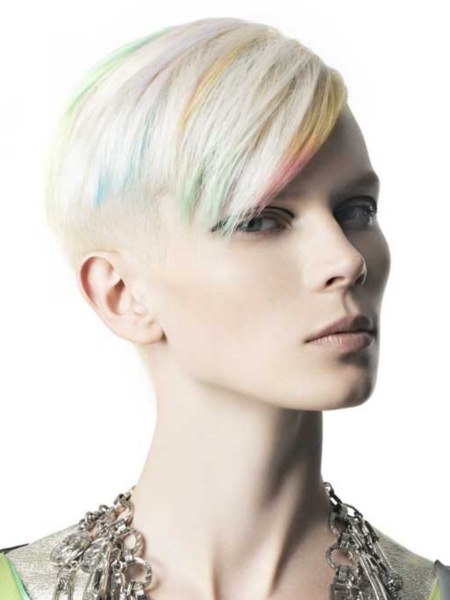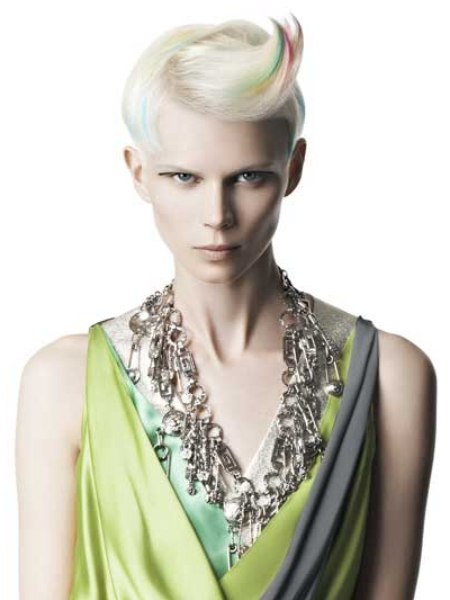 You need a platinum base to play with pastel hair colors this way. It makes the most neutral and of course glamorous background for the amazing jewel and candy tones to come to live. Her super short hairstyle gets a strong edge with its wide undercut.

Longer top hair is styled over one side and thrills with the most amazing transitions within individual streaks of color. Tones go from pink to orange and then yellow, blue and lavender are the cool counterpoint.


Berrylicious Bob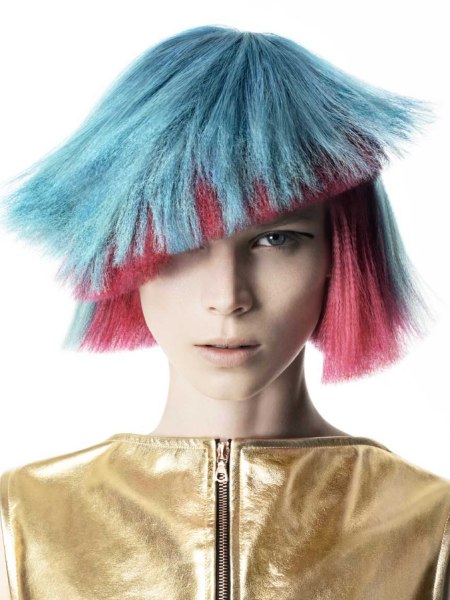 There can never be enough of a good thing. In regard to this hairstyle this means design and color. This bob has plenty of both and even several strong textures, asymmetry and an artistic dynamic that reminds of the pop art which became very popular in the 60s.

The look has two parts. The lower, separated by color, stands out with its strong and clean lines in the slanted fringe and bottom perimeter. The raspberry creation is crinkled ever so minutely. The top flares out from a center point and seems to move all by itself. Soft textured edges and a blueberry jello color.


Sprinkles and Style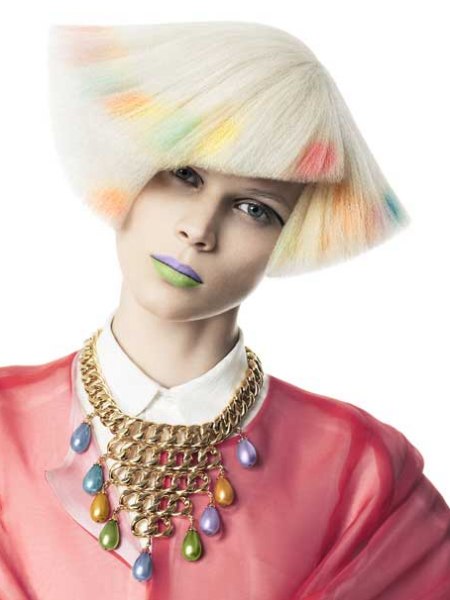 All your fashion fantasies can come true! Start with a great hairstyle like this trapeze cut and very modern family member of the good old bob. You may think circus, circus or remember the famous birthday cake out of a box, but there is more to these happy sprinkles.

The shape rises from her cheekbones in a beautifully graduated texture and the top is therefor flared out and sleek. An effortlessly elegant curve that carves out the fringe makes it artistic.


Pastel Streaks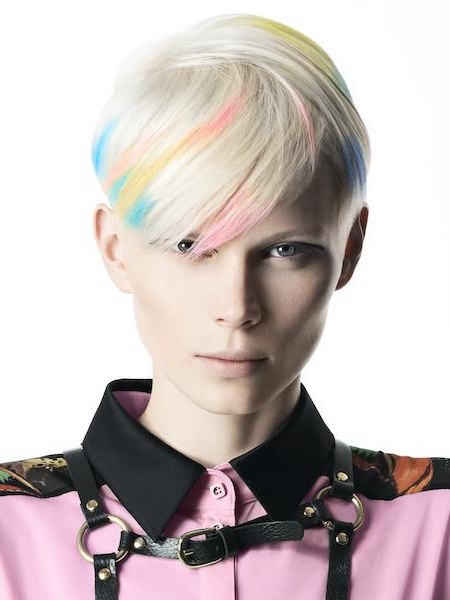 Summer colors in a winter style, what could be more invigorating? She keeps it cool with her undercut and the snowy platinum blonde hair color in a great short cut, that has a military edge.

What makes it soft and fun are the pastel streaks in pink and the blue accents, which accentuate the cutting line and several spots on the opposite side.

Hair: Vivienne Mackinder
Colors: Stella Avero
Styling: Newheart Ohanian
Make-Up: Mariya Gvozdov
Photography: Julia Pogodina