"Nu-Pop" by Sassoon Academy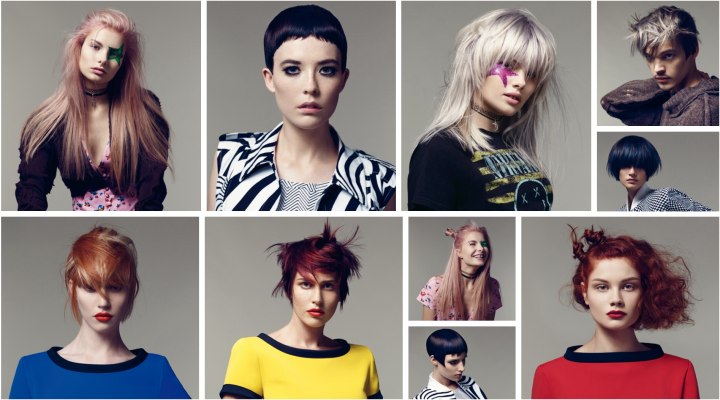 Sassoon top designers let their imagination flow so that you can look like you just stepped off a catwalk in London or New York. Nu-Pop is a collage of influences spanning famous retro Sassoon looks from the 60s, a little Pop Art and Op Art all the way to grunge and glam rock.

Exciting geometry and even more exciting hair colors will surely make pulses quicken. Modern flower girls will find their new favorite look just as fans of tight fitting short cuts with an androgynous flavor.



Shiny blacks, spicy reds and bubbly blondes take the state with unique expressions and extravagant finishes.


Shaking it in Blue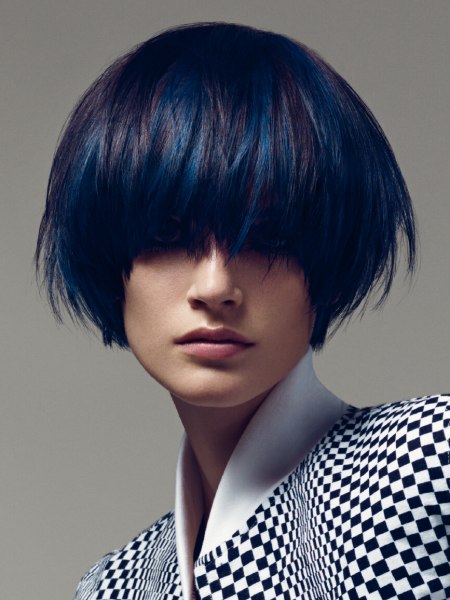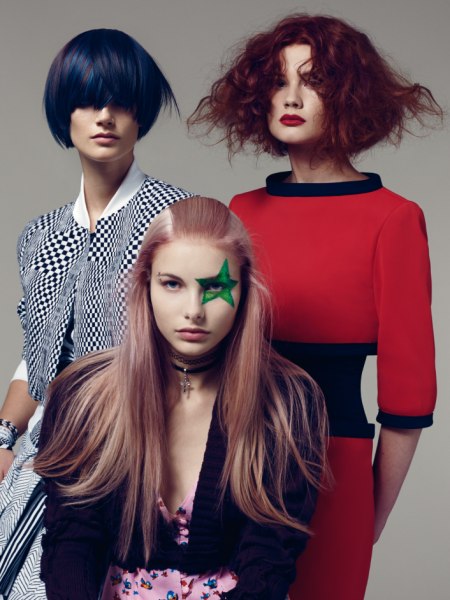 The gorgeous texture of this short round cut makes it fall in such a beautiful volume and with the soft edges. It flows and curves itself around her head in perfect harmony. The eyes are shadowed by the extra long fringe, which brings more attention to the rest of her face.

The hair color is a deep black and an intense blue, streaked throughout in wide and narrow strands. Styling focuses on lightness and on emphasizing the round shape with just a few rebellious strands here and there to keep things playful.


Crisp Geometry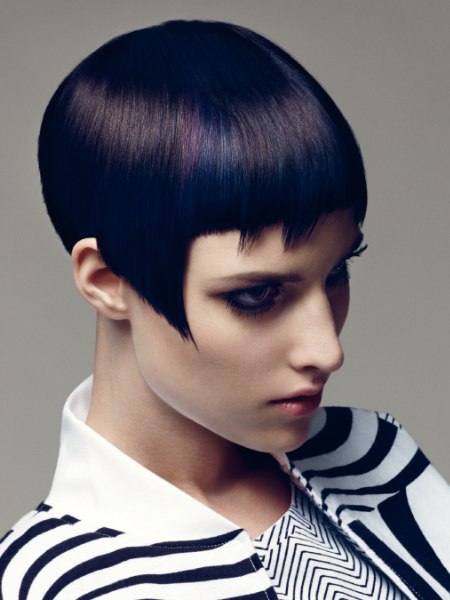 Points and strong lines dominate this short haircut, which is a prime example for the extraordinary art of the cut that comes from the house of Sassoon. Ingenious design was tailored to fit her features to perfection.

The straight bangs are broken up by a couple of longer accents that just peek over the distinct rim. This much definition and little surprises in the design comes in a deep raven black with dark blue accent, which shimmer in a different pattern depending on the direction of the light.


Black Pixie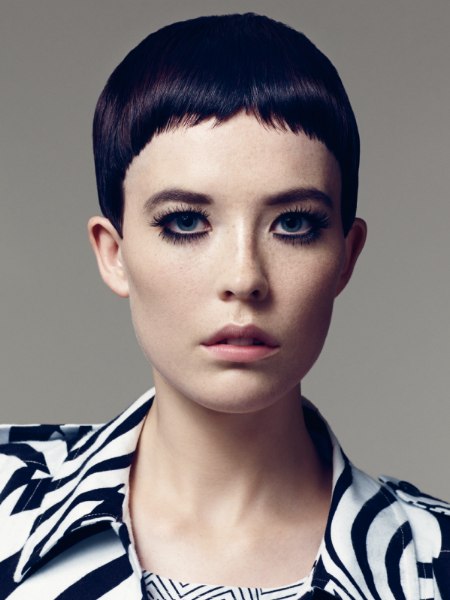 You don't need long hair to be flamboyant, long lashes will do just the same. Her short bangs are not much longer and curve around the top of her forehead in soft yet pointy tips. The hair fits as snug as a glove and is a timeless expression of highest fashion. The shine and silky softness stays in shape with a little anti frizz serum.


Tempestuous Asymmetry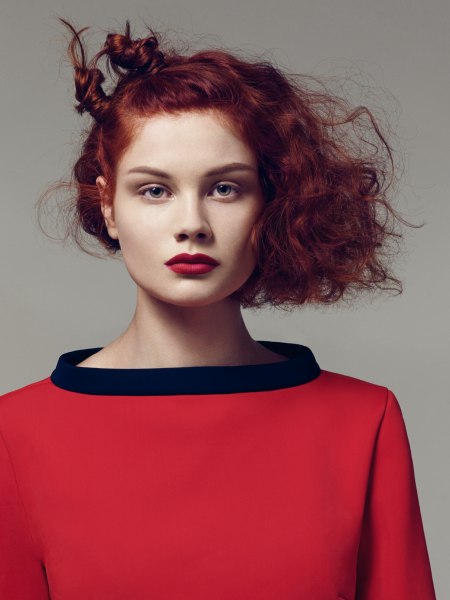 A powerful color in a great hairstyle always draws attention. This style is filled with playful imagination and while looking this spectacular it is actually not too hard to recreate. Her hair is cut into a chin long bob. The natural curl provides the volume and all of the sizzling red movement with one little wave after the other.

Half of the hair was twirled to two little horns, that sit next to each other high on one side. Their texture is rather casual with strands of hair sticking out randomly. The opposite side balances the extravagance with a triangular wavy shape.


Over and Over Again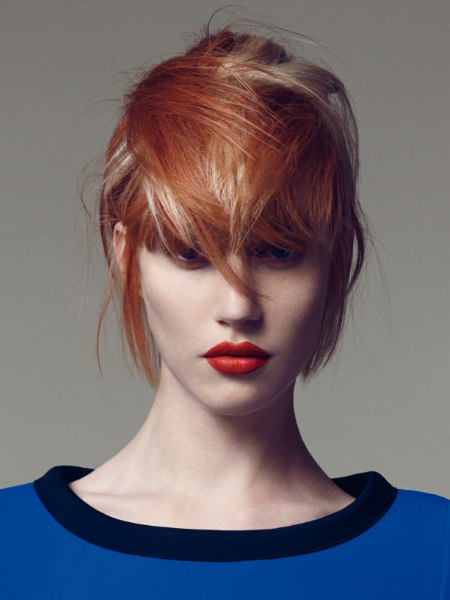 Make it a comb over day! Overlapping can be this much fun. Not only is her short hair colored in contrasting layers of dark copper and platinum, but these layers are taken to a new dynamic by placing them over and under each other.

Thin sheets of hair are combed to the front and in an angle. The hair colors make the pattern more visible. Some accent strands fall straight down on the sides to complete a balanced frame around her face.


Swirled not Shaken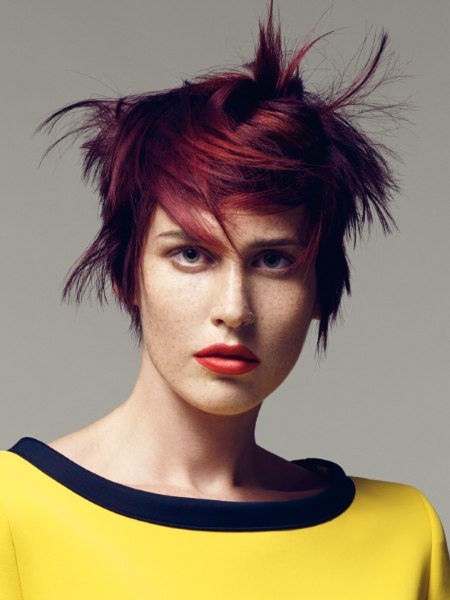 Shades of intense red colors take turns and enchant everyone in her path. This hot style is cut to a jagged texture with layers. A long fringe and just over the ears sides provide enough length to play with.

The hair is twirled in several places, slightly on the side but in an asymmetrical arrangement. This is best done with the fingers and a touch of sculpting cream to make the creation last as long as you would want it to.

The front runs parallel to her eyes with the exception of a couple of strands that are allowed to go astray. The base color is a deep Merlot, a dark and cool red with a purple hint. The highlights shine in a warmer, coppery shade.


Starchild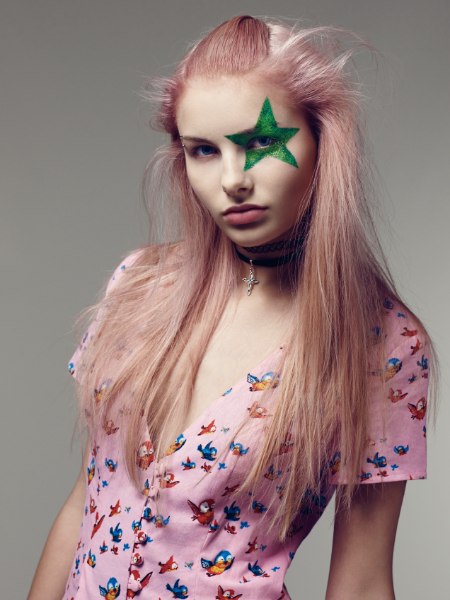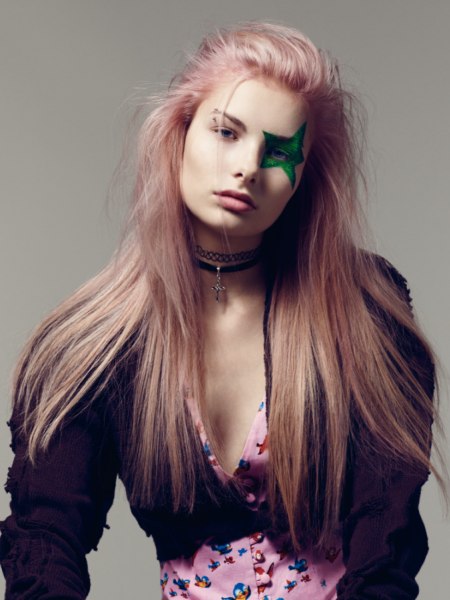 This long hairstyle deserves more than one star. Strawberry blonde, gorgeous long hair was styled to delight with sleek lengths, smooth volume and the front taken to the back.

The sides were just given a thick curve at the temples which flares them out a bit more and adds a nice dynamic to the otherwise straight fall. A variation of dark and light shades of the same color provides exciting contrast.


Hair in a Knot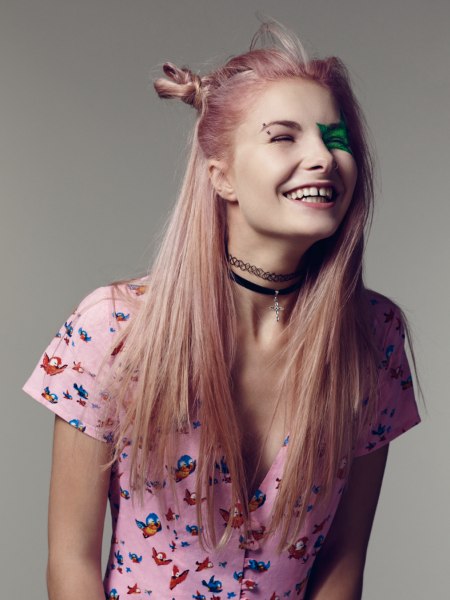 Tie a knot to keep your hair out of your face. You can twist as many of these adorable little buns as you want, but just one, as done by the fabulous Sassoon stylists is enough to give your long hair a great boost. This easy going and cheerful look can be dressed up or down, casual or glamorous. All depends on the outfit and the accessories.

A handful of hair was taken and bundled on one side, twirled and twisted and the ends rolled around the base before they were pinned. Super easy and beautiful in her strawberry colored blonde hair.


Silver Shag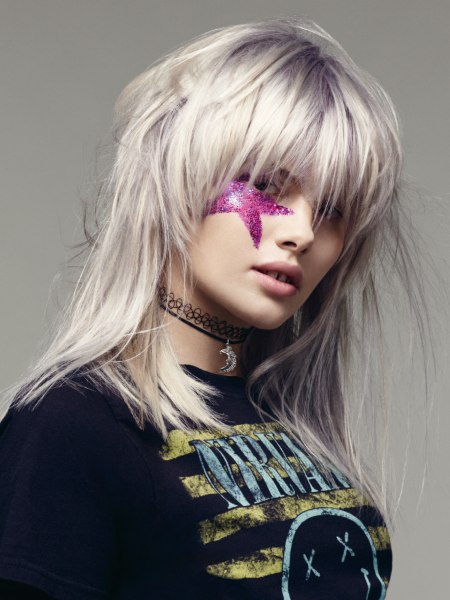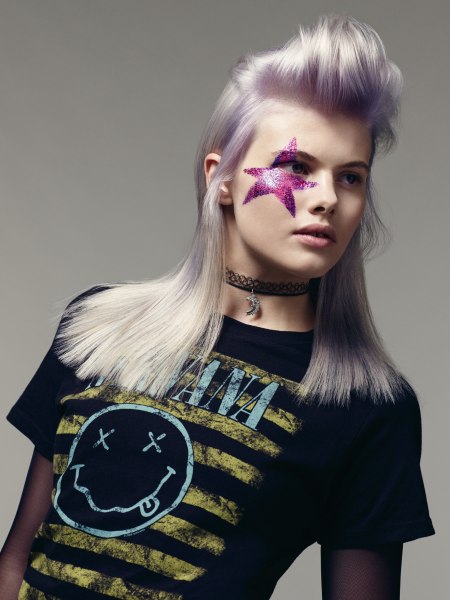 This rocking style has the perfect signature Sassoon fit. Cut according to the natural flow of the hair and tailored to match her features its generous layers envelope her face with soft texture and just enough movement to not hide the great shape of the design.

The shorter front with its strongly textured tips curves elegantly into the over shoulder long and sleek back hair. With the disheveled styling it is a breathtaking mix of control and wildness.


Silver on Black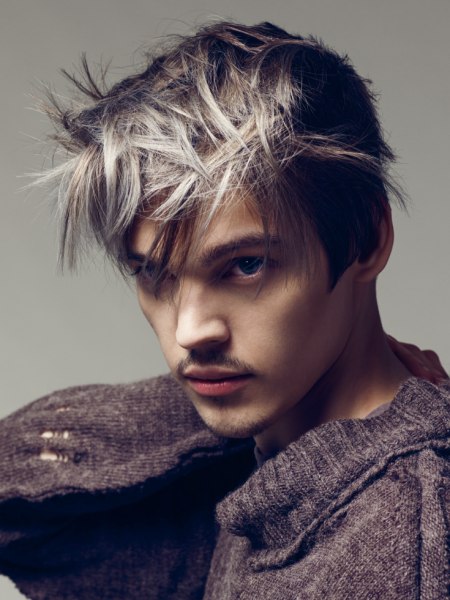 The pointy strands look even more fierce with their silver color that stands out strongly against the black background. His super stylish hairdo features wild and controlled elements with neat sections on the side, a smoothly graduated neck and back and then there is the tumultuous front.

The hair was combed to the left and right so that individual layers overlap each other. Individual strands are further accentuated with a little bit of styling wax on the fingertips.

Hairstyles: Sassoon Academy
Hair: Mark Hayes & the International Creative Team
Color: Peter Dawson & the International Color Team
Make-up: Daniel Koleric
Photography: Colin Roy