Idols by Raffel Pages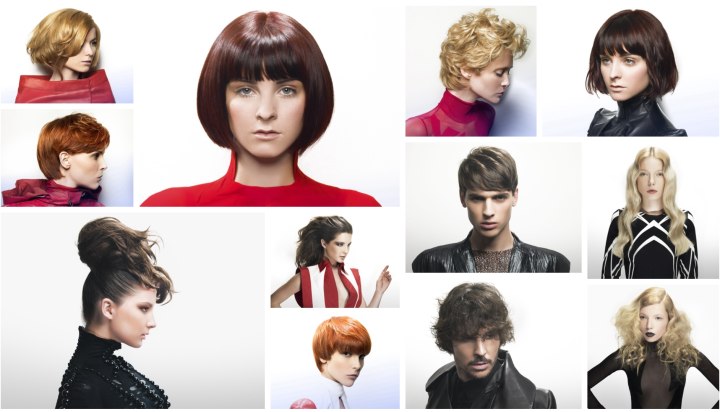 Hairstyles made to be worshiped. The new fashion collection by Raffel Pages features must have looks for all lengths and textures that will survive more than one trend.

Timeless beauty comes as an amalgamate of all time favorites with variable bobs, dreamy long waves and wild layers for the ladies. Last but not least two unique styles round it all off.

Pages keeps his hair colors intense in shades of copper brown and platinum. What stands out are the refined cuts with distinct outlines and perfect balance of volume and shape.



These styles are created to make you look stunning and turn heads, they are of high fashion quality, but with designs that are wearable every day.


Short Redhead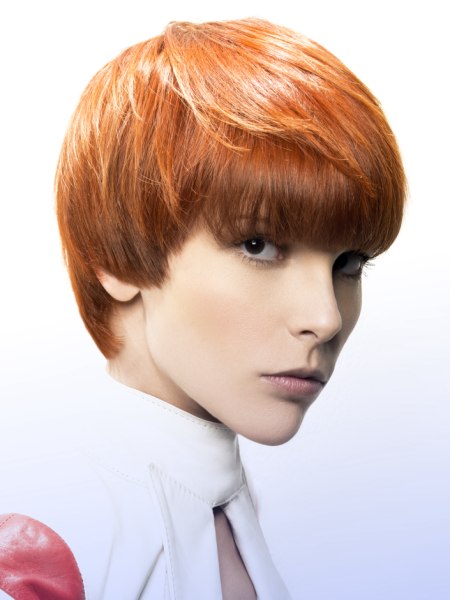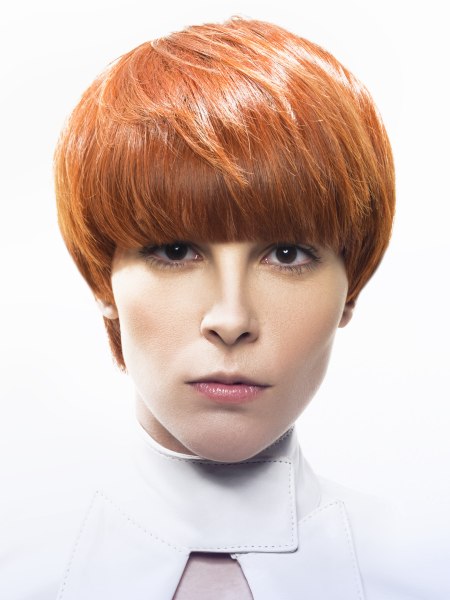 This sassy short cut leans to men's haircuts in its design, but with more length and a soft finish it is on the feminine side of androgynous. The contour is round in all directions and a gorgeous curved line is drawn from the nape all the way to the tips of the long fringe. The sides are defined by a softened corner with a straight line just above the earlobe.

Only the layer on the top was moved forward, allowing the sleek style of the body of hair to display its neat shape. Ends are gently curved inward but with the moving strands above there is nothing static about this look which stuns with its deep, glowing copper color.


Chin Long Bob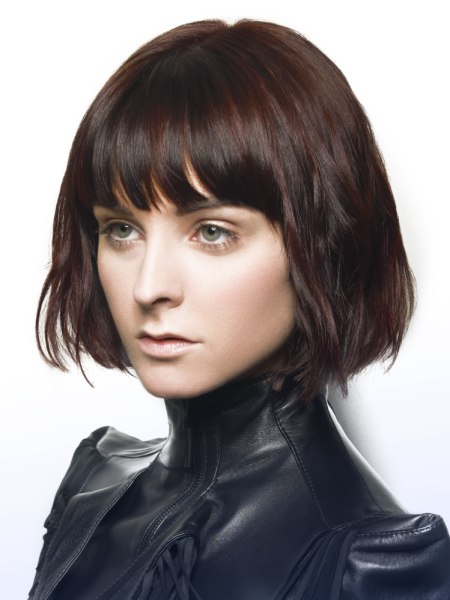 Look like a super girl with a cut that could have stepped out of an action movie. Her black leather turtleneck increases this effect, but a short bob like this also looks great with any other turtleneck or collar.

Approximately chin long, with eye-brow touching bangs and a smooth, slightly disheveled finish, this cut keeps its classic spirit while being ultramodern and dangerously beautiful. Her hair color is a very dark brown with a kiss of cherry.


Sleek and Curved Hair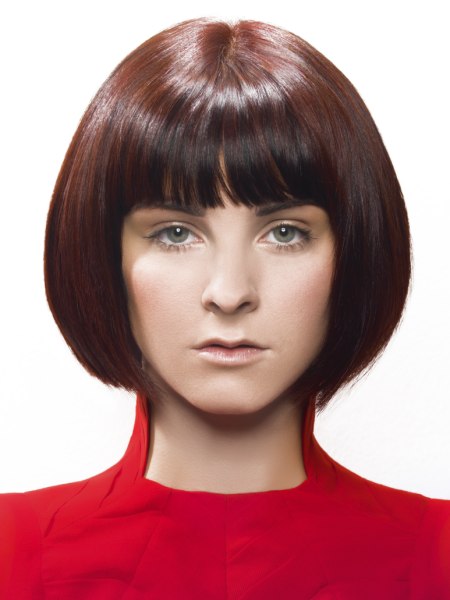 Impeccable from root to tip is another great way to style your bob. The chin length lends itself to showcase your trendy high collars to the best. The rounded shape of the cut with its amazing inner volume seems to seamlessly flow into the curve of her neck and shoulders.

Straight on the sides of her face and in the bangs her face is framed in a sleek postmodern shape of timeless sophistication. All this elegance comes with a refreshing twist in the hair colors. The bangs and sides are darkened with strong deep cocoa strands that subtly stand out against the maroon main color.


Short Hair with a Fringe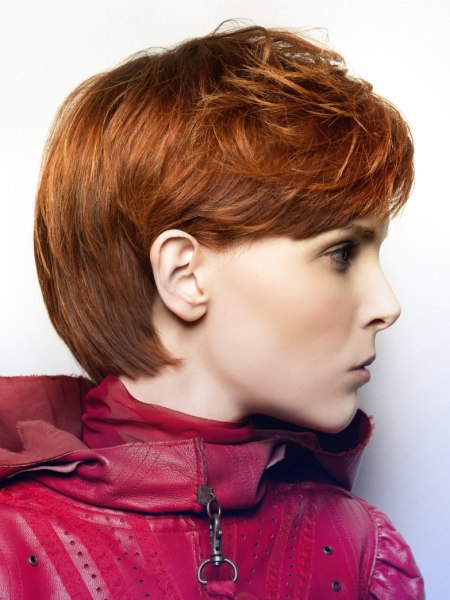 If you like more movement in your short hair, focus on the fringe for a special effect. Spice up your look with much movement in the fringe. A curling iron will be your best friend to create this sexy style. The short cut follows a classic outline with a medium long neck, exposed ears and a side fringe.

Layers are cut in for shape and the tousled, curved and curly movement in front brings out the lighter side of this classic. Light copper hair sits atop a darker base for a beautiful radiance and depth.


Large Curls for Short Hair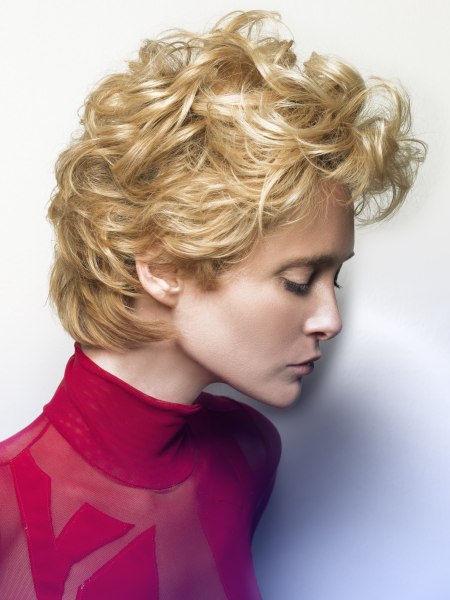 Short curls are sexy and even more so when they come in a gold and beige blonde combination with many highlights and shadowy areas underneath. The color play increases the dimension of the large curls that are draped in a planned messy texture.

The medium long back smooths itself against her neck. Sides are directed towards the back in a fluffy flow and the movement above her forehead is a step more on the wild side.


Retro Hair Inspiration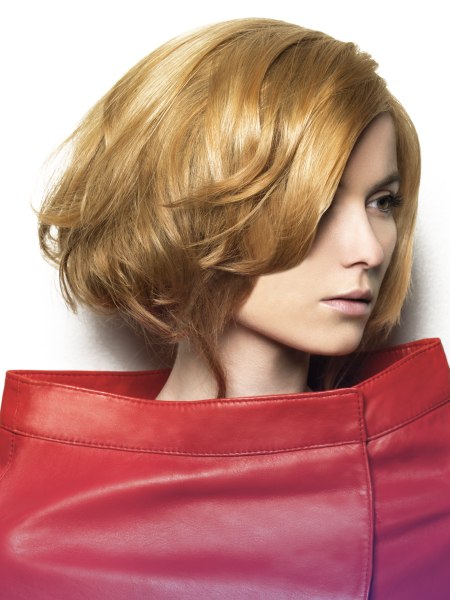 Part bed head, part 60s hairstyle and all together one of the most sensual versions of a chin long bob. The secret is in the styling. After curling all hair over large rollers or a wide curling iron, the locks were brushed out so that they fall in soft curls around the face.



A little teasing from underneath creates the lift and volume on the sides and in the back. Wide strands were carefully arranged to overlap each other in a seemingly random pattern. A pleasing surprise are two thin and long strands that accentuate the line of her swan like neck on the left and right.


Wavy Blonde Hair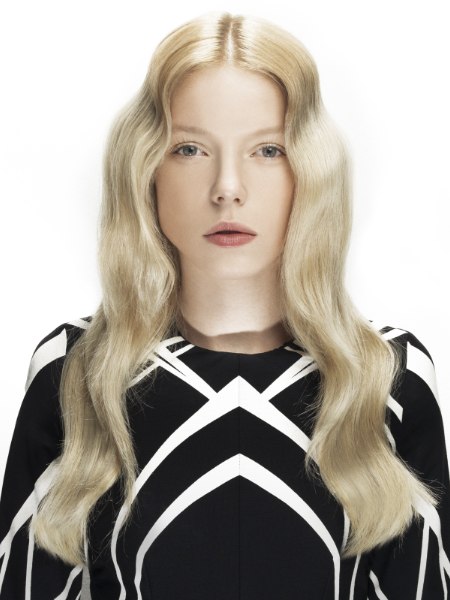 Don't be blinded by the light! The amazing brightness of her blonde hair comes in shades from a darker golden tone to iridescent platinum in the lengths. This hairstyle looks very put together with its balanced geometry and symmetry.

A center part and the same wave pattern on both sides turn this long hair into a celestial style of a festive nature. Even though there are layers cut into the hair, they are barely visible due to the smooth styling.


Strict Side Part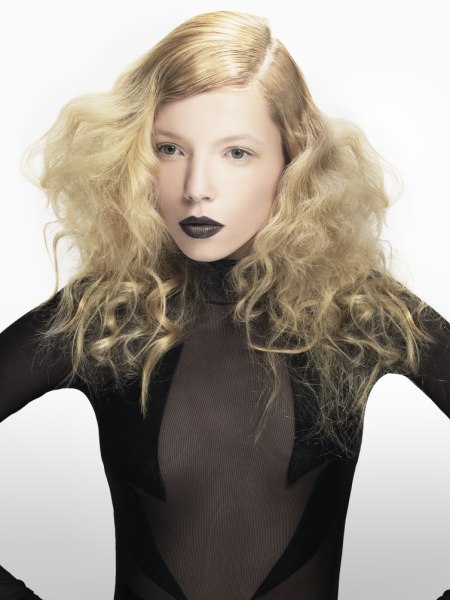 A strict side part and controlled, sleek styling of the top portion stand out as a dramatic contrast to the frothy and wild curls in the lengths. Tamed and untamed all at once make for a sizzling look not only for the holidays.

To get this luscious mane of unconventional beauty the waved hair is teased through and through. The crown is dowsed with a modeling product to keep the hair flat and in place. A little kneading with the hands and finger styling is all that is needed to finish this temptation made of hair.


Wind Blown Hair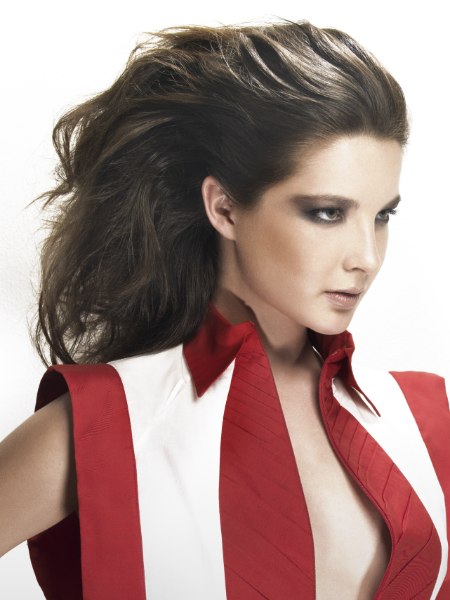 This mane holds up even without a strong breeze. Of course this display of wild haired beauty needs a little help to get and to stay in shape, but this comes in little bottles, jars or tubes. Long layers are blown out for lightness and volume, slightly teased for texture and finger styled for a very much wanted messy appearance.

The front is where a good non sticky styling product does the magic and keeps the hair close to her head in a backward flow. Finish with a good amount of hairspray and the world will be yours.


Unconventional Upstyle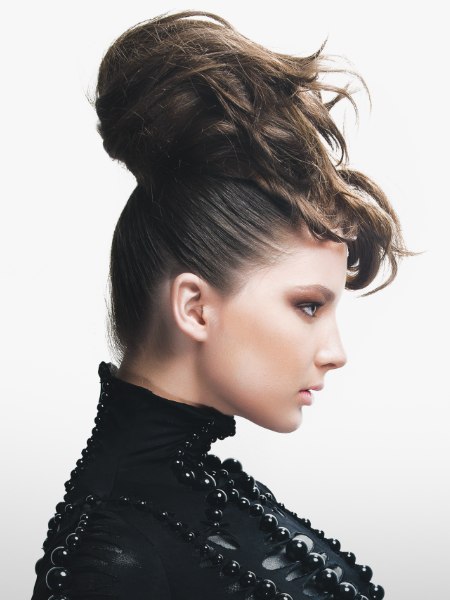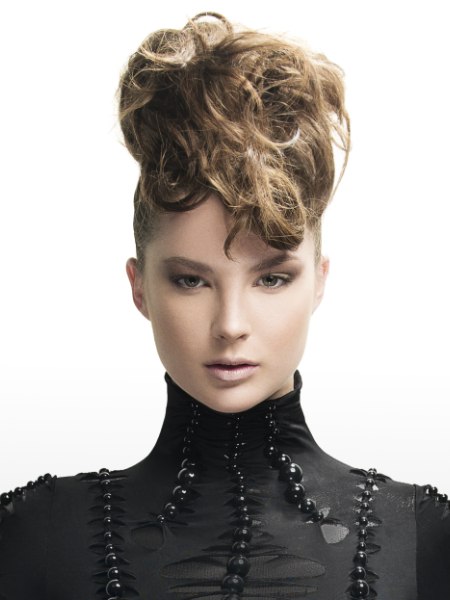 A ponytail with a mind of its own! The strong twist on a classic results in a modern and very unconventional upstyle. Revel in being different by giving your hair a new direction. Instead of simply falling down her back, this wild tail is first shaped to a thick and messy chignon and the loose ends are styled to the front where they replace a fringe with loose strands curling casually into her forehead.

Hairspray and weightless styling cremes will help you to defy the forces of physics.


Soft Waves for Him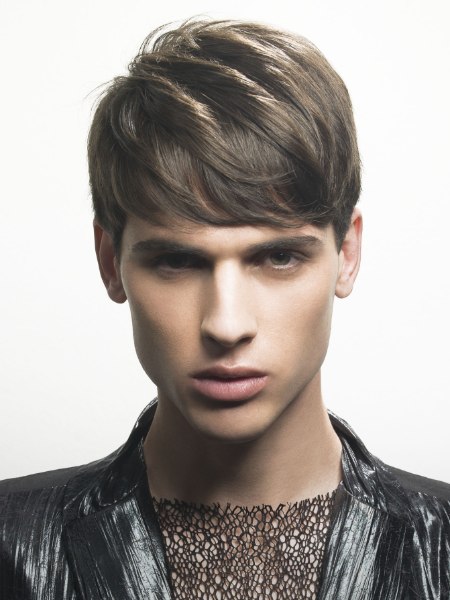 Short hair can have this much movement when treated right. Men still have the tendency to traditional cuts, but with a little more length on top the styling options are almost endless. Sides and neck are neat and short and the soft layers that culminate in his generous fringe are made to be played with.

A round brush while blow drying gives volume and the waves were shaped very simply by twirling strands of the top layer of the hair and pulling them in a diagonal direction across his crown.


Wet Look Curls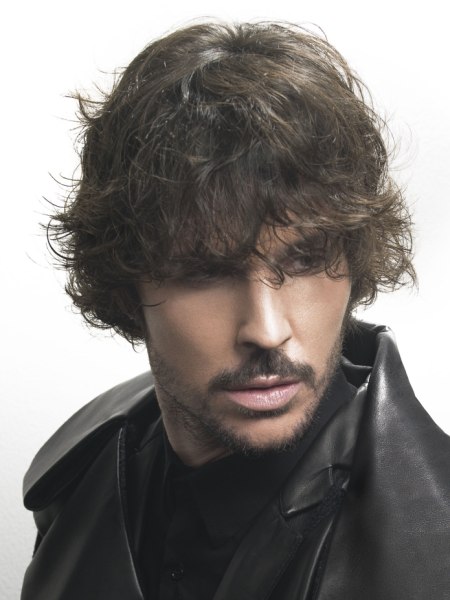 It is back... The gelled wet look, that is. Today's version is much softer with more fine detail and new products that are lighter and less sticky so that the effect is not as blunt as in gone-by times. His short round cut is layered and features a long fringe.

His natural curl is defined with a curl enhancing gel, that also gives it texture and a moist shine. After blow drying to up the volume, the hair is finger styled with attention to accentuating individual strands.

Hairstyles: Raffel Pages