Simply Grey by Framesi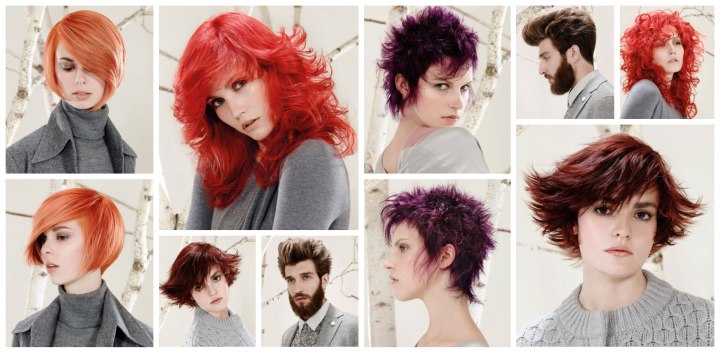 Grey is one of the most elegant of all the neutral colors and this fall and winter it is high on everyone's fashion wish list. Framesi designed an entire line of hairstyles in colors that bring life to the cool minimalism of the graphite and pewter tones of the clothes.

Hair colors are sparkly bright in orange, purple, mahogany and the most stunning red ever. The dynamic cuts feature spikes or soft movement and flattering volume. These runway ready styles are sensual and versatile with a natural fall of the hair.


Orange Bob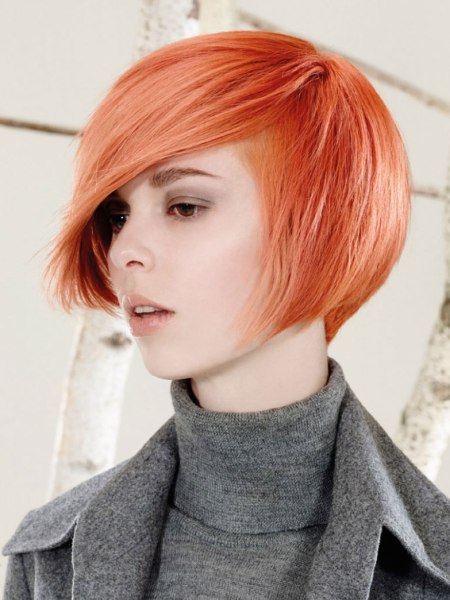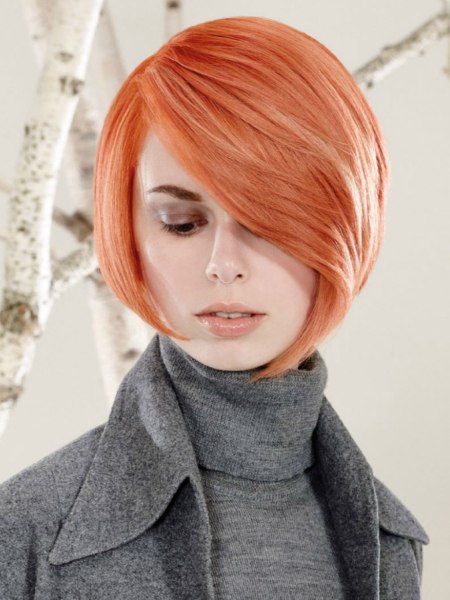 Dare to be different and bring a bold color to a classic cut. The flaming orange hue is a sunny contrast to the cool grey of her outfit and looks best with a neutral color on eyes and lips. The cut caresses the nape and the jawline and falls over her face in a gorgeous sweeping long fringe.

Progressive and daring movement combined with such a strong hair color is simply irresistible. You can wear this cut sleek or all ruffled up. A little product can make a big difference and all you need is your imagination to customize this cut to fit your own personality.


Purple Pixie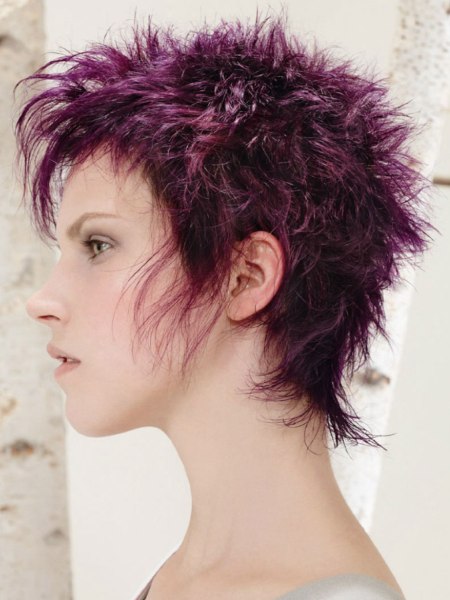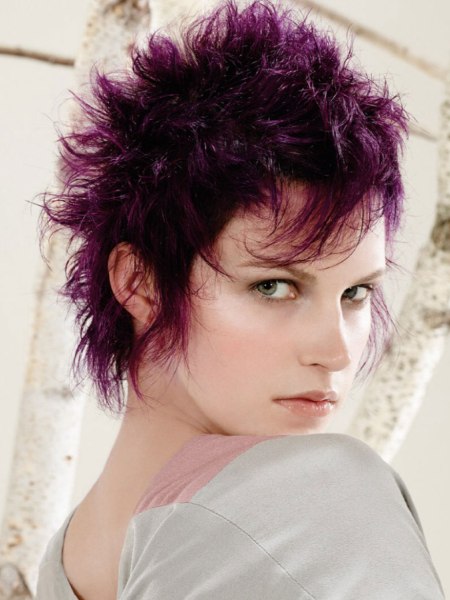 The amethyst color has a magic that comes from deep inside. It is elegant and rebellious all at once and never overdressed. The punk style pixie cut makes styling super easy and even looks good after wearing a hat.

The sides, front and back are adorned with a few very soft longer strands while the main body of the hair remains compact and short with much texture in the tips so that it is easy to lift up those sexy spikes.


Mahogany Flips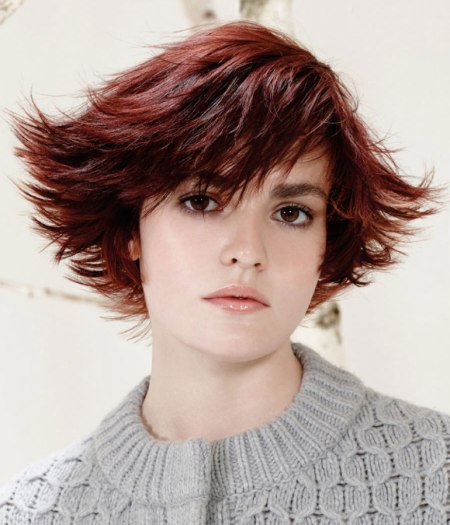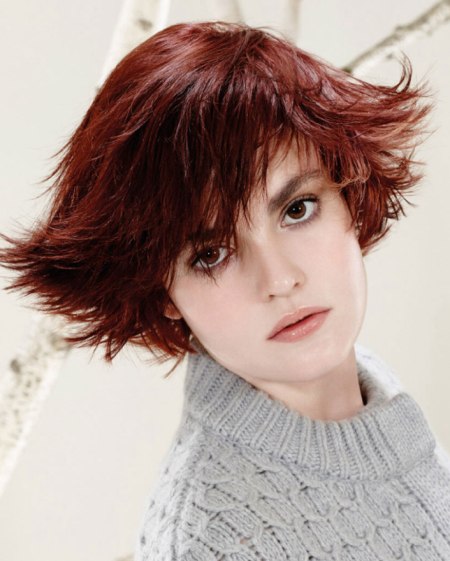 If you like color, but want to keep it a bit more natural, go for this bold mahogany. It is rich and warm with a luscious shine. In combination with her grey sweater it really catches all eyes and focuses the attention on her face.

The cut is layered with a short neck, a side part and feisty bangs. Good texturing on the inside and in the tips keeps the hair light, so that it is a breeze to style it with this much movement. Just use a good styling brush while blow drying and flip up all ends.


Bright Red Hair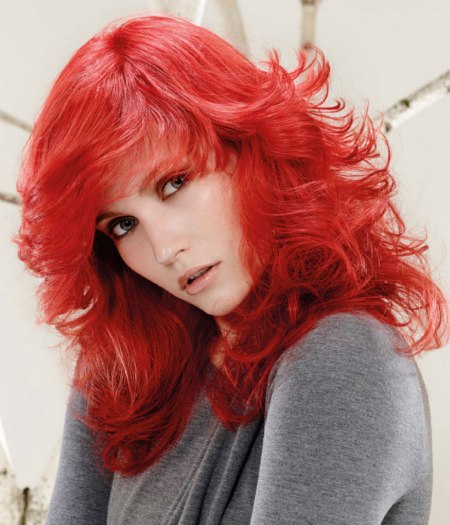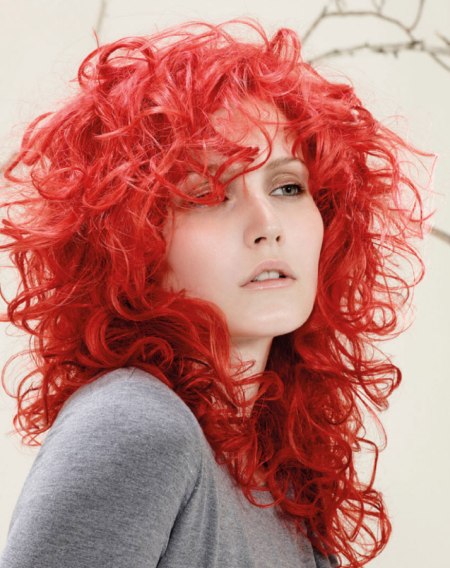 The cut reminds of the feathered layered styles made famous by the 1980s supermodels, but there is nothing vintage about this look. The breathtaking color instantly turns this fabulously feminine hairstyle into a cauldron of contemporary design.

The purest red on the palette will make any competition pale. Use your curling iron to add this great swing into the fringe and to shape the flips and curls all around.


Stylish Look for Men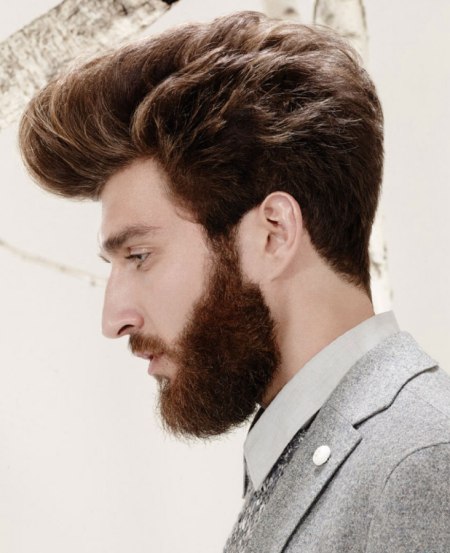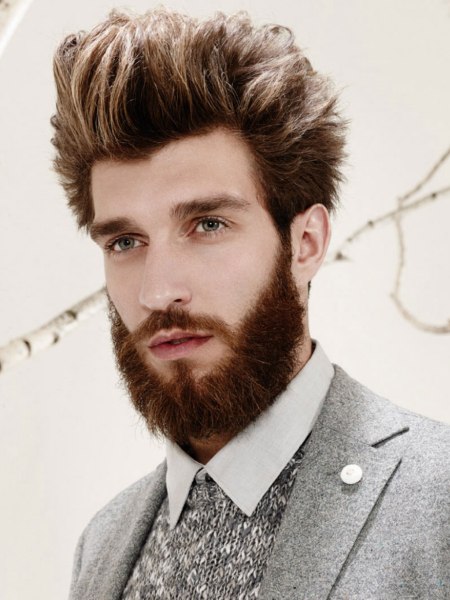 The very stylish and exuberant shape of his hair is grounded by the earthiness of his full beard.

With short sides and back this masculine look can be very suitable for any professional environment but with the added volume and shaped out quiff he is ready for everything else. The hair color is a natural brown with frosted highlights.

Hair: Framesi