"Argia" by Mikel Luzea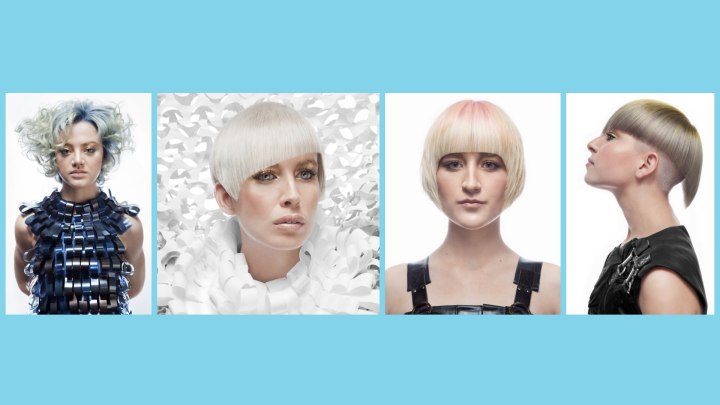 The mythological name Argia is descriptive of the ethereal beauty inherent in the four hairstyles of this new collection by Mikel Luzea. Light filled, radiant platinum with transparent tones taken from the colors of a full moon aura turn these geometric cuts into a celestial adventure.

With the exception of one curly hairstyle there are clear lines and helmet shapes made to beautify the daring women who wear them. Flawless cuts and styling together with a convincing sense of design make this collection one of the most outstanding.


Cool Blue Curls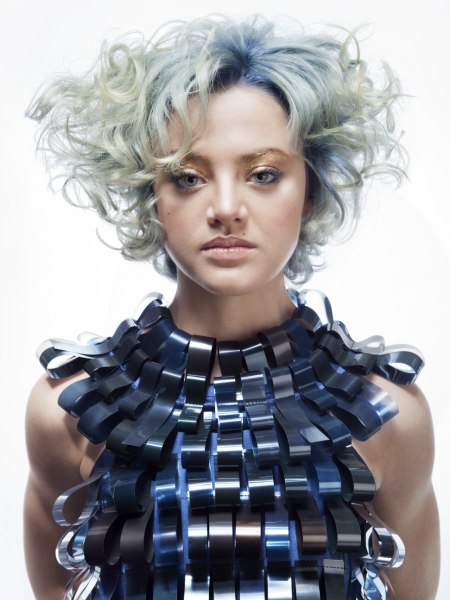 The large curls play around her features in a feathery dance and express sensual femininity with every turn. A side part gives a little more volume to one side. The hair is cut in an almost triangular layered style with the widest part above the eyes. From there the silhouette narrows rapidly all the way to her nape and just below her chin.

The curls are partially well defined but also loosely styled with the fingers for a playful texture. Her hair color is a silvery blue with darker shades around the roots. A great match to postmodern outfits.


Precision Cut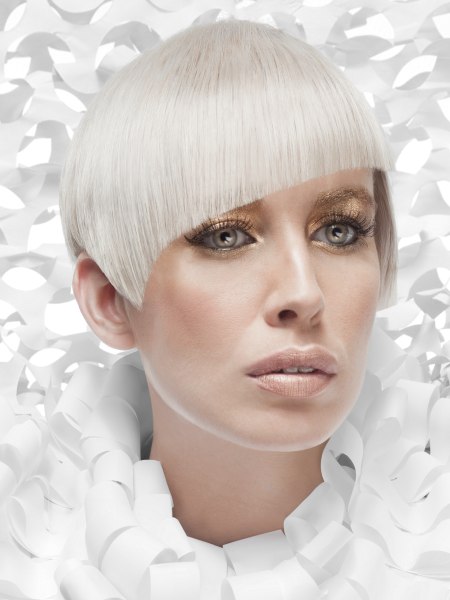 It looks as if it was done with a laser, but a skilled hand and sharp scissors created these lines in their utmost precision. The round and close fitting cut features an asymmetrical line in front which ends in a sharp triangle just under her cheekbone.

The back is just as round and masterfully graduated. This sci-fi shape comes in a most fitting hair color, which is a clear moonlight platinum that almost outshines her eyes.


Shaped Bob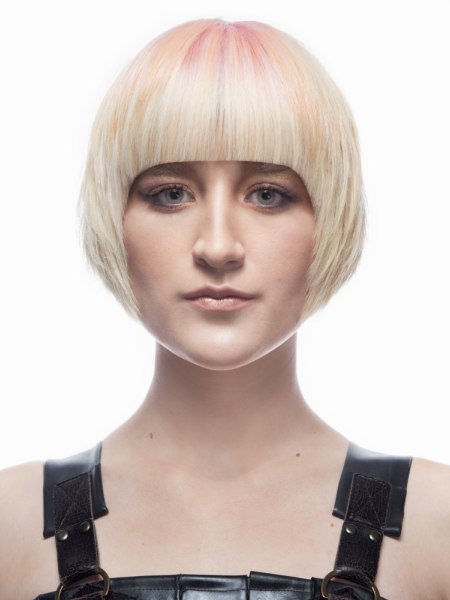 Expressive short cuts of ultimate fashion design excite with their simplicity paired with extreme quality in cut and design. This flawless cut combines an impeccable neat line of the bangs which curves down to the layered and textured sides in the shape of a visor.

The sides smooth themselves against her skin and make her face the star of the ensemble, just like the perfect frame for a beautiful painting.

The platinum blonde is softened in its brightness by a kiss of pink which is applied in denser segments on top, running out in fine streaks that are well integrated with the base color.


Gold and Silver Helmet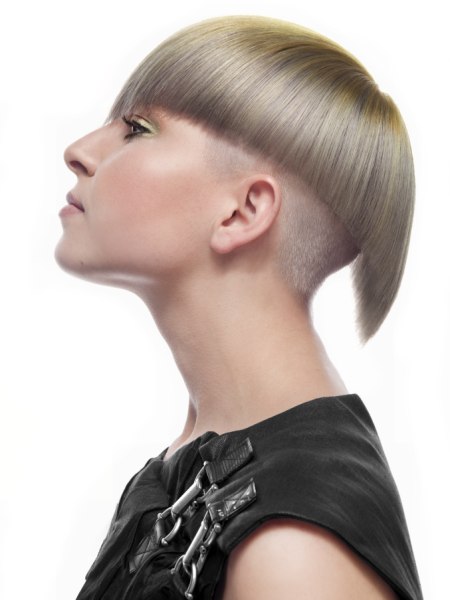 This shiny helmet made out of hair will protect her against fashion boredom and allows her to express her classy and daring spirit. Besides its outrageous shape with elongated sections in front and in the back it also features a most extravagant undercut, so short that is is just a shadow of hair.

The cutting line actually has two parts. Underneath it is super neat and sharp, but it is covered with a thin layer that is just a few millimeters longer and allows a transparent texture to soften the lower section. Her hair color is an unusual and striking combination of the thinnest strands in a dark silver and light gold.

Salon: Mikel Luzea
Hair: Alberto Manchado & Jone Erice
Make-up: Alicia Najera
Styling: Edurne Ibañez
Photography: David Muñiz