Legends of Purity by Klaus Peter Ochs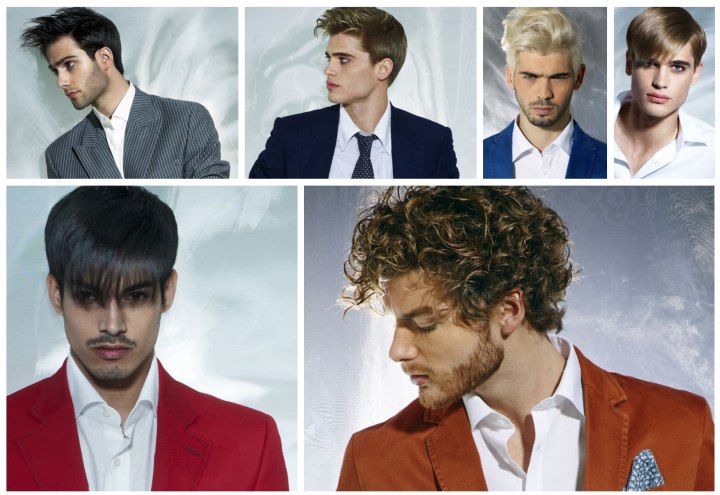 Men are boosting their fashion ego and turn to their stylists for some trend therapy. A new awareness of great outfits and the discovery of fun with fashion makes the world a bit more beautiful, man by man. Klaus Peter Ochs has the hairstyles that go with the theme and brings out the best in the boys.

His collection Legends of Purity represents Ochs' own vision of beauty in minimalism, but with high impact and maximum style. Innovative and a little daring, these looks cater to every type with clear lines, some more sleek some more textured. Colors stay in the earthy, natural realm, except for a divine platinum blonde.


Cool in Platinum Blonde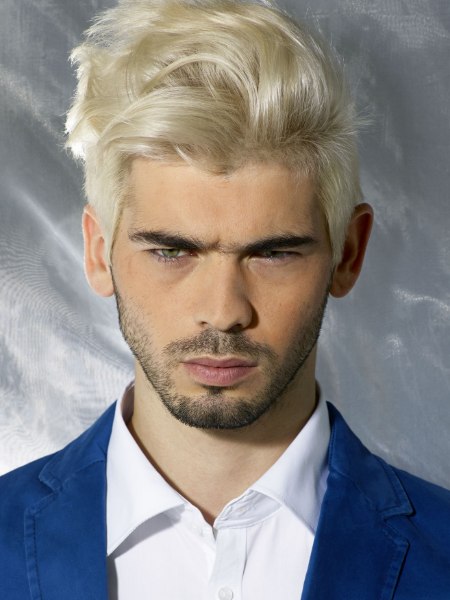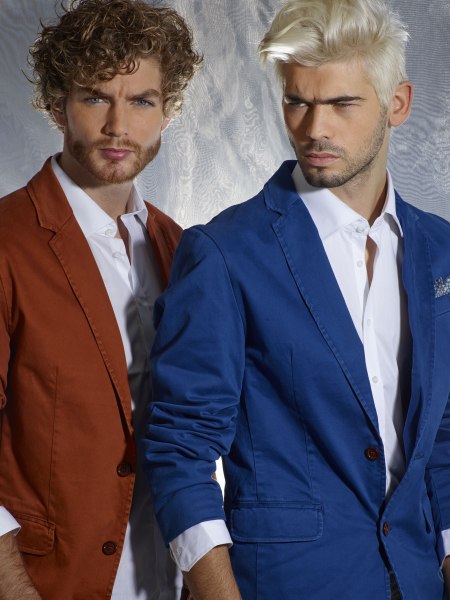 Elegant with a classic vibe, this sculpted look is cut with precision. To bring more life into all this elegant perfection, the top hair was lifted in the roots for soft volume and then styled in several directions.

The movement and free spirit is countered by the distinct shape and the control of the sides. A hairstyle as striking as can be, especially with the masculine contrast of the dark stubble beard, well groomed, but nonetheless with a hint of rebel.


Bohemian Curls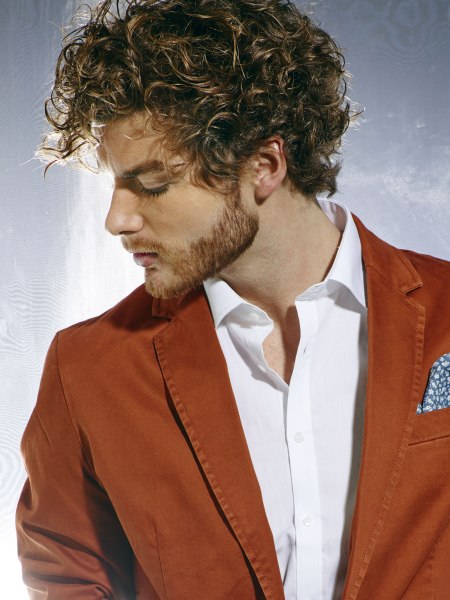 Artist or not, he likes to show his creative side and beautify his surroundings curl by curl. Each one of them is well defined and has a tight bouncy spring. The length is a bit shorter in the neck than in front, which juts out to a stylish, casual fringe.

The sides are short enough to reveal his ears before they melt together with the neatly outlined beard. A natural look, but oozing with metro style. Now, where was that new martini bar again?


Modern Dandy Look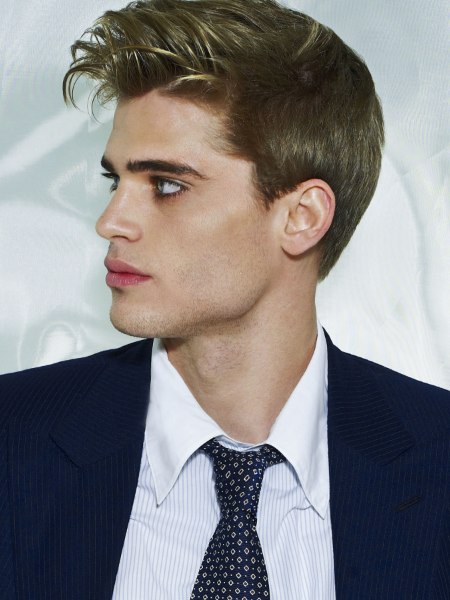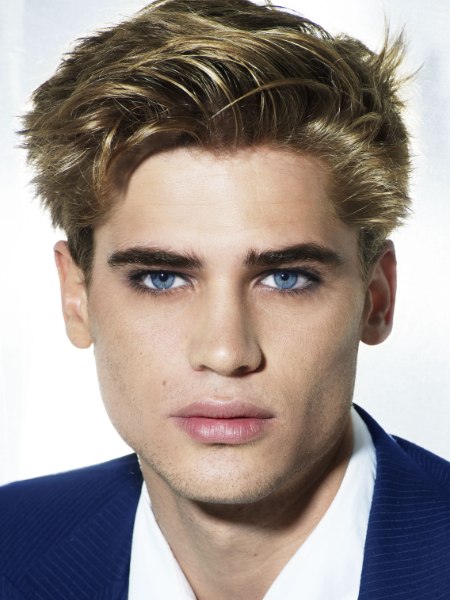 A great cut with a secret. The allure of this hairstyle for men is in its versatility. You'll be surprised how quickly and easy the hair can transform from the perfect dapper business look to a hot style for the after hours.



About 75 percent of the hair is cut very short and outlined with a neat edge. A handful of frontal strands dance about in extended length and can be styled in a myriad ways. Use a little product to lift the fringe and to accentuate and texturize it. Smooth highlights add sparkles and subtle drama.


Up and Ahead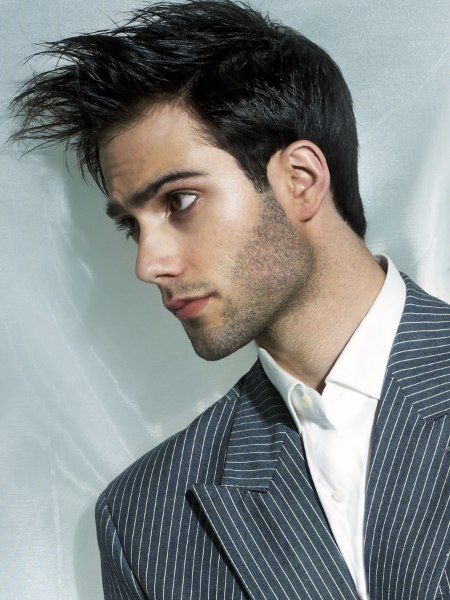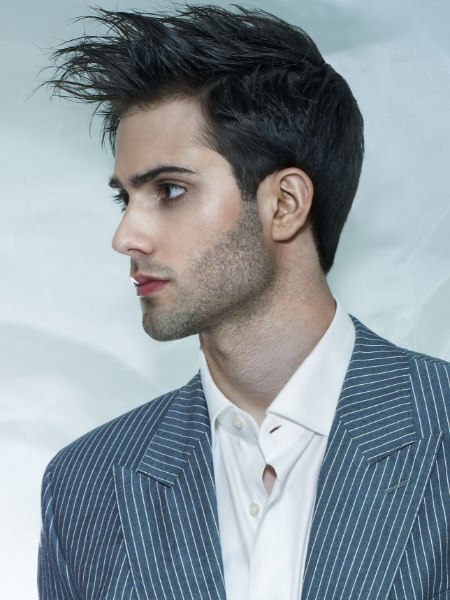 A hairstyle that is as dynamic as his personality. What you see is what you get. Well almost, check out the next image as well. It is based on the same cut, but with an entirely different vibe. In this version here, the longer front hair was lifted with a little gel and modeling paste and structured to point up and towards the front with just the right amount of roughness in it.

It is playtime! The clean lines of the suit and shirt are also reflected in the neatness of the sides of his hairstyle and the balance is restored.


Men's Look with Bangs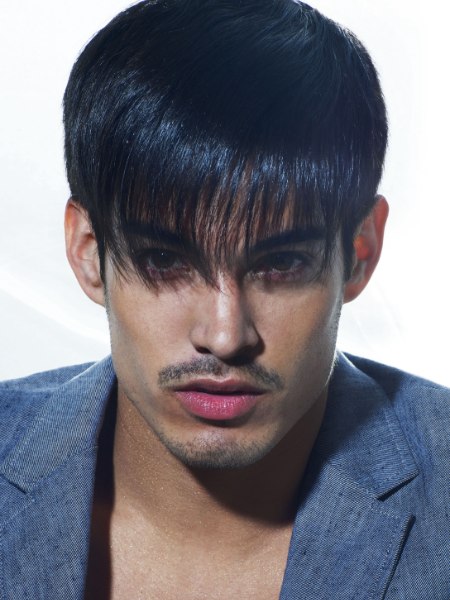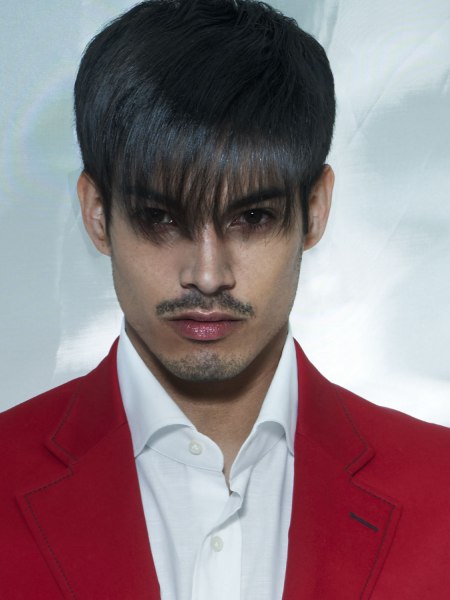 Men are beginning to learn about the magic of a fringe and what it can do to your eyes! A little mysterious veil, dropping way past the eyebrows is not to be underestimated in its effect. We even forget about the raspberry lip stain he is wearing.

The office ready, dynamic look from before is now styled sleek all around with a shine enhancing, anti frizzies product like a pomade or wax. Apply, comb and out you go!


Retro Hair Design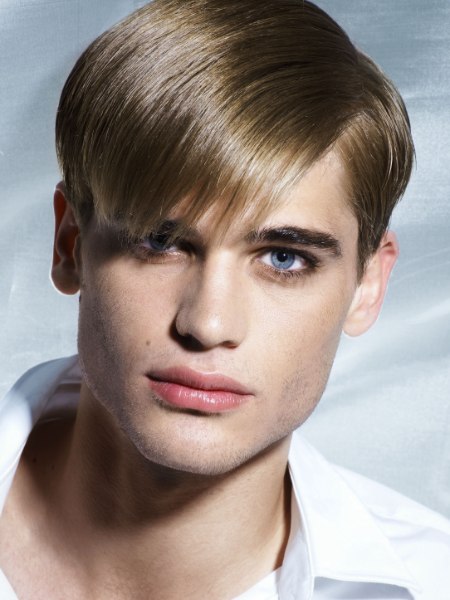 Coolness with a soft edge. Inspired by the 40s and 50s, this style is still rocking! Extreme sleekness meets extreme shine on the dark blonde hair.

Super short sides bring all focus to the longer top hair which is styled diagonally into his face with a nifty overlap and design detail right on the narrow side.

The edge of his long fringe is gently textured to lighten and brighten up the entire look.

Hair: Klaus Peter Ochs
Artistic Team: Ilona Duering, Davide Carsidona, Franco de Palma
Clothes: Benjamin Boul & Véronique Suchet
Make-up: Florent Pellet
Photography: Laurence Laborie